In the meantime, all Deerhound breeders worldwide know that liver shunt is a condition that occurs in Deerhounds. A responsible breeder therefore tests his puppies when they are about 7 weeks old to make sure he is not selling a puppy that has liver shunt. About 2 to 3% of the puppies born can have this abnormality. But in Germany they are convinced that this deviation does not occur with them!
Unfortunately: recently a Deerhound puppy came to the Netherlands from Germany who became ill after a few days and she also showed deviant behavior such as walking in circles and along the walls. At first it turned out that there were stones in her stomach and after these were removed, the puppy recovered. But that was short-lived; after three days the bitch again showed the deviant behavior, she was very sick and she was taken to the vet again. After taking a blood sample, he found that the ammonia level in the blood was almost 5 times higher than that of another healthy dog. This combination of behavior and ammonia levels confirmed the great fear: liver shunt.
Since the puppy was so very sick, it could take weeks before she could possibly be operated on (while first she had to be diagnosed with what kind of shunt it was and whether it could be operated or not) and the amount requested for this was more than abnormal high, the owners decided on euthanasia.
Can you imagine how terribly sad this is? Have a puppy in the house for two weeks but after the first few days dive into misery with euthanasia as the end result? And in this case, the owners had also taken a brother so that they could grow up so nicely together. Any idea how much the remaining puppy missed his playmate?? It is very sad to have to experience all of this!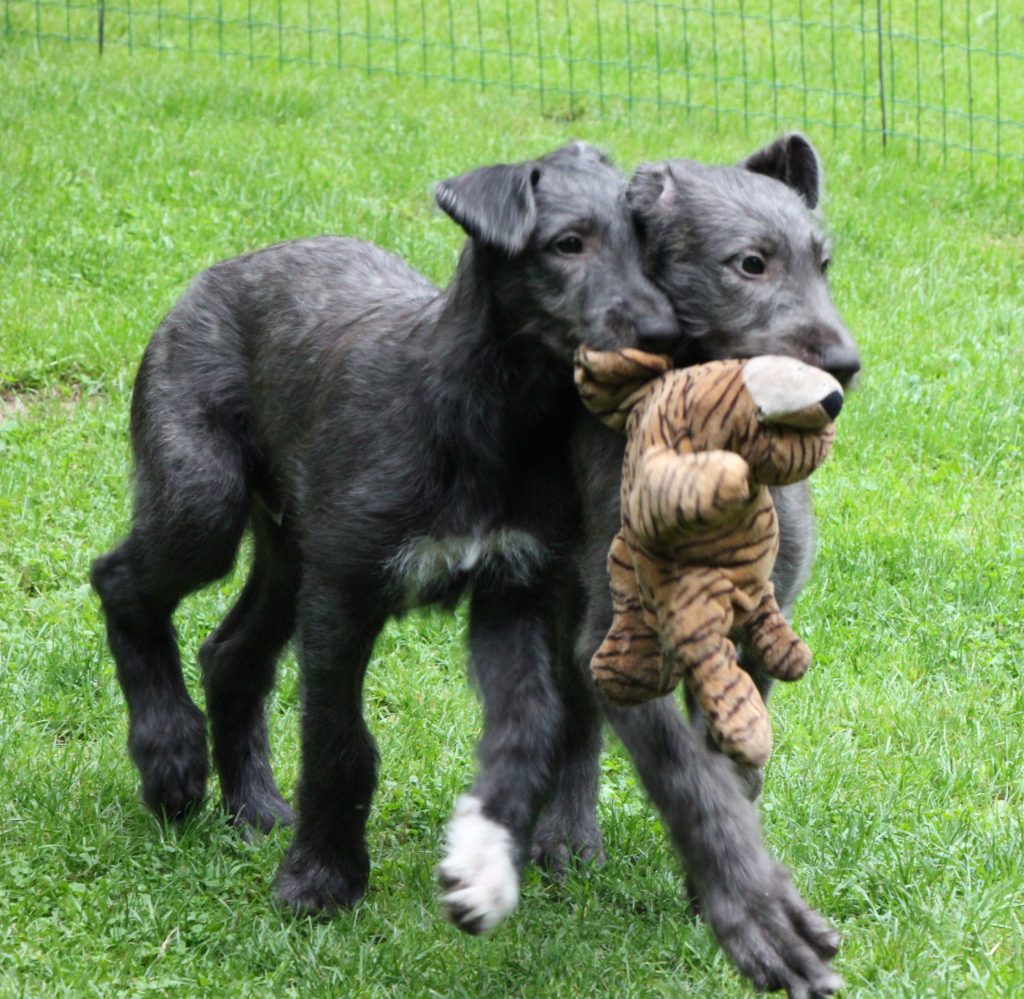 You would expect that the breeders would assist the owners in this matter, but after the first bump (whereby they had assisted with advice and action because they know that their puppies eat stones) and when it turned out that it was a liver shunt, the breeders gave up. "Liver shunt does not occur with us, we have never had it, the whole litter is otherwise healthy, it must be stones again" was all the owners were initially told. After this, the breeders stopped answering the phone and did not respond to messages left behind.
After a week there was some contact again and eventually the owners were able to pick up a new puppy. They could choose from three males, there were two more from the litter that was born a week earlier and a brother of the deceased female from the last litter. They chose the brother. However, they had to sign a paper that they would not declare any (future) costs, for any puppy. The owners also had to pay for the autopsy to prove what caused the bitch's death. Were the breeders not interested in the results?
When the autopsy report was sent after three weeks, it turned out that the bitch didn't just have a liver shunt. She was really very, very  ill with everything wrong, including a number of chronic conditions that had been going on for much longer. Surgery could not have saved her.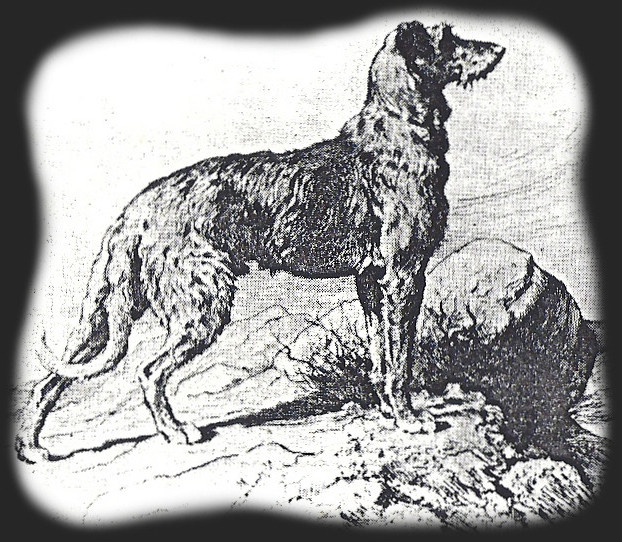 It is of course very strange that the breeders themselves did not see that the bitch was not well. She must have shown the deviant behaviour there too because the ammonia level in her blood was so incredibly high that she must have been quite poisoned already. But then again, if you have to grow up outdoors in a shed, and the breeders only come a few times a day…….
I find it in and in sad that Deerhound puppies (anyway all puppies) are bred and kept in such a way, I really couldn't do it like this. When I see how often they, even at night, need contact for a while and after a hug they go back to sleep, play or scratch around, I don't have to think about keeping them in a shed or outdoor kennel. Research has also been done into the difference in behaviour between puppies that are raised in the house and that are kept outside in kennels. A small piece of text: "Puppies raised outdoors showed an elevated tendency for submissive behaviour, a greater risk of aggression through fear, and a lowered capacity for coping with novel conditions".
The latter was clearly noticeable in all three puppies; they were not socialized at all, they were even afraid to come in the house! They were not toilet trained, they were startled and afraid of everything and they couldn't walk on a leash either. In terms of growing up, the owners might as well have gotten a puppy from a Hungarian puppyfarm.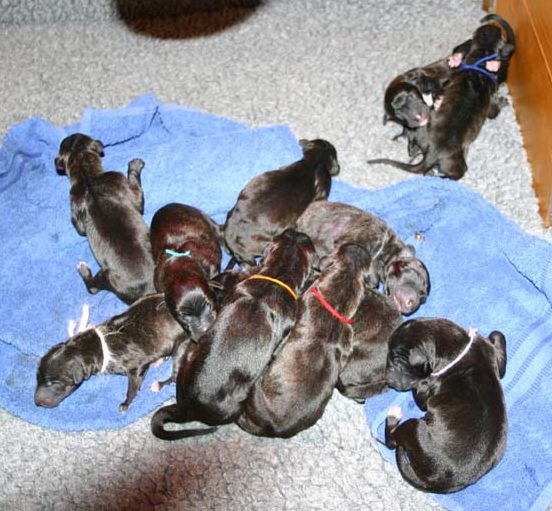 I would therefore strongly advise, if you are interested in a Deerhound puppy, born in Germany or anywhere else, to insist that the puppy is tested for liver shunt and that you also receive the result in black and white, before you purchase is about. A good purchase agreement, in which the rights and obligations of both parties are stated, can also protect you against a lot of financial misery and last but not least; look for a breeder who largely raises the puppies in the house, gives the parents a good health check (including heart examination) before breeding with them and who socializes the puppies well (even in a non-home environment!). It can save you a lot of grief and misery.
And isn't it that too what distinguishes us responsible, purebred dog breeders from puppyfarms???