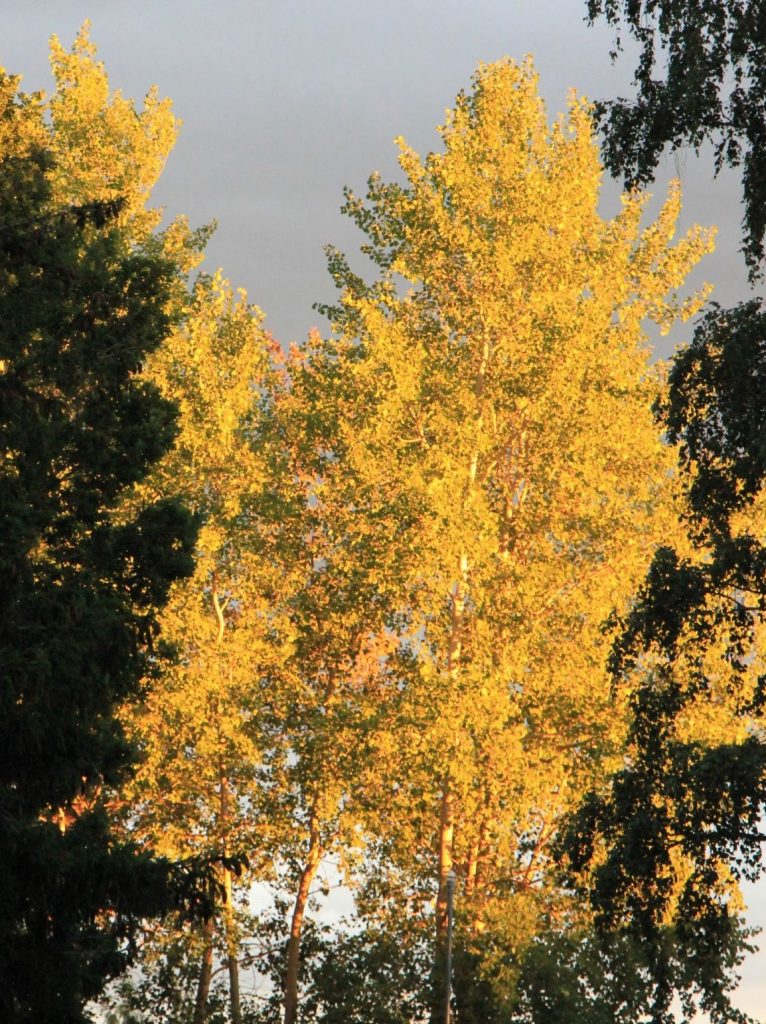 On July 23 we left for the north again. The first night was at the campsite between Bremen and Hamburg, always nice to wake up with a herd of fallow deer in the front yard. From here we continued to a campsite in Sweden where we would stay for two nights. But on arrival we were amazed, it looked like a dump of old caravans with sagging and broken awnings. The people who walked around didn't look much like campers either. At the beginning of the evening a number of cats appeared and boldly sat a short distance to watch the hounds and a couple of large hedgehogs waddled past on the other side of the path. This was of course very exciting for the hounds but very difficult for us and in the end we decided to go into the caravan together. Partly because of this we left the next day to the next campsite where we would be three days. This was a very spacious campsite with a beautiful large forest next to it where you could walk for hours but it was also infested with ticks. Despite the hounds being treated against it, I picked dozens of ticks off them every day! On the last evening we were treated to 'golden trees', a very spectacular spectacle.
On July 28 we left for Västerås where on Friday and Saturday the Skokloster Summer Show and on Sunday the Swedish Deerhound Club Show took place. The campground we ended up on was a 20 minute drive from the showground and had a decent outlet area. Unfortunately, quite a lot of hares ran around here, which again required the necessary attention! Before Friday I only entered Charlaigne in the Intermediate class for judge Vlastislav Vojtek from Slovenia, she was the only one in this class, got an excellent and had to come back for Best Bitch. To my great surprise she became second Best Bitch out of a total of 14 bitches! Best bitch was Galerita's Fiona van Mikael Nordström (husband of the breeder Cecilia Nordström and showed by Ylva, their daughter). I have always admired the Galeritas and this bitch was also lovely! So sound and well-balanced, while maintaining a beautiful topline during a very nice movement. Best of Breed was Grayrory's Irresistible from  Maria & Åke Käck.
For Best Intermediate Charlaigne had to compete with Ray Lindholm's Necesse's Faust Fortunatus. A beautiful male but he still needs some time; is still a bit loose in its movement. Charlaigne also won this battle. I was so proud of her!! the more so because she behaved well and allowed herself to be touched.
Saturday we had a rest day and that was a good thing, it was very hot, especially on the showground and that would have been unbearable for old Brandir. We had to break everything up again at the end of the day because we had to check out early on Sunday morning. So as late as possible, when the sun had already set behind other caravans and the temperature had dropped, the tent and awning dismantled again, packed and everything prepared for departure.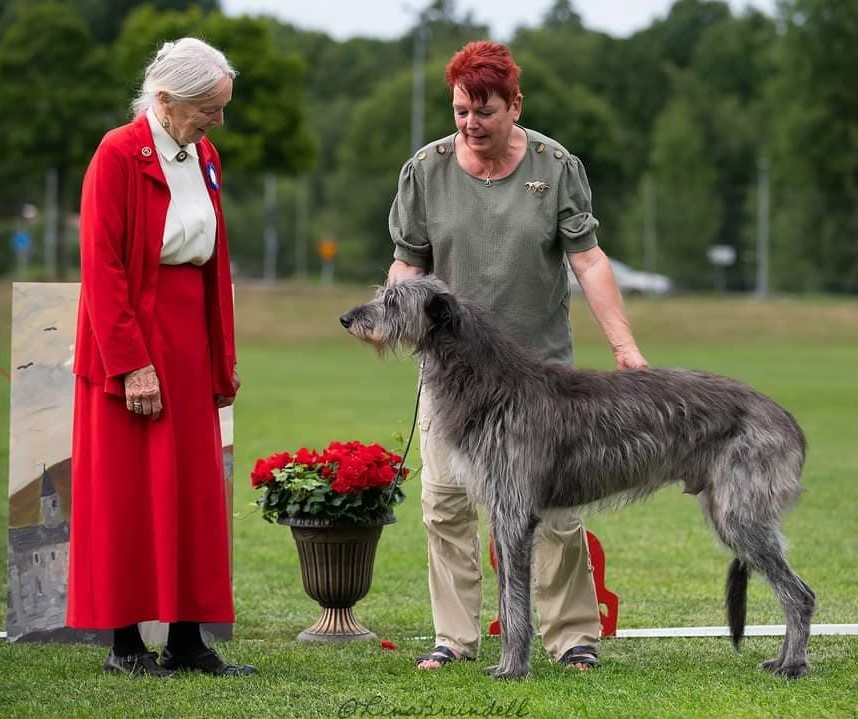 Sunday the Club Show. I entered everything except Cranston. The judge was Barbara Heidenreich from Canada and I really enjoyed it to show my hounds to her. A total of 21 males and 26 females were entered, of which 19 males and 24 females were present.
My 122 month old Brandir was the first to go into the ring, he did well but clearly showed that showing is still not his thing!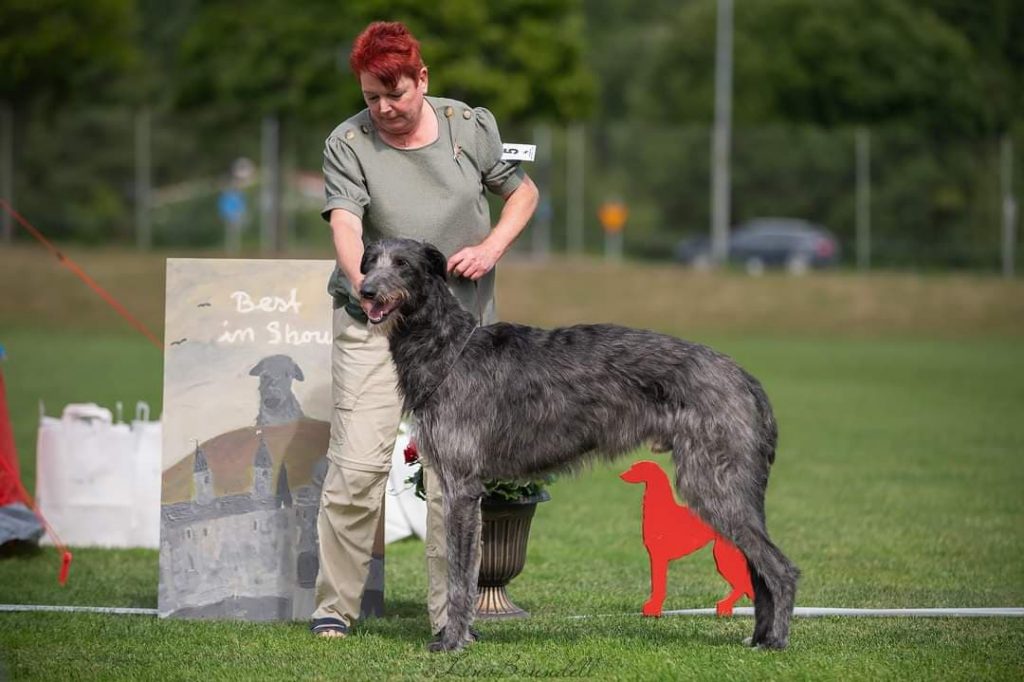 Second, Crumbaugh entered the ring along with 7 other males between the ages of 15 and 24 months. Despite the fact that he has never been shown he showed himself quite well and ran nicely. He found everything very interesting and wanted to greet everyone who sat at the ring. Barbara had a hard time with this class but in the end she made my Crumbaugh best!
Number two was Necesse's Faust Fortunatus by Ray Lindholm, the male from which Charlaigne had won on Friday!
After judging all the male classes, Crumbaugh and the old Brandir had to come back for Best Male. Brandir of course stood for bacon and beans in the ring and was clearly disappointed but Crumbaugh loved it and showed himself to FIRST PLACE!! Best Male, who would have expected that???!!!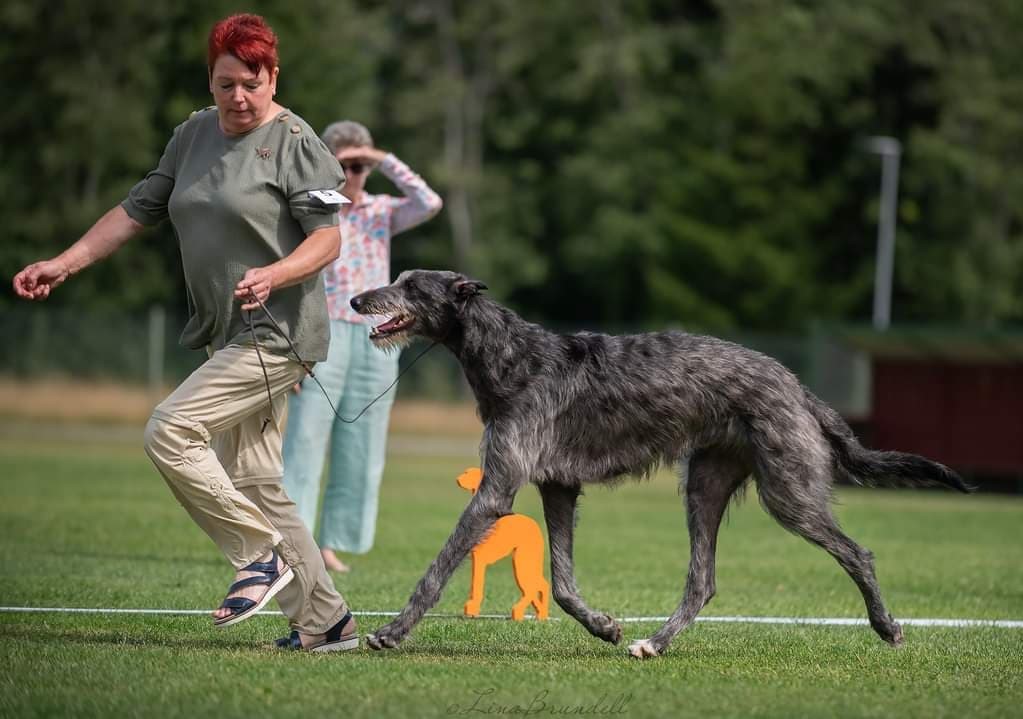 After this it was Charlaigne's turn, she misbehaved again but still ended up in second place behind another beautiful Galerita.
Finally, Cytaugh was alone in the class of 7 to 9 year old bitches. Not that hard to get first.
Best bitch eventually became Lawton's Eqvizzical Exuviance from Stefan Hagstedt.
Several males and females entered the ring for the battle for Best of Breed. I don't understand the Swedish judging system and certainly a Club Show has its own rules, all very complicated. Anyway, after a lot of deliberation, Lawton's Eqvizzical Exuviance took Best of Breed and Crumbaugh came in second. A very nice achievement for such a young male!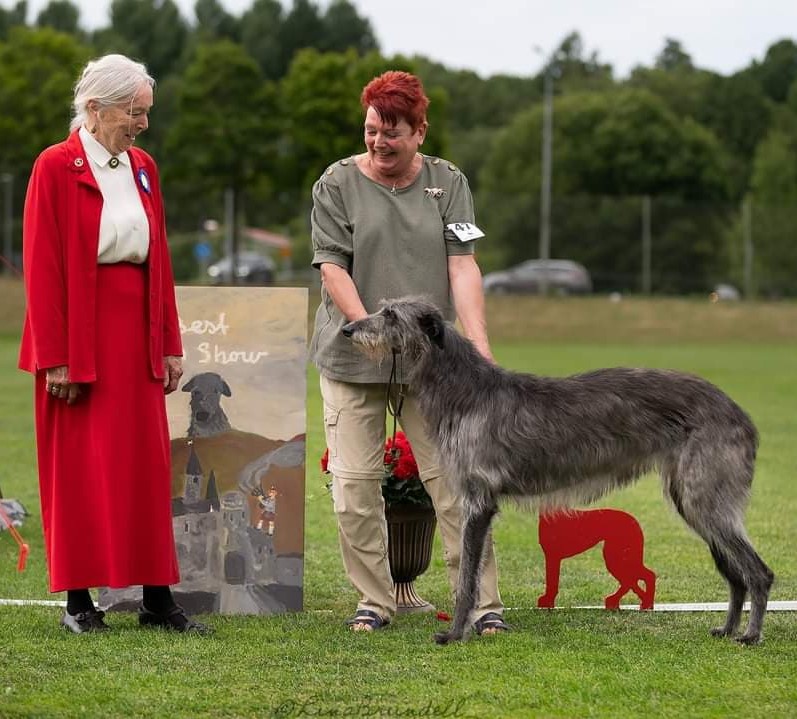 After this judgement, Crumbaugh still had to come back for Best Intermediate, which he lost against …. a beautiful Galerita bitch, Galerita's Athelas, who had won from Charlaigne. Charlaigne had to go back for Best Head but she wouldn't show her head, she was constantly looking the other way. Brandir was Best Veteran and Cytaugh Best Senior and Best Working Dog. The Paar class with Charlaigne and Crumbaugh was also for O'Cockaigne! Unfortunately they had canceled the battle for Best Movement due to lack of time, which is a shame because Crumbaugh won every time also because of his movement.
We went home with a mountain of rosettes and four well-filled Goody Bags with very original gifts, it's great how they do that there! All in all it was a very successful Club Show and it was very nice to talk to Barbara again.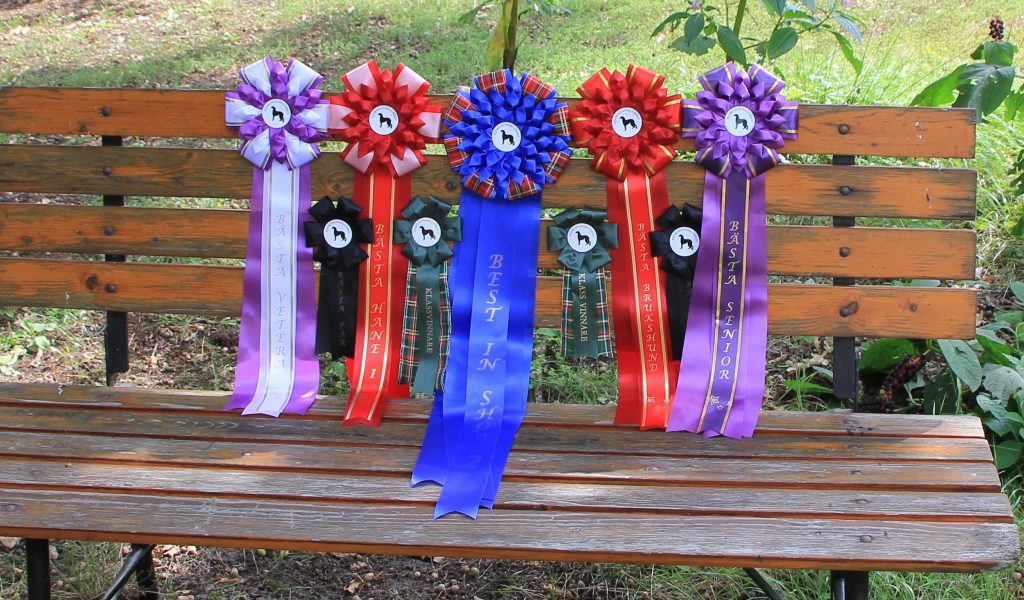 After the show we had to drive another 200 kilometers to the south, to Olerum (who hasn't heard about it?) where the coursing, for which Simon was invited to judge, would take place. We arrived around eight and quickly rebuilt everything.
Since my hounds were not allowed to participate because Simon had to stand there for two whole days in the field, Crumbaugh, Charlaigne and Cranston would do a test run. Cytaugh would run as a companion dog with the three officially entered Deerhounds. Before we walked to the coursing field on Monday morning with the three youngsters, Simon prepared Cranston's slipline and put it on him. Unfortunately not quite according to the rules with the result that when I started him he ran off with me after him – the line didn't slip! I made a huge thud to the ground and was dragged along. From now on it is forbidden for Simon to ever prepare a slip line again!!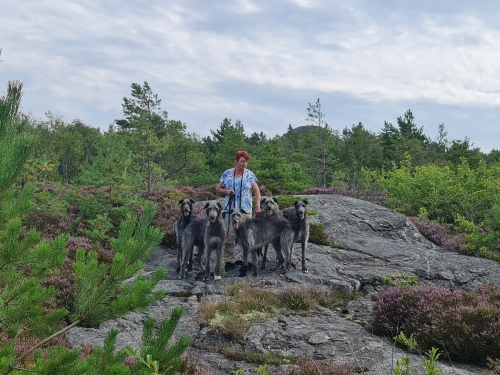 Anyway, the hounds were restarted and again showed a beautiful spectacle, nothing more beautiful than three Deerhounds in 'full speed' over the field.
Cytaugh ran with a bitch later that morning but after a few hundred yards she stepped on a pulley and was done with it right away. Well, she was two weeks after her heat so it was understandable.
The next day the three monkey-heads did a test run twice, they had made up for the lack of free movement!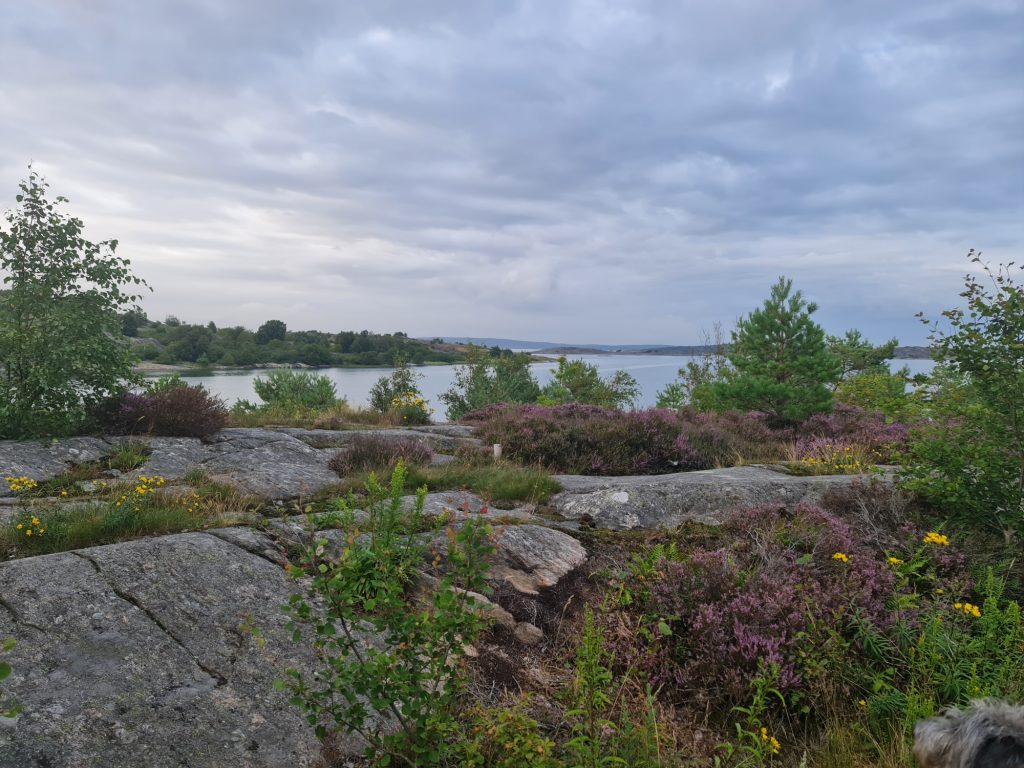 It were very nice days and we sat together under the party tent until the late hours, luckily the Swedes speak good English because you don't understand anything about that Swedish!
Wednesday morning we packed up again and drove to Gothenburg. We stayed here until Friday morning and then took the ferry to Frederikshaven to cross. From there a short drive to Nørresundby where Simon again judged the coursing for two days. Here the hounds were officially allowed to participate and I had entered all four of them. Let's hope Cytaugh would do a good job too!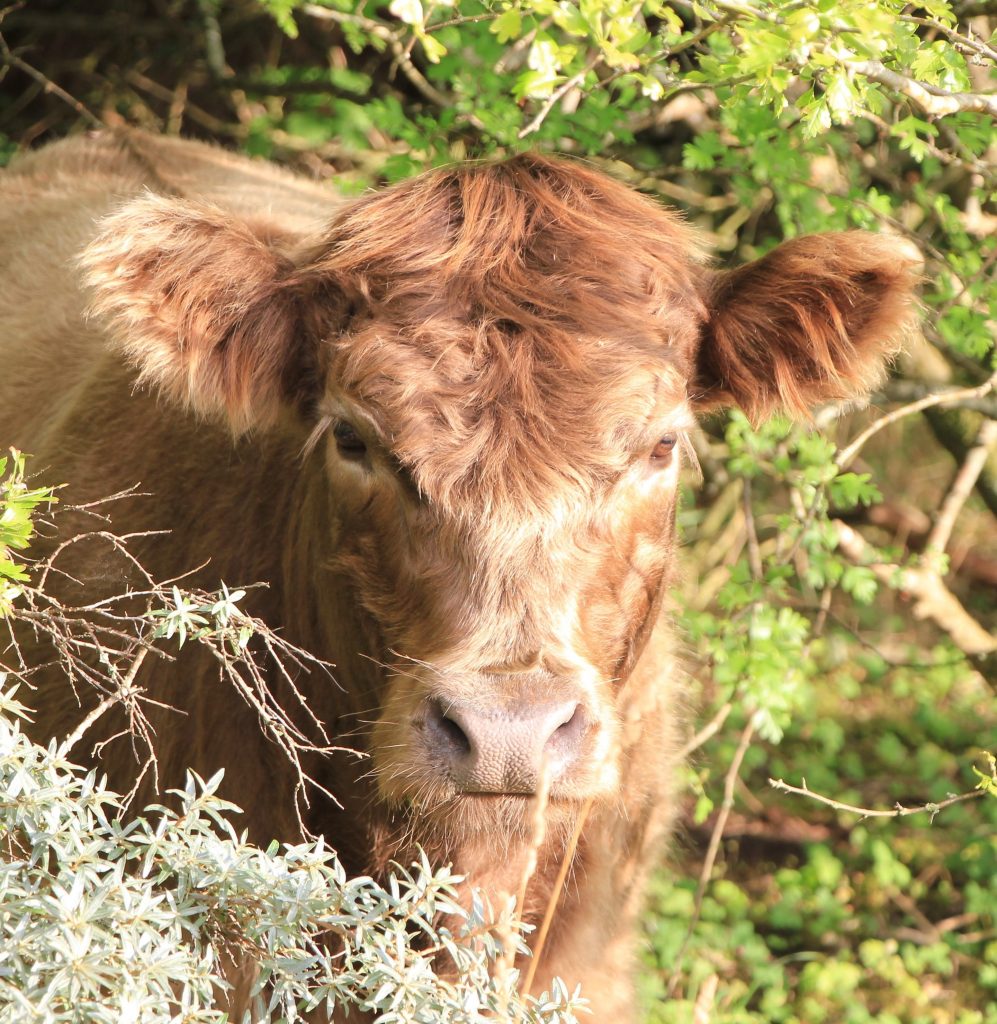 We stood with the caravan close to a wild area where a herd of cows, Scottish Highlanders, Lakenvelders and their crosses, were walking around. The crosses were very special and resembled wire-haired Lakenvelders. One of the yearlings was very interested in Crumbaugh and he in her. She was also very beautiful and they stood looking at each other for minutes, there was clearly a Scottish click!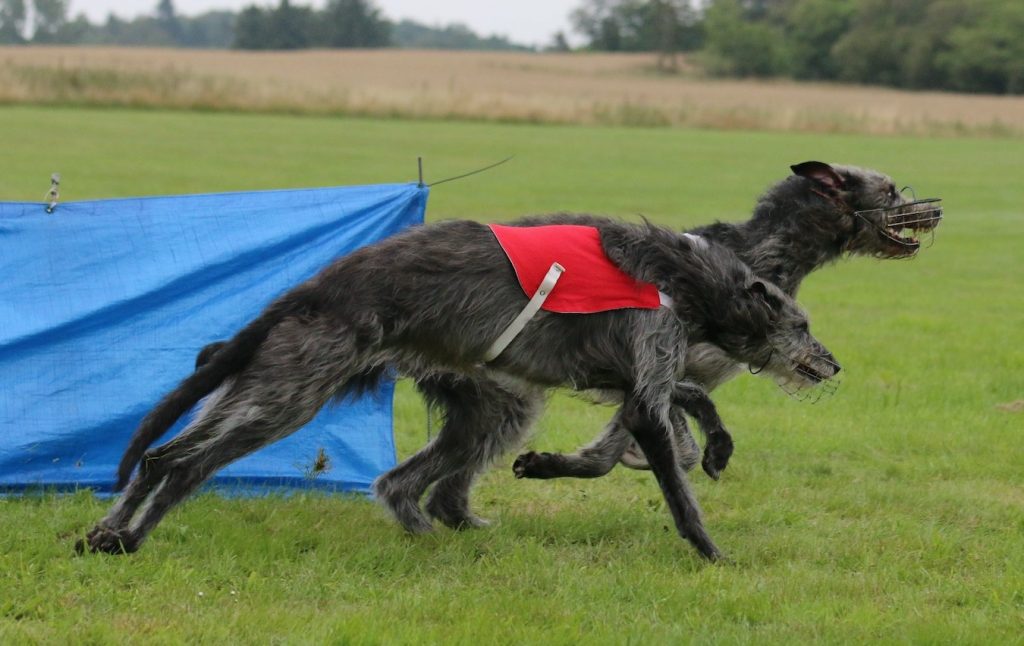 The hounds ran on Sunday and Hanne from the Eikica Sighthounds would help to start. Cranston and Cytaugh were the first to run and…. Cytaugh did run! She anticipated a lot and should have had the highest number of points for intelligence, but unfortunately this part has been deleted. In the second Deerhound course Crumbaugh and Charlaigne started and that was a really fantastic course! They followed the hare with devotion and Crumbaugh ran just a little better than Charlaigne but she did not show herself off and took 4 points more than Crumbaugh and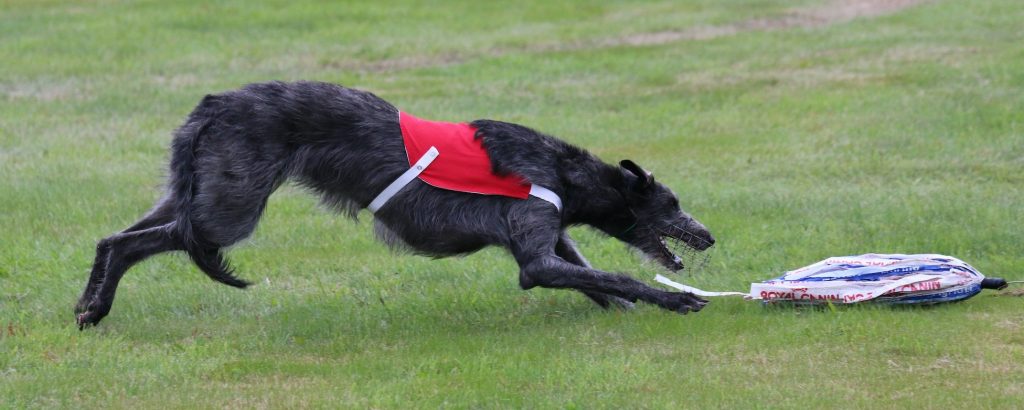 took first place with the Certificate! Cranston was third and Cytaugh fourth. They had had a great run again and had come off the field without injury. It was again a super well organized coursing that ran like a train.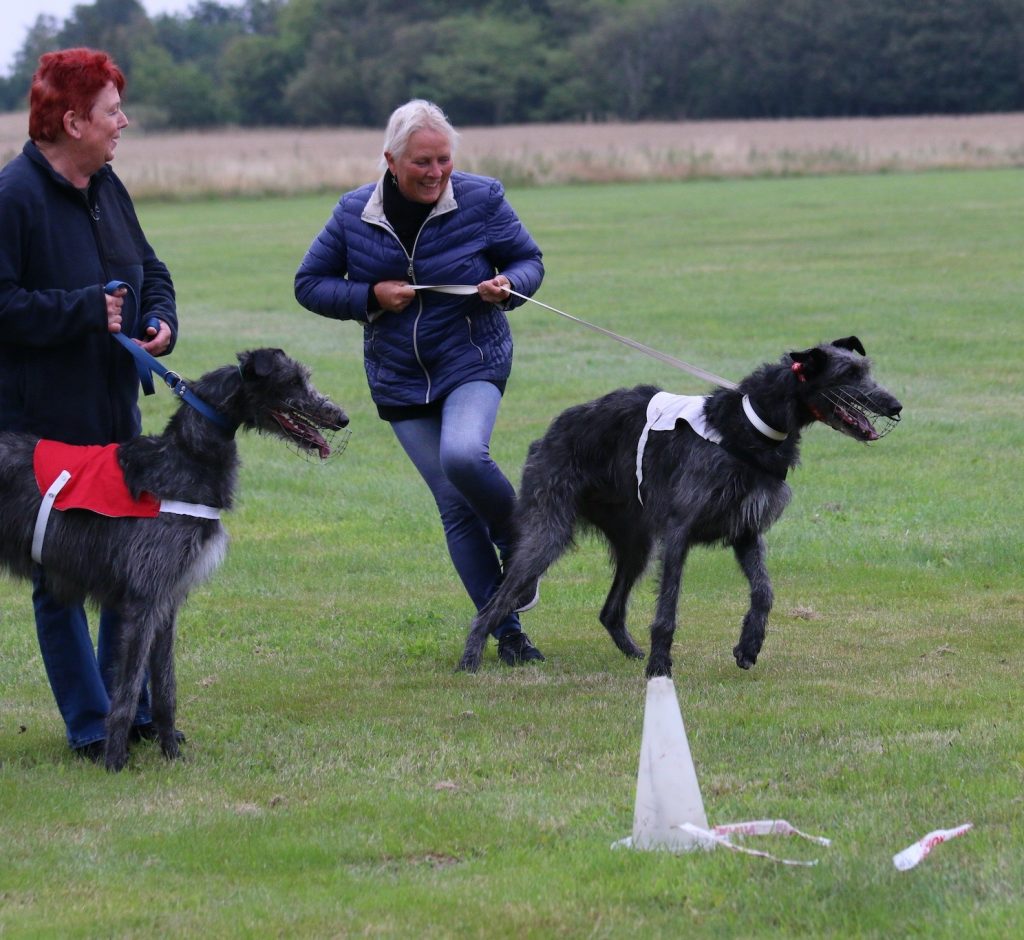 Monday August 8 we went to Camping Ringkøbing. We had been to this campsite twice before and it was great. Partly because of the large forest right next to the campsite where the hounds can run free, it is an ideal place to stand for a few days. And … we were lucky with the temperatures, not above 30°C!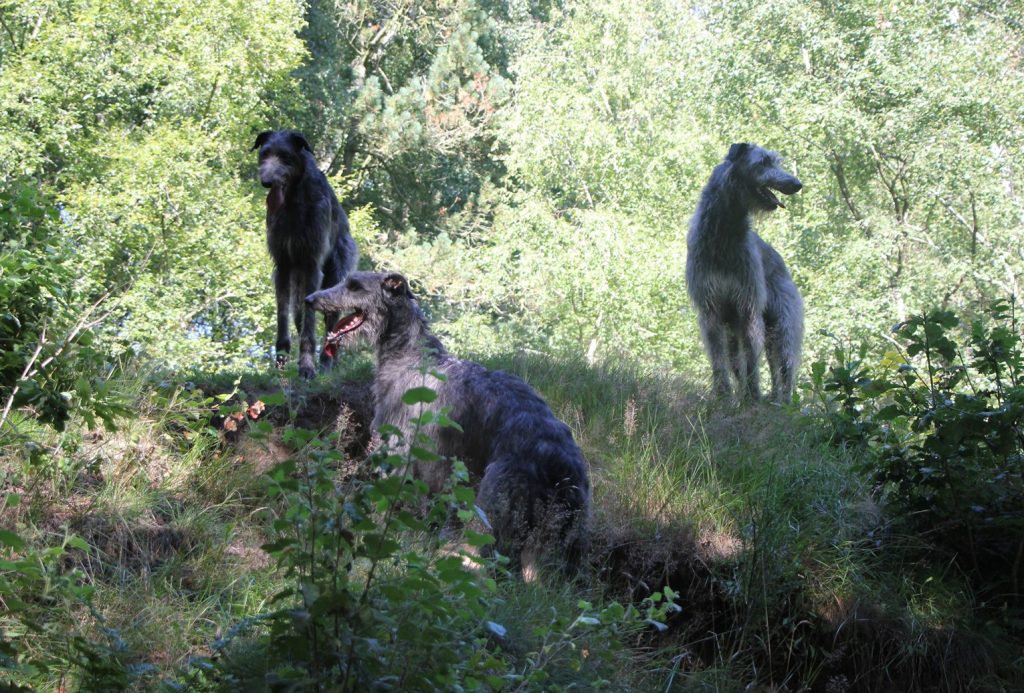 On Thursday we went to the 'Sandskulpturfestival' in Søndervig. The impressive sand wall of 200 meters long and 7 meters high was decorated with the theme of the Middle Ages. Real works of art made by different people from many countries. i.a. a few Dutch, English, a Russian, Ukrainian, Belgians and Swedes had a great time in this huge sandbox with a beautiful result!
And yes, the sky really was that blue!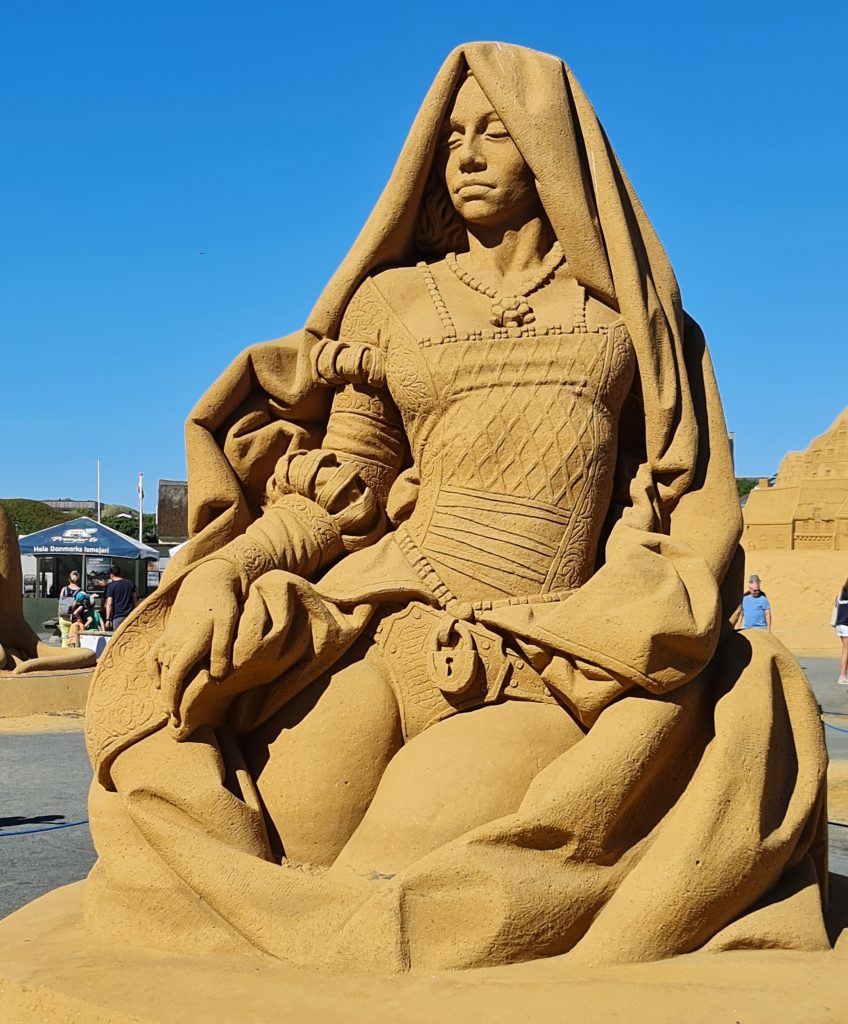 After a wonderfully relaxed week we returned home on Saturday 13 August. But not for long because at the end of August we had to be back in Göhlsdorf where Simon had to take care of the coursing together with Maarten and Willem. To be continued.