A History of our Hounds
In 1979 we got our first Irish Wolfhound, Angharad van de Ruempol, soon followed by a second, Bellcain Amos van Ithiliën, because one Irish Wolfhound is no Irish Wolfhound, and that naturally also goes for the Deerhound. After having seen the Deerhound from a distance for several years, we got the opportunity to add two of them to our little pack. They were Argyll Bryan and Aragorn from the Market Garden, litter brothers, born on March 2, 1984.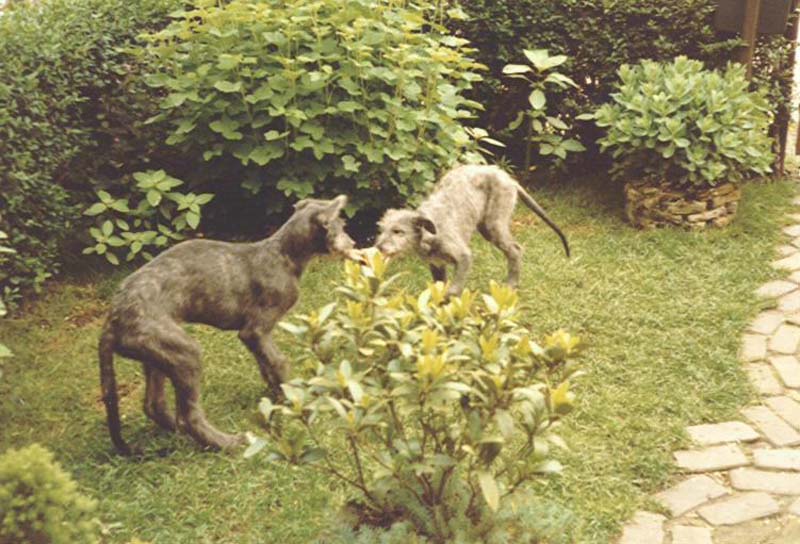 With both hounds we were active in lure coursing and showing, but with Argyll we achieved our greatest success in the show world. He obtained Dutch, International, Danish, German, Luxembourg Championship titles, and was World Champion in 1991, having taken Reserve in 1989 and 1990.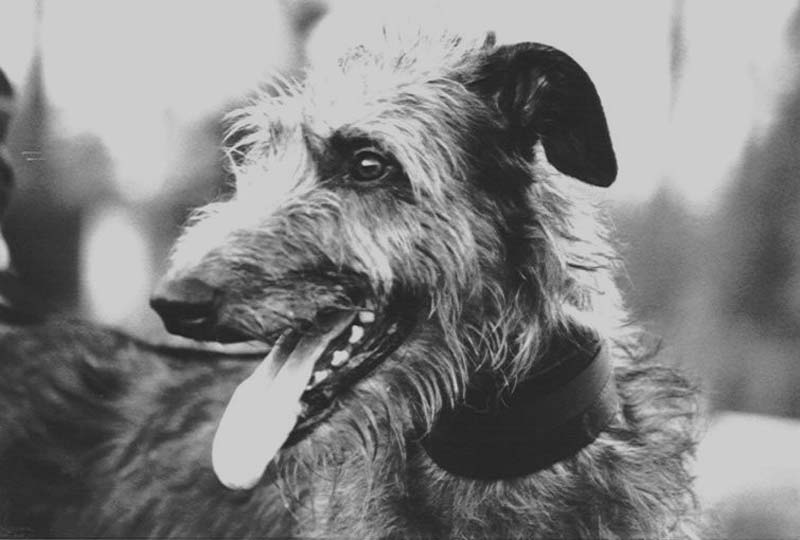 In 1988 Aragorn died very suddenly, and the simple necropsy that was made could assign no cause.
To "replace" Aragorn we took on a lurcher: Gizmo, a Bedlington Terrier/Whippet cross, who was in appearance a mini Deerhound. Anyone who saw her for the first time thought she was a tiny deerhound puppy, even when she had attained the age of 10 years. Gizmo has seen it all, and half of Europe knew her.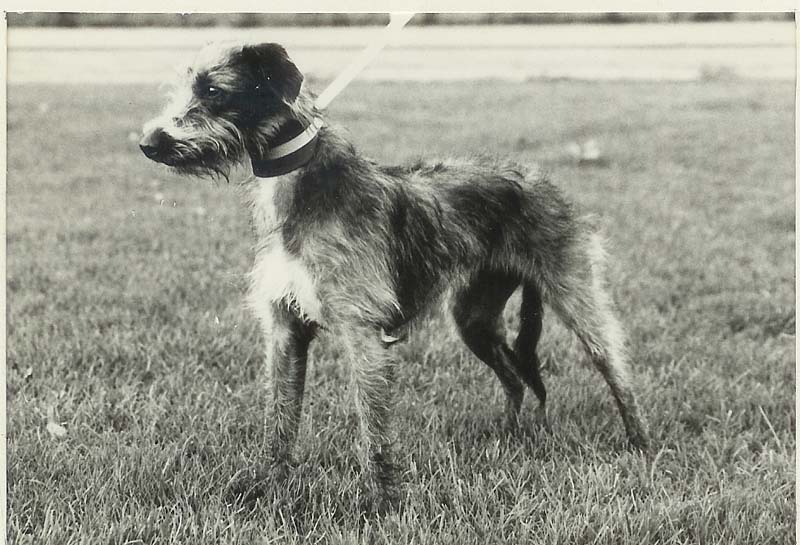 She was the perfect test dog for many courses at home and abroad. Unfortunately, when she was almost 13 years old she was killed by a car.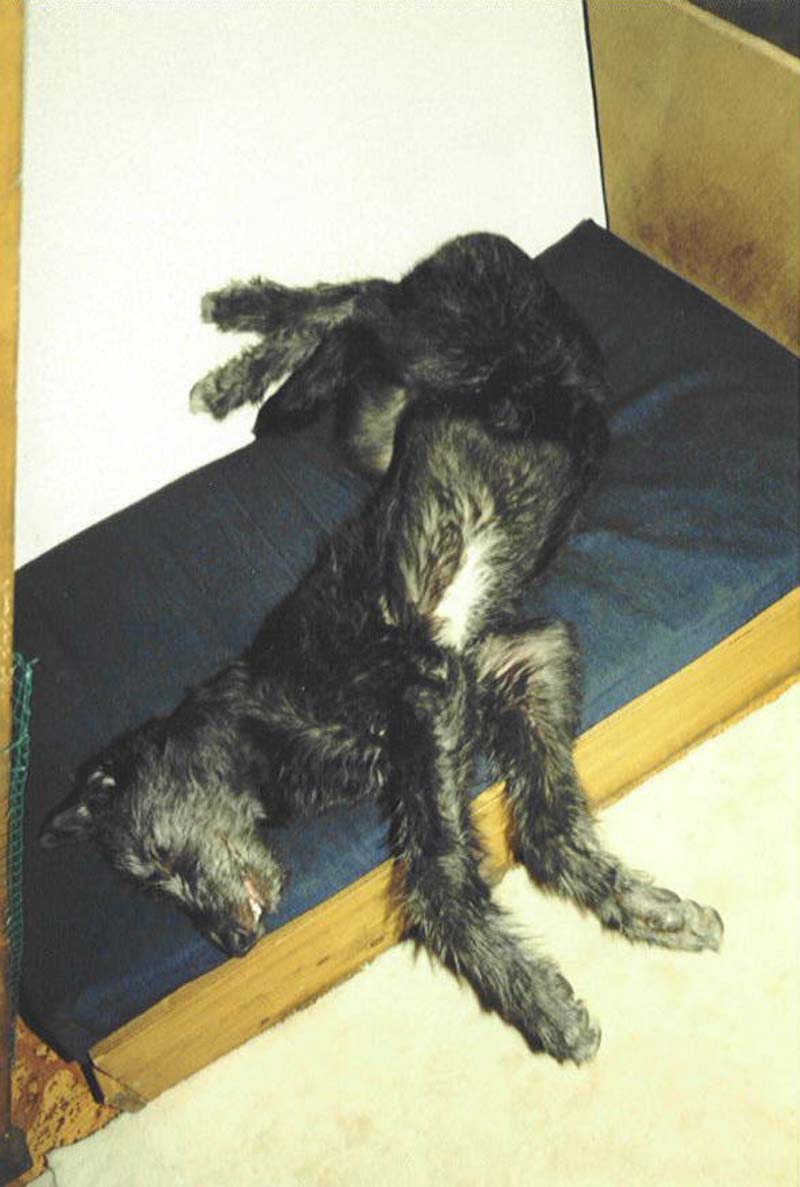 By now it was early 1991, and Naughty Prudence of Dirty Mind was added to our family.
Also in this year, Argyll won the Deerhound Club Lure Couring, was best male at the Championship Club Show. He covered Beverly of Kintyre with the result that his son, Lousy Lennon vom Welzerberg, came to live with us in mid-November, 1991.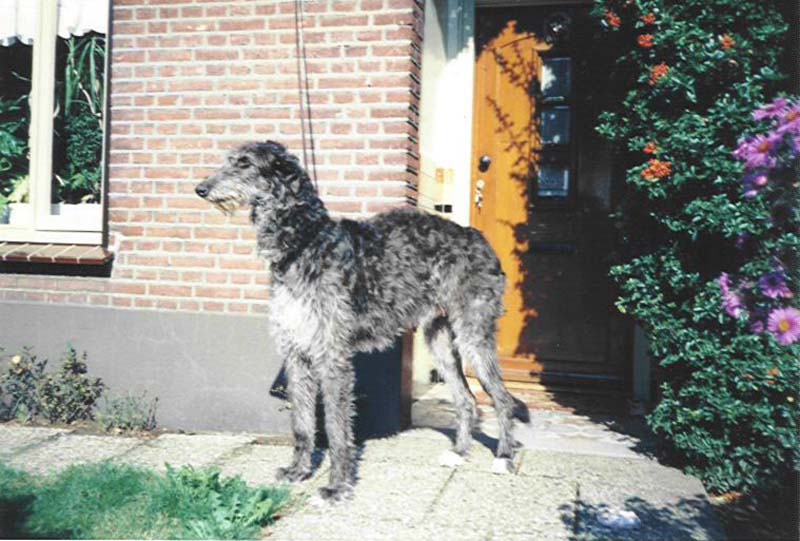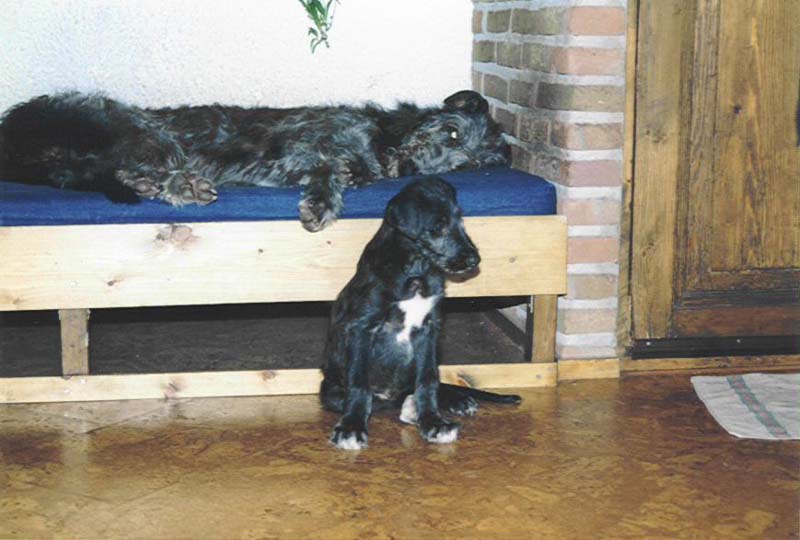 Prudence also proved to be a talented coursing hound, and with her and Argyll we travelled quite a bit to be able to do some nice coursing.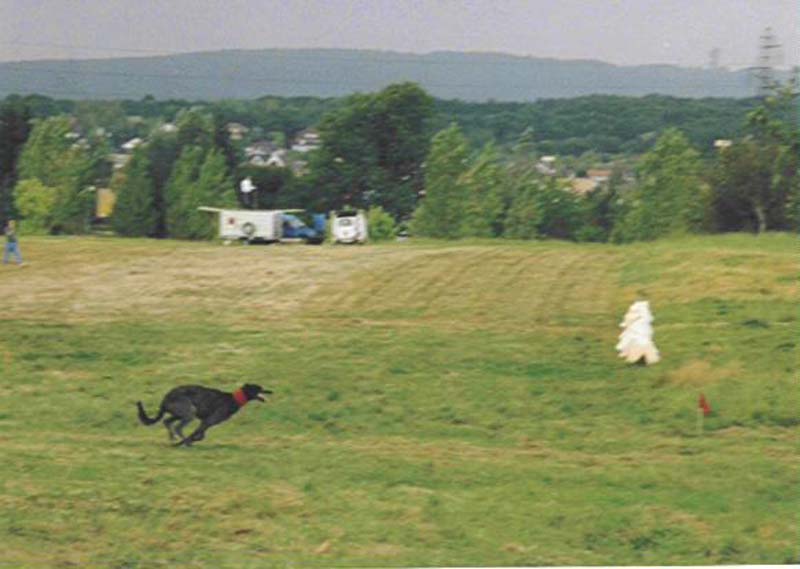 After a gruelling but short period of illness, Argyll died on April 7, 1992, due to SLE (an autoimmune disease). Fortunately Prudence still had Lennon to play with exuberantly, and I had them both as a welcome distraction.
Prudence did not do too badly in the exhibition ring: she became Junior Winner in 1991, Luxembourg Junior Champion, International, Danish, German, and Belgian Champion, and took Reserve at the World Exhibition in Brussels in 1995. Unfortunately, she has never been a Dutch champion because her sister, owned by her breeder, always beat her. With two CAC and 13 Reserve CAC, she is perhaps the "Reserve record holder."
Lousy Lennon grew up well, into a beautiful, sturdy dog.
Unfortunately, he was so bothered by his first official course that for the rest of his life he did not feel like running when several dogs and humans were present. It was a shame, because the times he ran, he was really very good. However, he was successful in the show ring and could add the following titles to his name: Dutch, International, German, Danish, Luxemburg, and Belgian Champion, and World Champion in 1994, and European Champion in 1996. In 1995 and 1996 he took Reserve World Champion.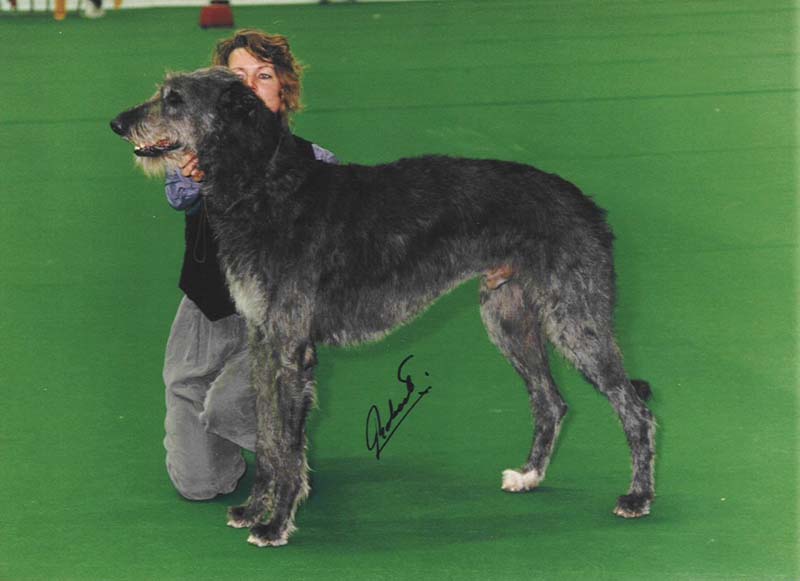 Someone once told me, after seeing Lennon and me in the show ring, that we formed a real unit. And so it was: Lennon was my everything.
What Lennon was fond of was Obedience. He flew through his beginning obedience classes and when he took the final examination at the end, he earned the most points. He even met with success at a more advanced level, GG1, equivalent to classes to train for Open. When he got to GG2, equivalent to Utility, he went wrong on the exercise to retrieve a scented baton, or article, because he did not want to pick up something by sniffing with his nose in the mud. Instead of choosing the baton, he remained standing at the correct baton, but absolutely would not pick it up!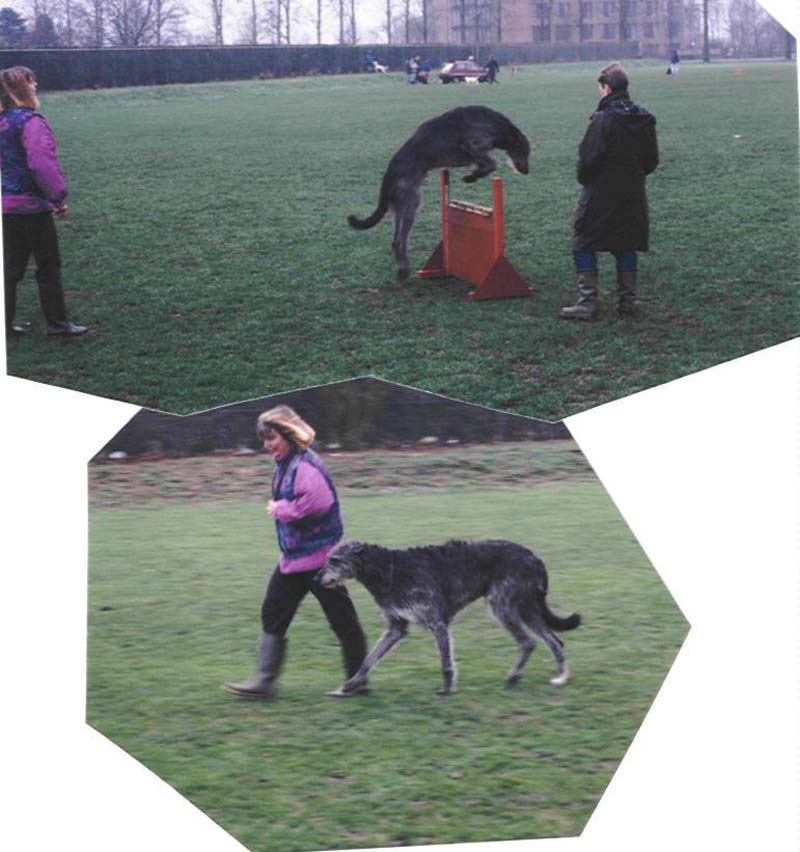 Prudence and Lennon complemented each other so well that in 1994 we decided after 10 years in Deerhounds to breed our first O'Cockaigne litter with this pair.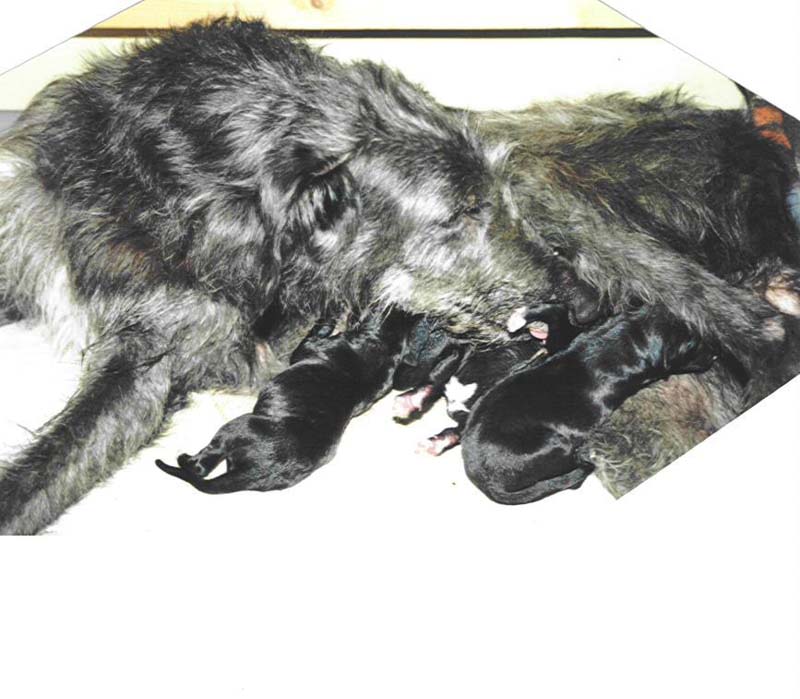 The puppies were born on March 6, 1994: Cardhu (m), Callan Kaj (m), Cinéad (f), Chadé (f), and Cicely (f).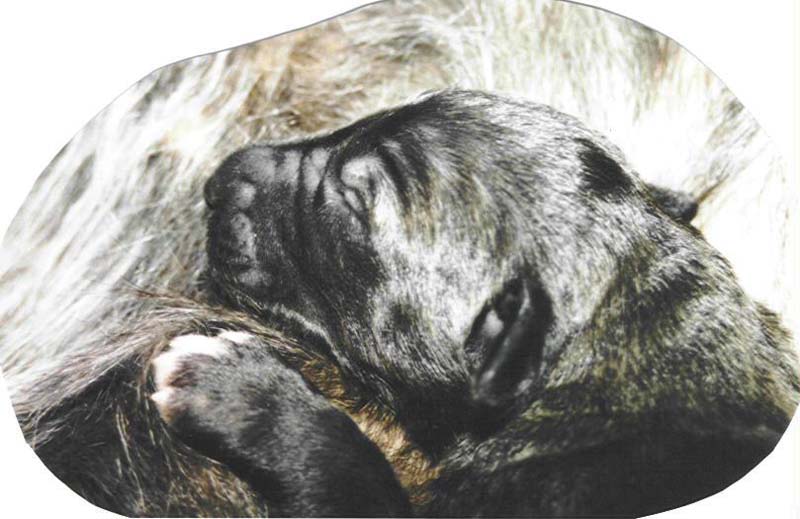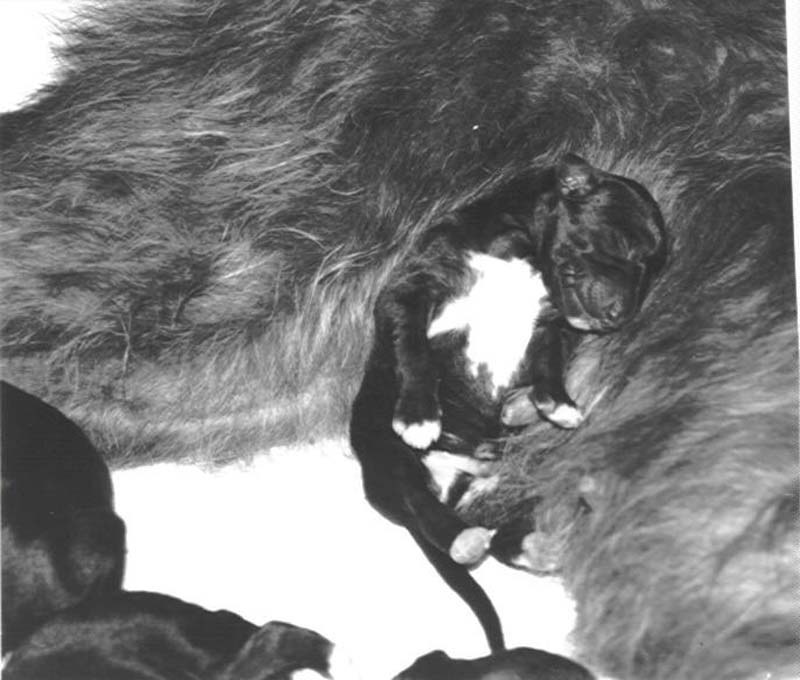 Prudence was an exemplary mother and she taught her offspring all sorts of naughty things like chicken hunting, tree excavation, and "reading" the newspaper.
Estate O'Cockaigne regularly looked as if it had taken home a whirlwind.
Cinéad remained with us permanently, and Cicely stayed on because we wanted to see how a dental abnormality would develop.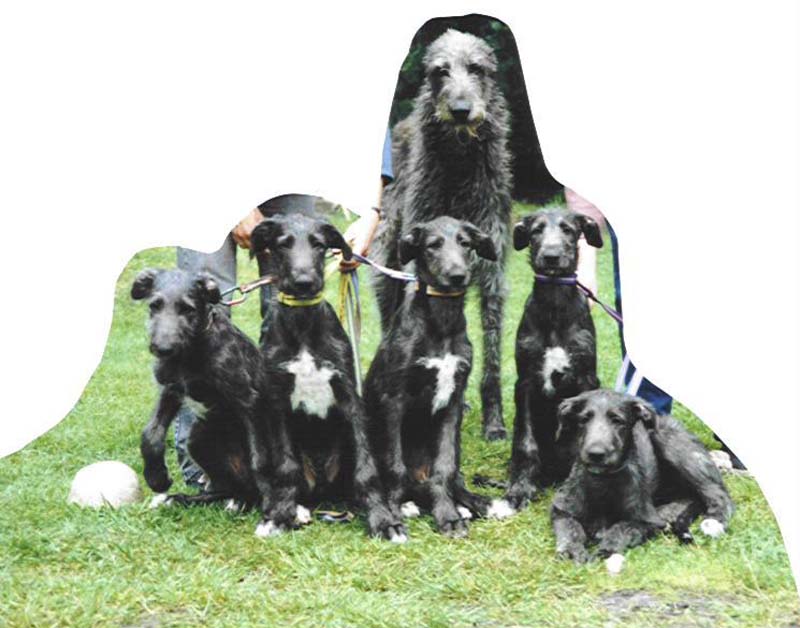 In December circumstances conspired to send Cardhu back to live with us, and since we had always been in love with him, he remained permanently.
After a number of weeks, however, we discovered that Cardhu had atrial fibrillation (a form of heart disease).
Fortunately, he responded to medication and had quite a few years of a very good life. On January 21, 1997, Cardhu died. For him it was a beautiful death, during a walk, loose in the open field, looking at his girls. I was looking at him, and just as I thought, he is beautiful, he is starting to be an adult, he fell. Before I could get to him he was already at the Rainbow Bridge.
In late December, 1994, Cicely went to live with her sister Chadé.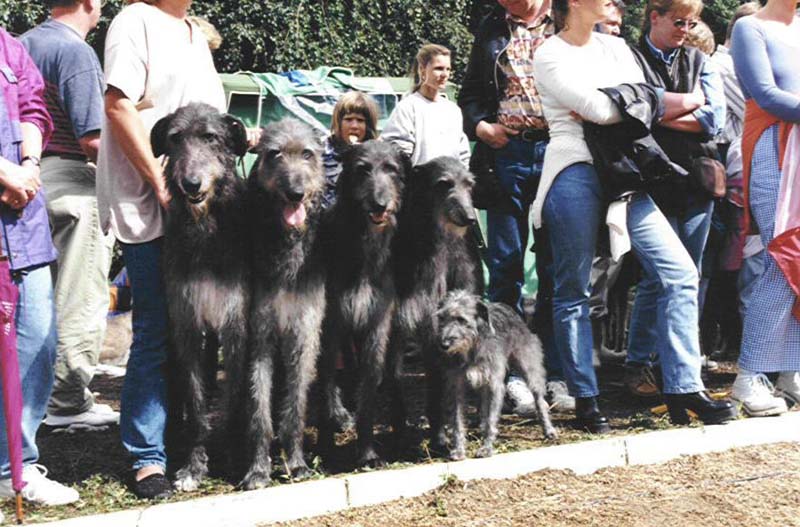 On Sunday, June 4, 1995, we took Prudence, Lennon, Cinéad, and Cardhu to the World Dog Show in Brussels. Prudence and Lennon each got a CAC and became a Belgian Champion, and also were both took Reserve World Champion (reserve CACIB), Cinéad became Youth World Champion, Prudence and Lennon were third in the Brace Class, and the four of them were second in the breeding group. What a day that was!
At the end of March, 1996, Cinéad also developed atrial fibrillation, and then two weeks later, Prudence did the same.
Exercising strict control and with proper medication we were well organized to give them years of an active and good life.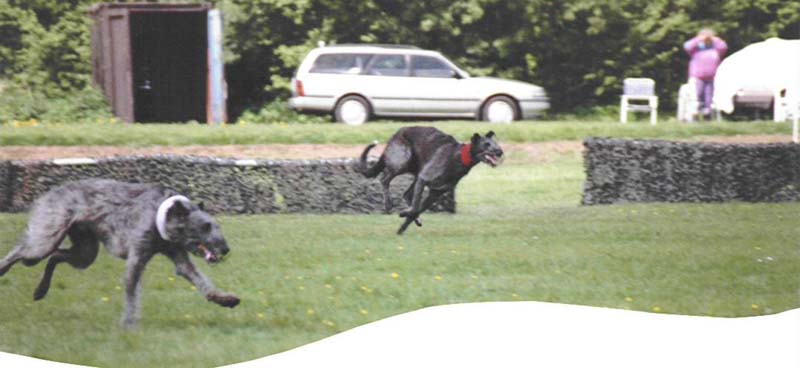 Because we could not breed Prudence and Cinéad, we looked for another beautiful girl. We ended up at Karin Jödicke's, and on November 9, 1996, Secretis Quida came to live with us at 6 months.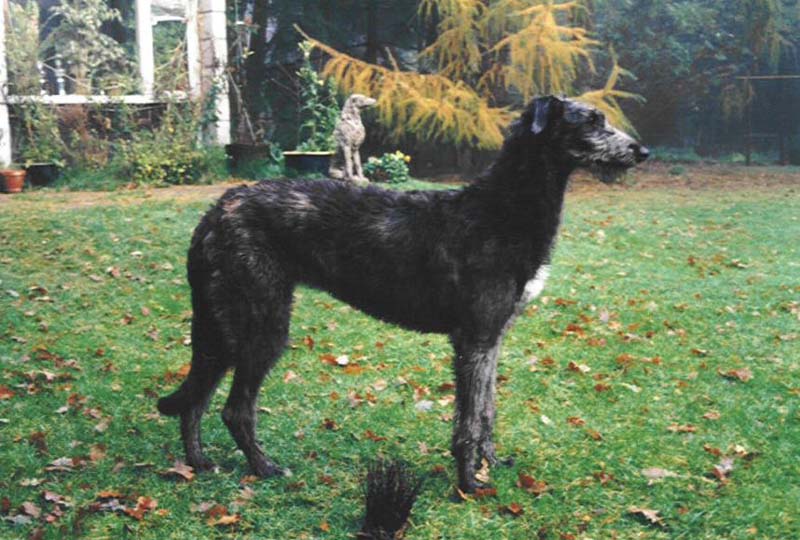 Quida likewise developed into a good coursing hound, and she won several youth titles such as Luxembourg Junior Champion and European Junior Winner of 1997 in Copenhagen. She was starting to course at the level expected in the open class at exhibitions, when she went for a hare during a walk where she broke a toe on account of the hard frozen ground. During surgery she went into cardiac arrest … our Quida was gone. This happened on November 25, 1998.
We now had neither coursing hound nor brood bitch, and so we ordered a puppy from Caroline Dowsett. She had a litter and the puppies would be 10 weeks in late December. We agreed to pick a puppy on January 10.
Then fate struck again. Lennon died because of an error by a veterinarian on January 4, 1999. My Lennon was gone; I had lost a part of myself.
Now we only had Prudence and Cinéad, both of whom suffered from severe heart disease, and the question then was how much longer they might live.
In desperation we called Caroline Dowsett to ask if she had a male available. Fortunately she did, and so on January 10, 1999, we took Terichline Tanager (m) and Thistle (f) home with us. These puppies provided at least some distraction!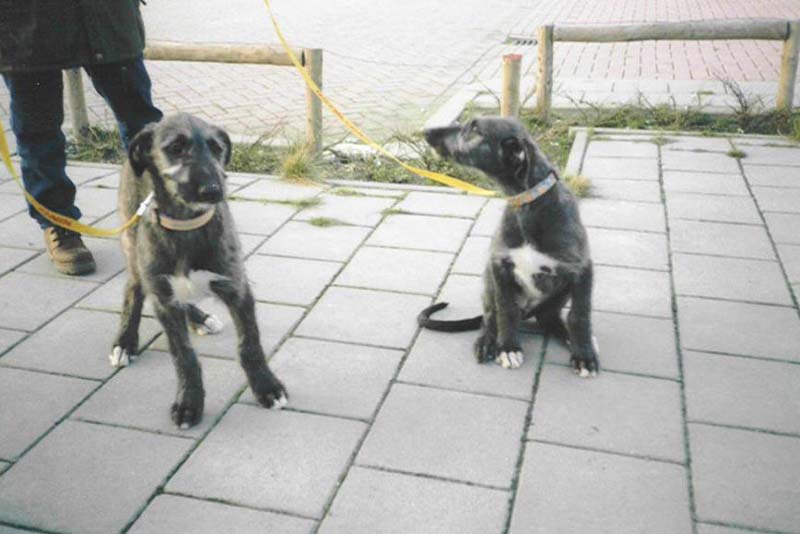 Our Prudence died on Sunday, May 30, at the age of 8½ years, a good three years more than expected.
We had to euthanize Cinéad the same year on September 2, as she was starting to develop bloat because her chest was filled by her enlarged heart, which thus pressed on all the other organs. Fortunately we were super quick getting her put to sleep, and she went quietly.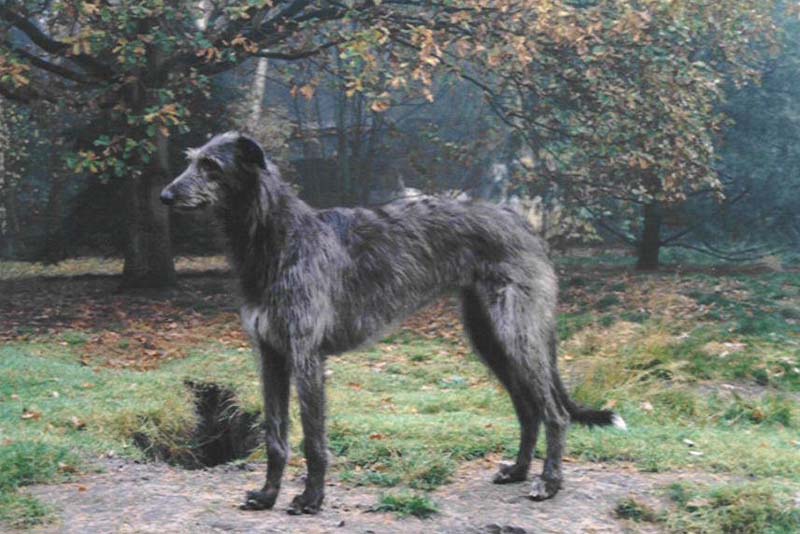 This same year Cicely and Chadé died in a fire. This was truly a disaster year. Five Deerhounds lost in one year is really too much. I never knew anyone could produce so many tears.
Then I got a call toward the end of November from Iris Coppee. Iris had a litter brother of Lennon's, Lloyd-Lennox, and down from him there were two females, bred by Susanne Ottofülling (who was also Lennon's breeder). If we were interested, we should go and have a look.
Of course we were interested — you don't say no to an Argyll granddaughter! And … it was love at first sight. On December 11, 1999, we took Edle Emmy vom Welzerberg home. As we found Emmy did not sound English enough, we renamed her Amy.
Tanager and Thistle thought they were getting a Christmas present, they liked her so much! And still do.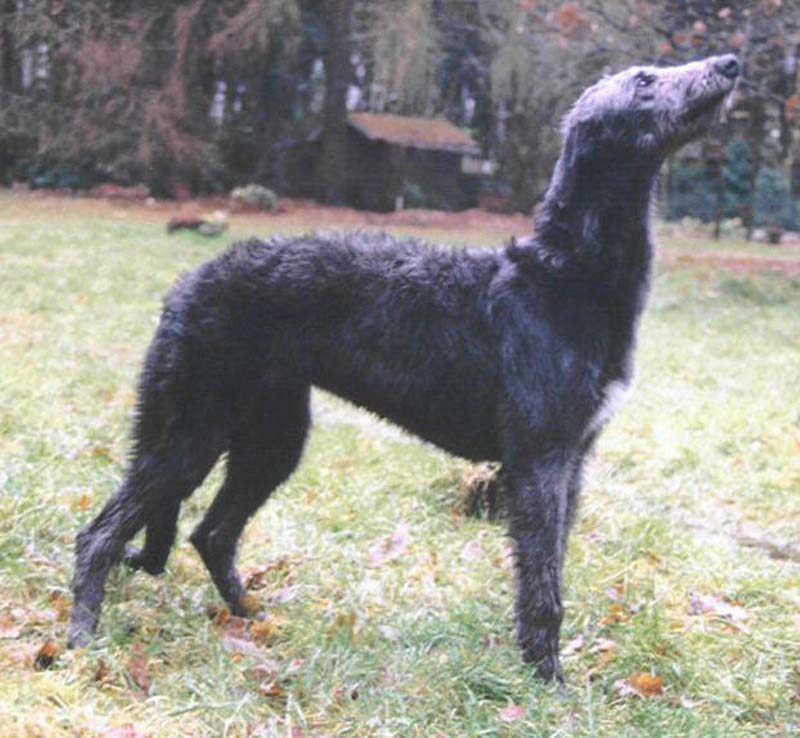 We bought these English Deerhounds especially for their coursing abilities, and they were very good at it. Thistle ran on afterburners from the beginning and achieved remarkable results. She had three CACIL with the result that she could be called an International Coursing Champion at the age of 23 months.
She also gained 3 CACC's, 4 is good for German Coursing Champion.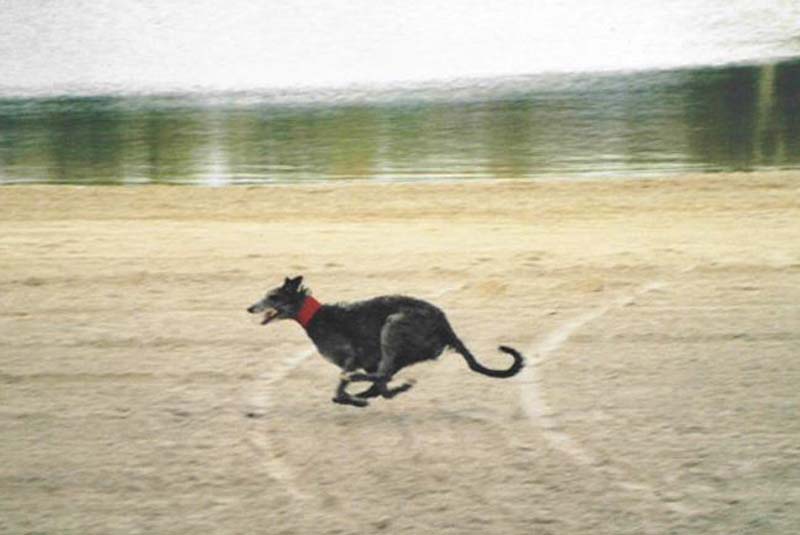 She never got the fourth CACC, because on November 9, 2001, we learned that Thistle had atrial fibrillation. End of coursing career.
For Tanager, when it came to coursing, it took a little longer for the penny to drop, but once it did, he was unstoppable, literally and figuratively. He has so far achieved one CACIL and 3 CACC's.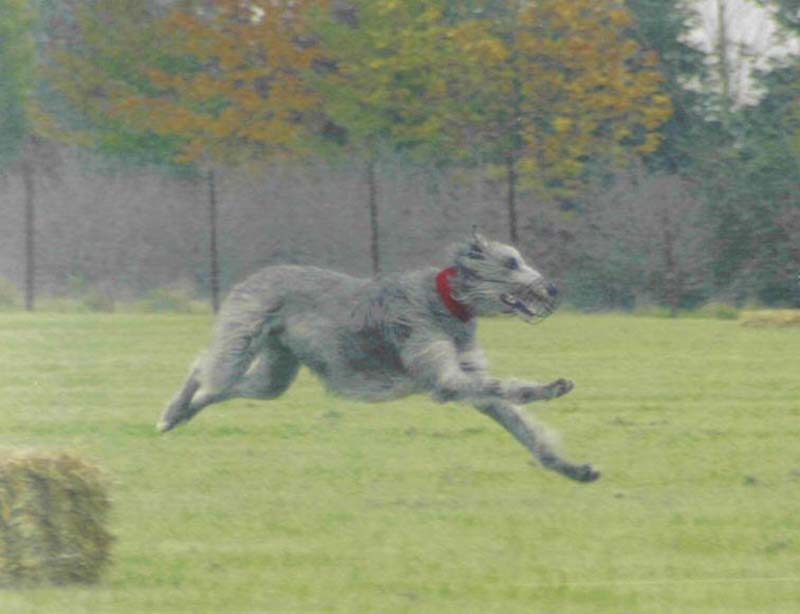 Unfortunately, the time came when he could not run, because two toes were amputated from his right foot. The first toe was taken after an infection caused the bone to dissolve (osteolysis). He lost the second after he broke it and it could not be repaired because it was broken in too many small pieces. And so no more coursing for Tanager.
Amy found coursing a wonderful game, and she was fanatical enough about running her own course rather than following the hare so she has always been the eternal second.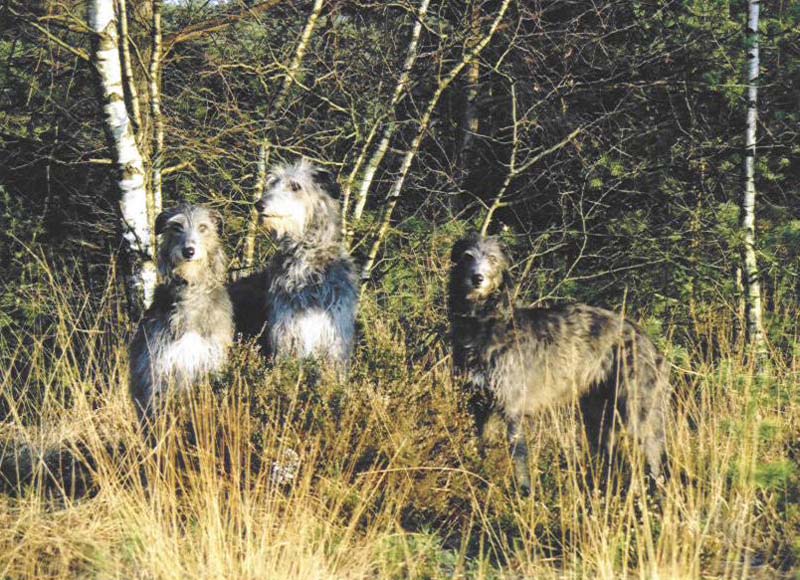 We showed Tanager and Thistle sporadically, and the results weren't bad, but Amy turned out to be great from the start.
Up till now she earned the titles Junior World Champion of 2000, and Dutch, German, and Danish Champion.
Over the years she also added the titles International, Belgian, and Luxembourg Champion, and Belgian Winner of 2003.
Her coursing and show careers were temporarily put on pause because Amy was mated on January 23, 2003, to Fritzen's Great Gatsby. A very nice thing about this combination was that they were both Junior World Champion in 2000.
Gatsby did very well at shows. He earned the titles Luxembourg Junior Champion in 2000, Junior World Champion in 2000, International, VDH, Germany, Luxembourg Champion, and Verband-Sieger 2001(a German title.)
He was by nature a very good courser, and had extremely good temperament.
We deliberately waited with breeding until after Amy turned three (because according to the specialists) a heart problem usually occurs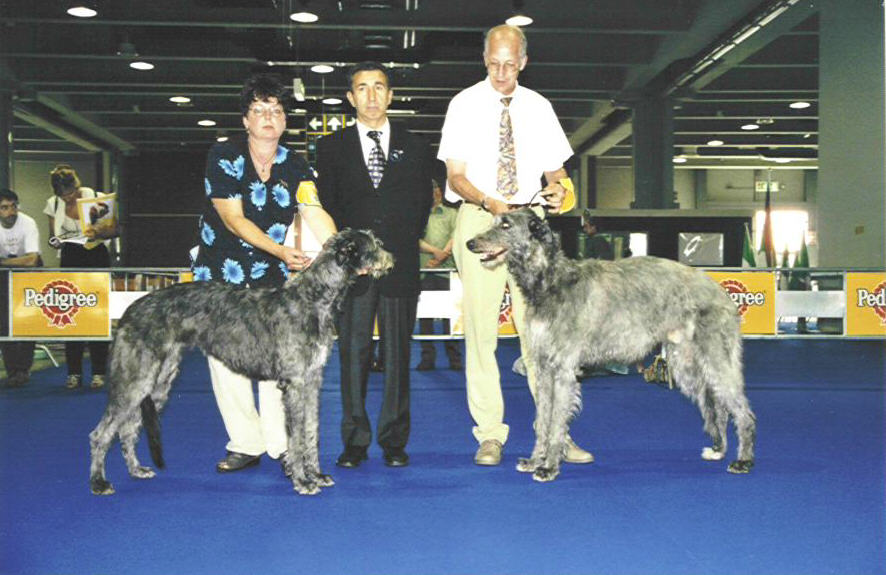 on or around the third year of life.
You can sometimes detect a slight deviation from the norm at a very young age, so we also had Amy examined at the ages of two, and again after the age of three. She also had a comprehensive blood test to detect any latent diseases. Amy happily was in perfect good health! Gatsby was also tested, and he, too (at least until then, because it is always a snapshot) had a healthy heart.
Meanwhile, Amy was scanned and it was discovered that she was pregnant.
We hoped that, nine years after our first litter, another set of healthy and beautiful puppies could see the light, due in late March.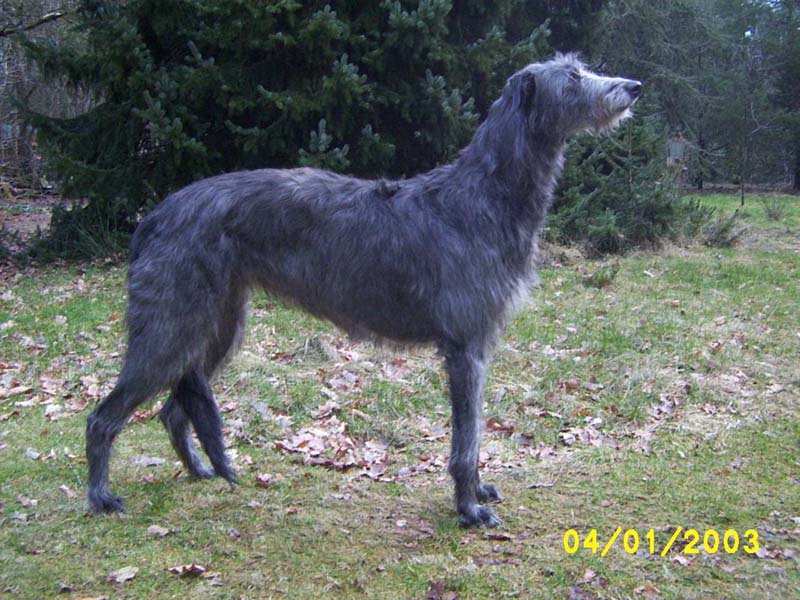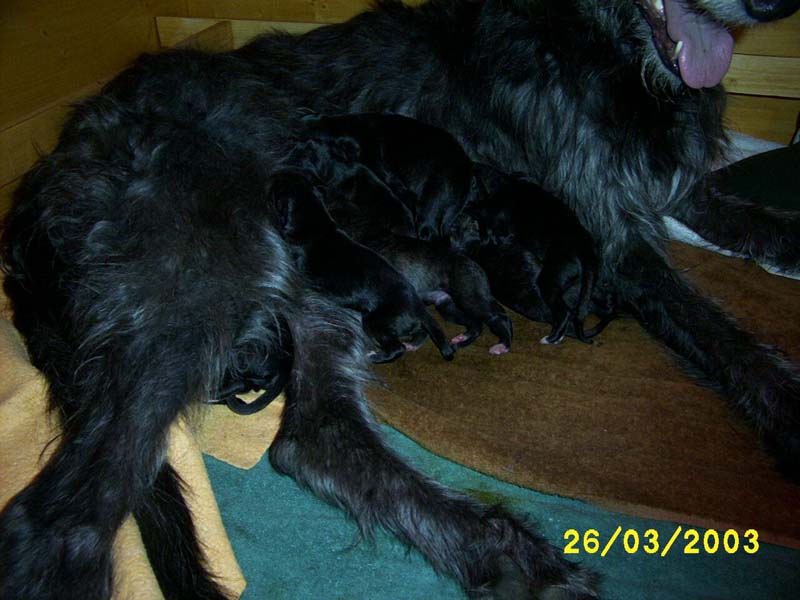 The puppies were born on March 26, 2003. The first came at five minutes past two at night, and the last at five minutes past two in the afternoon. In total there were ten, but unfortunately two males were stillborn. So in the end Amy had two daughters, of 300 and 320 grams, and six big males of between 380 and 500 grams, all of which competed for their mother's milk.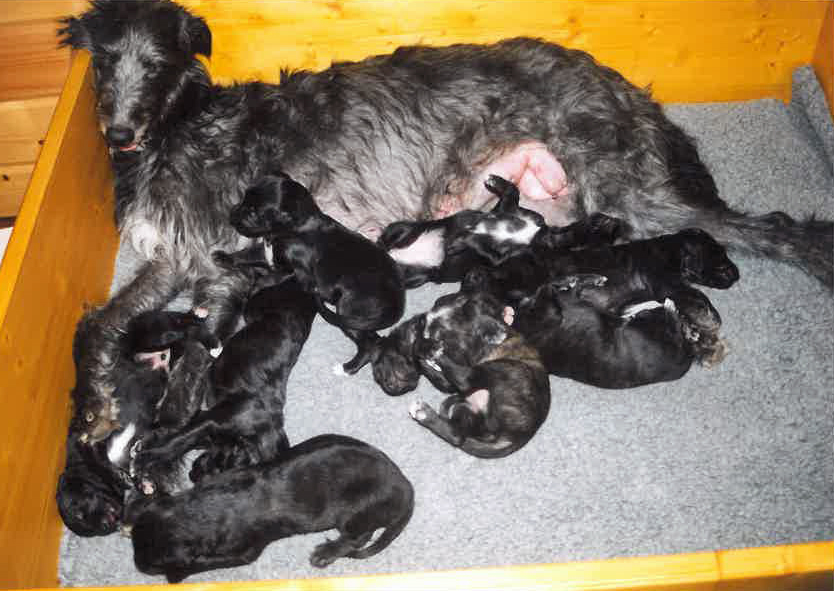 The males were called Commander Cody, Connor MacLeod, Cavanaugh, Chazz, Curic Myrrdin, and Craggan Kalle. The two females were called Cute Coney and Caintha.
On the first day, six of the eight gained weight, the two others maintained their birth weight, and all doubled in weight after a week, as puppies should. Within two weeks they stood on their feet and were already staggering around in the whelping box. They started playing together, and once, when I put Amy's food bowl between her forelegs, the pups dived into it.
We found them still too young for the food we fed the big dogs, but steak tartare was like cake to them. Soon we made a tasty paste of steak tartare, and healthful additions: Nutrix (powdered porridge), Gistocal (a mineral supplement), and RoosVicee (a concentrated Vitamin C drink. We gradually added in bread and vegetables.
Over time they ate everything, from their porridge, to kibble, to which we added ground chicken, red meat and tripe, and home prepared meals with cereals and much more.
The puppies now regularly swarmed over our property and behaved very boldly and were not afraid of anything.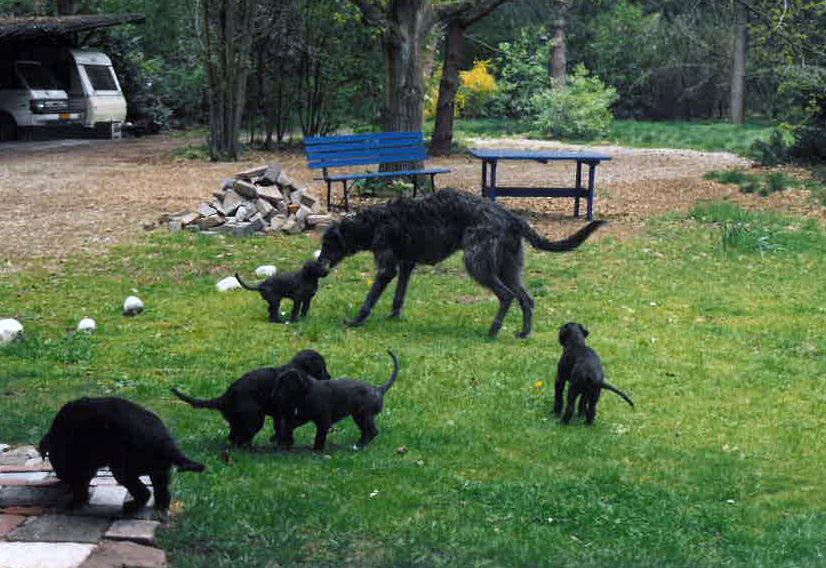 They have been out with the car several times and joined various events such as coursing and a Celtic Festival. So the bagpipe now belonged to their world.
Cute Coney and Cavanaugh have continued to live with us and have already "trained" for coursing and show, because learning is best begun young. The other puppies had to wait a few weeks before they were allowed to go to their new homes. While waiting they were raised by Amy, Thistle, Tanager, and us.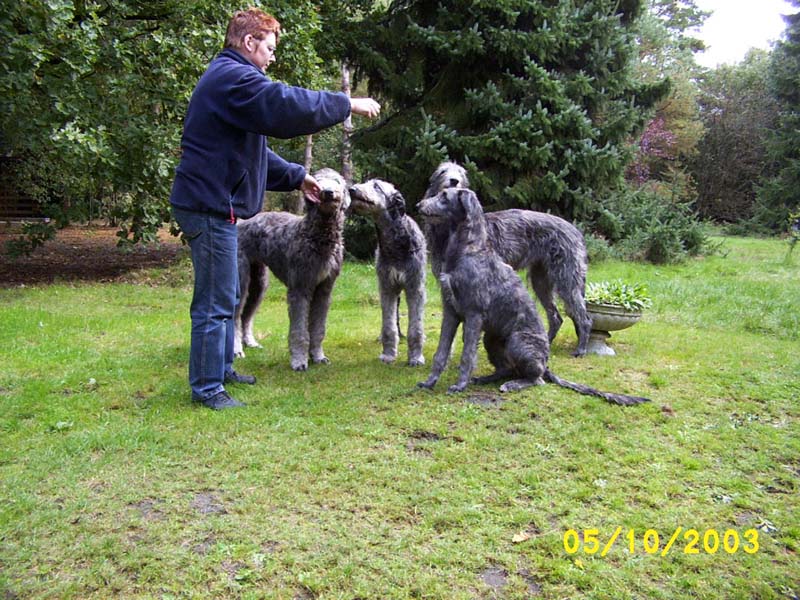 Happily they were quickly housebroken, and also took well to leash training. Only some of them knew their names, but they all reacted as we shouted "uh, uh" because they did something bad. They all managed to invent the bad things for themselves.
After three months, Cody moved to a family named Lanslots in Tilburg, Connor went to live with his sire in the Black Forest, Chazz went to Marijn van Iersel, Curic Myrrdin moved to Volendam, and Craggan Kalle went to Frances Lent. Initially only Cavanaugh and Coney were to stay with us, but soon Caintha proved to be a coursing talent and Simon fell in love with her … so she, too, could stay.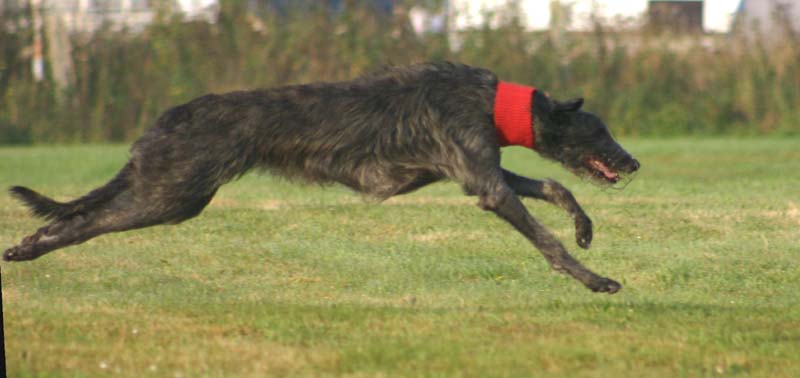 Cavanaugh and Coney developed into woollies, but Caintha, by contrast, grew the perfect coat. Initially only Caintha was shown, and her results were not without merit. Although her stride could be longer and her skull planes somewhat more parallel, she nevertheless won the titles Luxembourg Junior Champion, Belgian Winner 2004, Dutch Champion, Luxembourg Champion, and Belgian Champion.
We knew that she was good at coursing and she won the titles International Coursing Champion, German Coursing Champion, and West Cup Sieger 2008. During the European Coursing Championships she got a second place in 2005 in Hoope (Germany) and in 2006 in Mustiala (Finland), and a fifth place in 2008 in Husby (Sweden).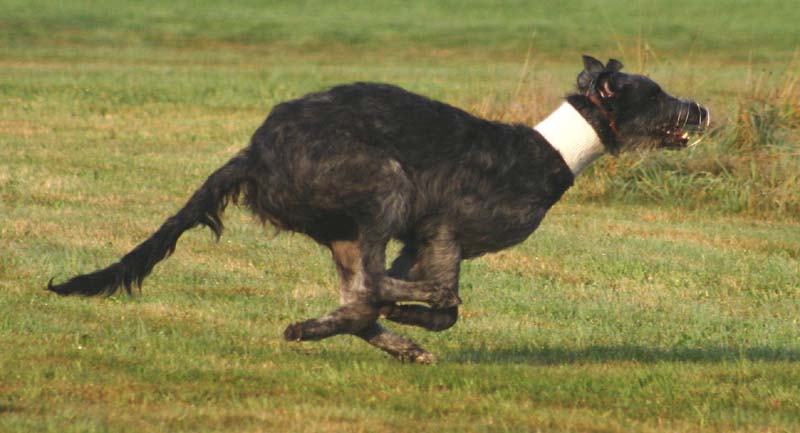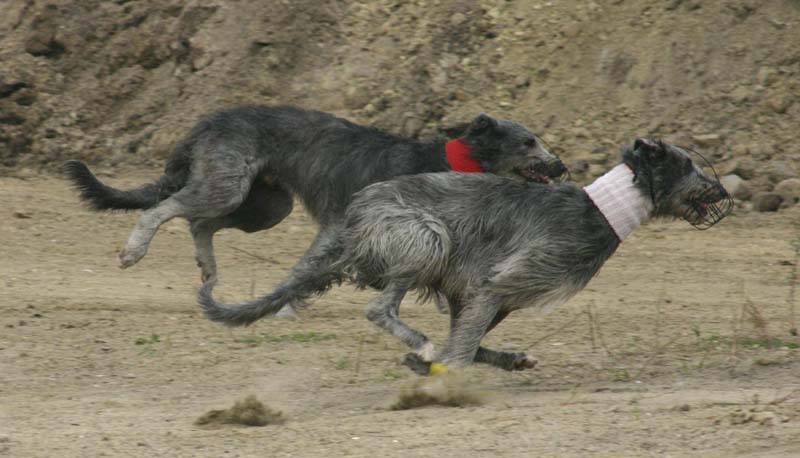 Cavanaugh and Coney were initially very good coursers. However, at the age of six months, Cavanaugh's sisters smashed him against a tree, from which he suffered permanent damage to his left leg. He quickly became less eager to get started. But once underway, he went like an express train. We never did figure out exactly what was wrong with his leg, but he still ran many courses, aided by nutritional supplements.
On February 18, 2005, (in her 23rd day!) Amy was covered by Ivanhoe from Highlanders Yard. From this combination two females and two males were born. Cala (f), Cwillyaigne (f), Craffitsh (m), and Crantiffic Argai (m). Unfortunately, Amy had contracted a virus during her first two weeks of gestation.
Thistle also got this virus, and after a few days she could no longer withstand it. The combination of the virus and her heart condition proved fatal. On March 7, 2005, we had to say goodbye to her. A few months later, Tanager was diagnosed with lymphoma, and within four weeks was overcome by the pain. Luckily, Atjo Westerhuis, Tanager's "court" veterinarian, was so sweet as to come to us and send Tanager to his rest on December 1, 2005. Atjo, I am still so grateful.
Thistle and Tanager are forever together again.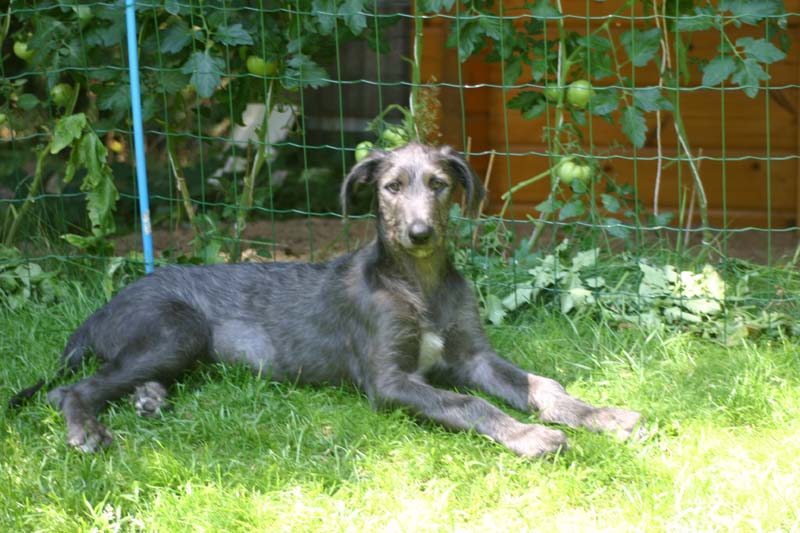 The virus also had effects in the puppies. Cala had a very atypical kinked tail, and Cwillyaigne's jaws developed abnormally. Crantiffic Argai also had a strange kink in his tail and also a liver shunt (whether due to the virus or not we do not know). After corrective surgery for the shunt he had three more good years.
Only Craffitsh grew up without faults.
After his operation Argai went to the Lanslots', where Cody already lived, and Cwillyaigne and Craffitsh have stayed here with us.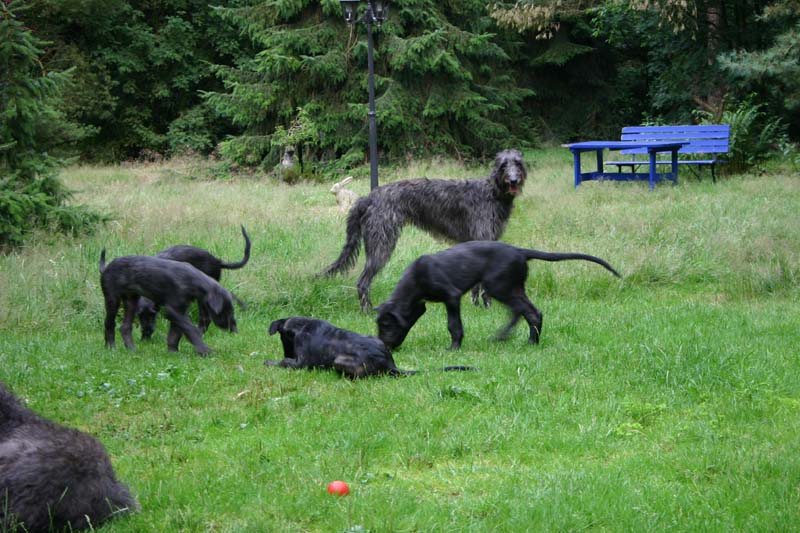 I did not show NafNaf (Cavanaugh) as he was a true woolly, and therefore became a total teddy bear. As for Coney's coat, I was happy with it in that when the soft undercoat was stripped out, her coat was acceptable. I got started showing Coney quite late, but once in the show ring, she earned her titles in no time.
2006 was a particularly successful year for her. On Tuesday, November 7, I took Chazz and Coney to Poland (unfortunately Marijn had to work and could not come with us) for the World Exhibition in Poznan. The Deerhounds were judged on Friday the 10th, so on our way to the show, we overnighted at different nice campsites, where we were able to go on good walks. Chazz thought it was all fine, and he took well to the caravan (RV) life. When the big day came, it was quite a challenge to find a parking space, as it was crowded everywhere. Once we found seats there was plenty of room, and the ring for the Deerhounds was of ample dimensions. That was great, because that way Chazz and Coney could show their excellent movement! And that was something that the judge went for. Chazz as well as Coney became World Champions!!! Terry Thorn, the judge, really loved them. What a day! We made the trip home in a happy daze.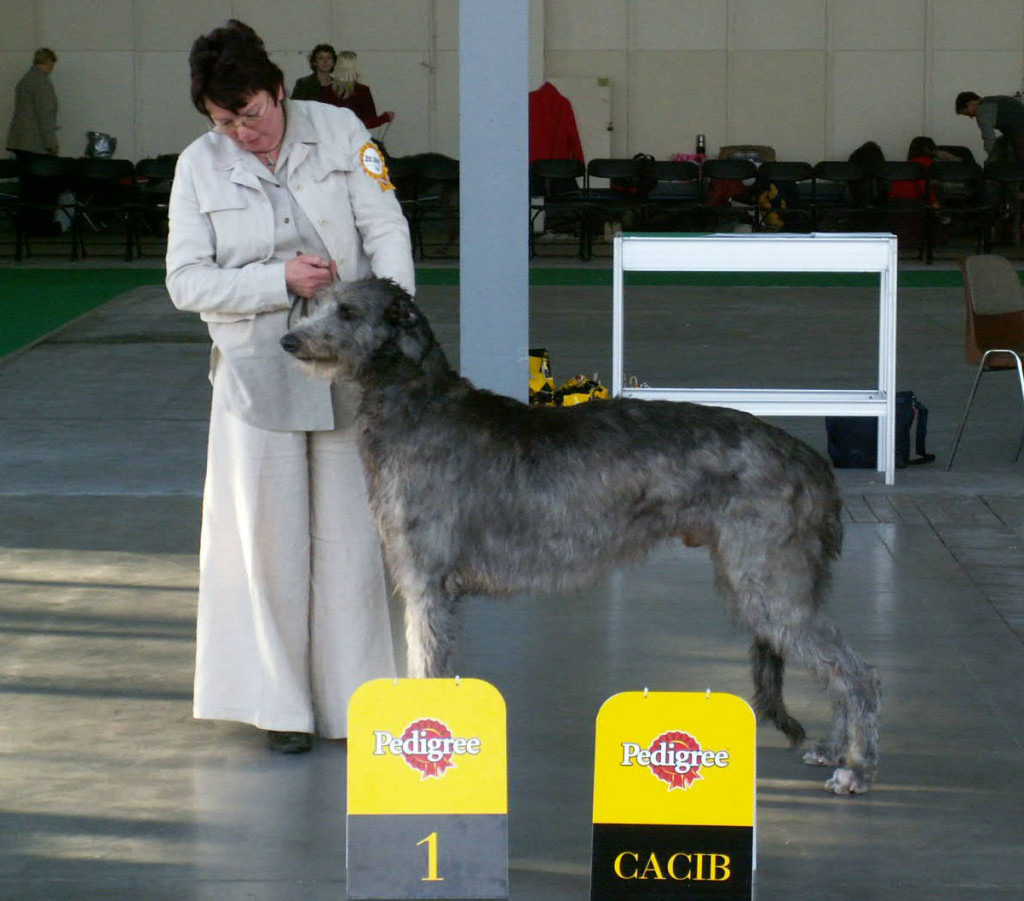 Chazz won the titles Dutch, International, Polish, Belgian, and World Champion in 2006, and also the 2006 Bundessieger. Connor MacLeod also obtained several titles.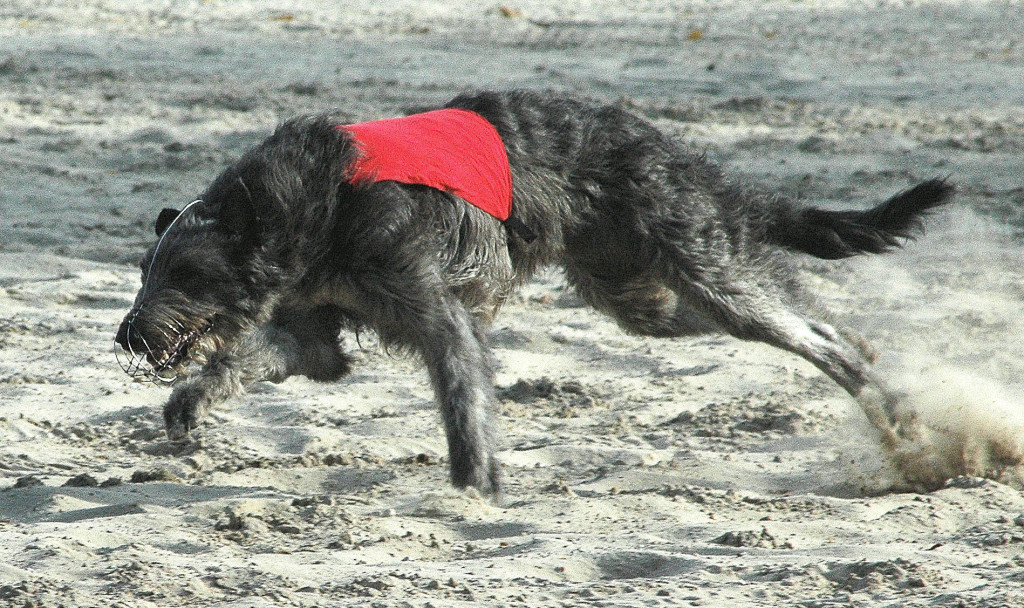 Coney has gained Dutch, International, Danish, Polish, German, Belgian, French, Luxemburg, and World Champion in 2006, was Landessieger Rheinland in 2005, earned Winner Donaueschingen in 2006, Jahrhundertsieger in 2006 and at the big show in Amsterdam 'Winster' also in 2006. Her biggest win was taking BIS 3 at the major international exhibition in Luxembourg in 2008. Until the age of four, she found coursing a delight, but then she put too much thought into taking shortcuts and ended up lazy rather than tired.
Unfortunately, in 2007, I had to pick Curic Myrrdin up from Volendam. It was said that he growled at the children. When we got him home, he showed how unsure he was, and it was clear that he wasn't doing well physically. I took him to The Corner, a holistic practice for animals. There they discovered he has several twisted vertebrae. The children must have hung on him, so it was logical that he didn't like them anymore! After everything was restored to normal, he went to Almelo to live with Maryse, Ron, and their boys. Unfortunately, not for long, as he had somewhere contracted MRSA and died of it in June, 2007. Just like their father a few years before, Connor MacLeod (end of 2008) and Chazz (February 5, 2009) both died of bone cancer.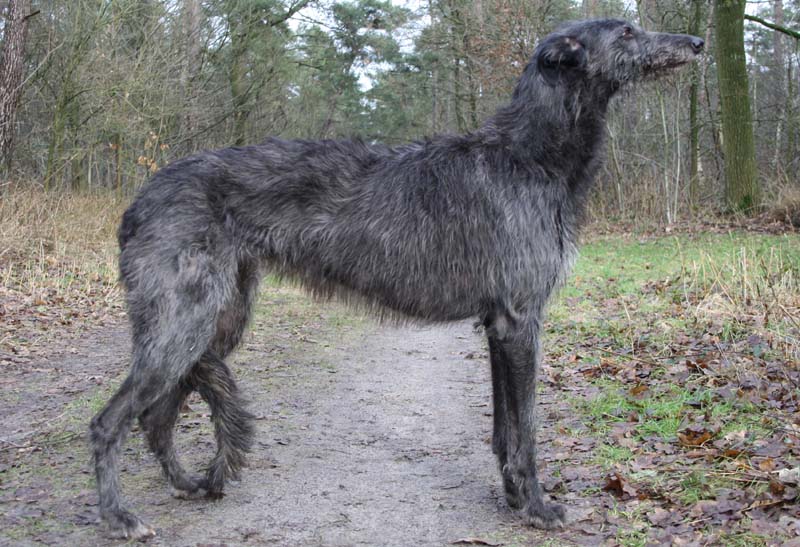 Cwillyaigne turned out to be super-fast and a fanatical courser. But her tremendous speed and fanaticism went wrong regularly. During the European Coursing Championship in Switzerland (2007), she was injured very seriously. During the first round, she tried to make a kill, but was caught by the hare and rolled several times. After the hare was again attached to the line she had another fanatical start, but at the end of the course she didn't dare attempt a kill. She was afraid of the hare. When it came to the second course, we were glad that was all that was wrong with her. Especially as she appeared to be in a tie for first place! Unfortunately, she stayed put when the hare ran off. Phew, that was painful, and confirmed she really was afraid of the hare. The next day she was lame, quite crippled, and it was later learned that she had a wrenched spine, and her ligaments, tendons, and muscles all had suffered a huge blow. It took at least nine months before she had no obvious problems, apart from her knee being fragile enough that she did not use it 100% as she should. But it took almost three years before she overcame her fear and committed fully to going after the hare. She has one CACIL toward the International Coursing Championship, but whether she will ever complete it I do not yet know.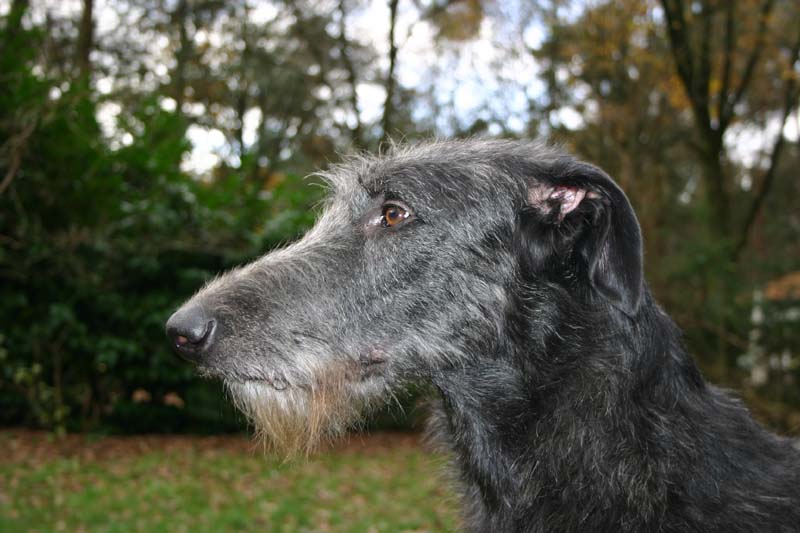 Craffitsh was a real showman. From a young age he impressed in the ring. He obtained the titles Dutch, International, Belgian, Luxembourg, Swedish, and Danish Champion, Luxembourg Youth Champion, Youth Winner Donaueschingen 2006, Jahrhundert Jugendsieger 2006, Euro Sighthound Winner in 2007, KWBC Winner in 2007 and 2008. When he was largely grown, but not quite five years old, I unfortunately had to have him neutered because of prostate problems. Showing was thus no longer possible. Despite many requests for him to sire litters, I never let him be bred because his brother had a liver shunt.
After he rolled over twice at young age while coursing, he didn't care for the game anymore. Live coursing, on the other hand, he finds exciting, but unfortunately. . . .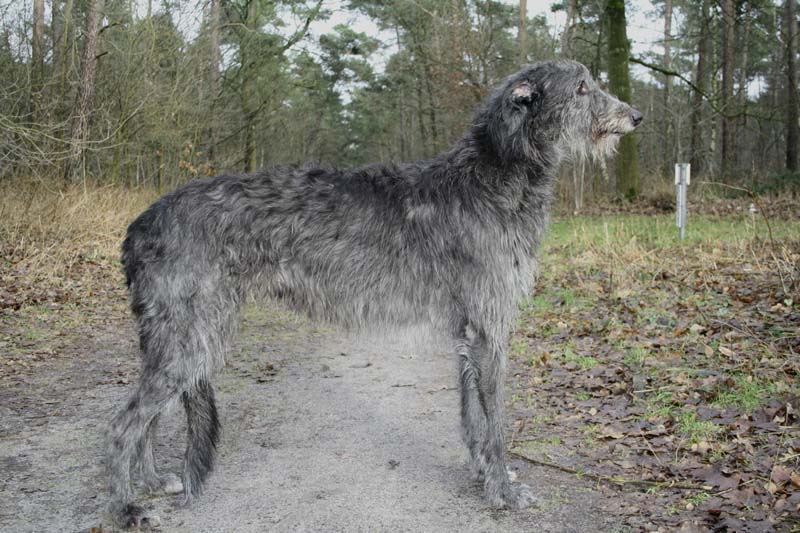 On two occasions we tried to have Caintha bred, but she had other ideas, and therefore never produced any puppies. Too bad, because her wonderful temperament would have made a good contribution to the Deerhound legacy.
Once it was clear that Caintha was not pregnant, on September 25, 2007, we decided to send Coney to be bred in England. She was covered by Pyefleet Percy on October 3 and 4.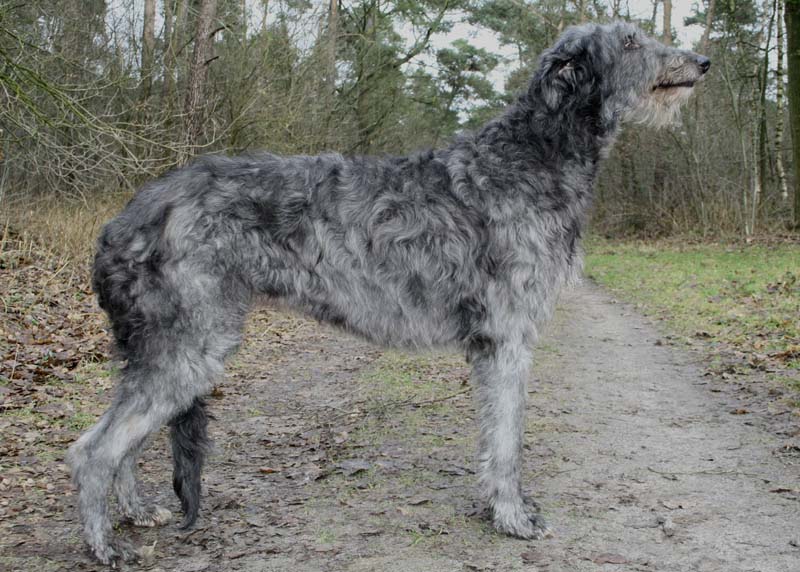 On Saturday night, December 1st, the first puppy was whelped, but then nothing happened, there were no contractions, and Coney went to sleep.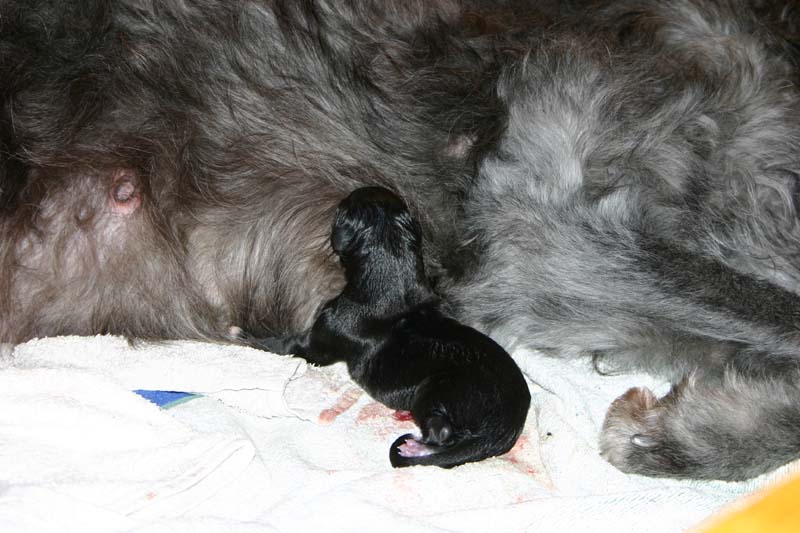 Sunday morning I called the veterinarian for a caesarean section because things had been going on far too long. Eventually there were a total of 15 puppies from Coney's belly. Four didn't survive. Despite all the concerns for Coney, because she did not want to eat, the litter of eleven thrived.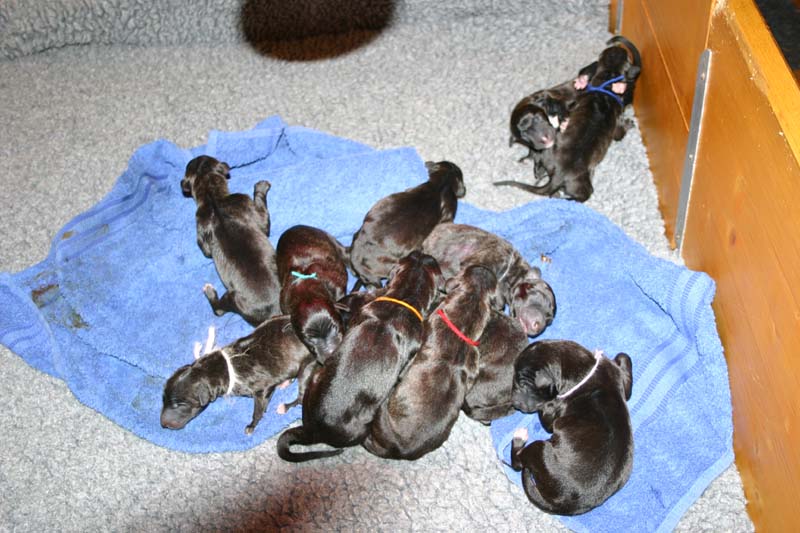 Soon the puppies could no longer drink at Coney's milk bar, as she had grown weak. We could only get her to eat the tastiest things, but at least we got something in her. The puppies were soon weaned and in a few weeks the litter went through their first kilo of steak tartare. Calhoun stayed with us. He was born the smallest male, so small that when I first held him in my hands I said to him, " You are an extremely little cupcake!".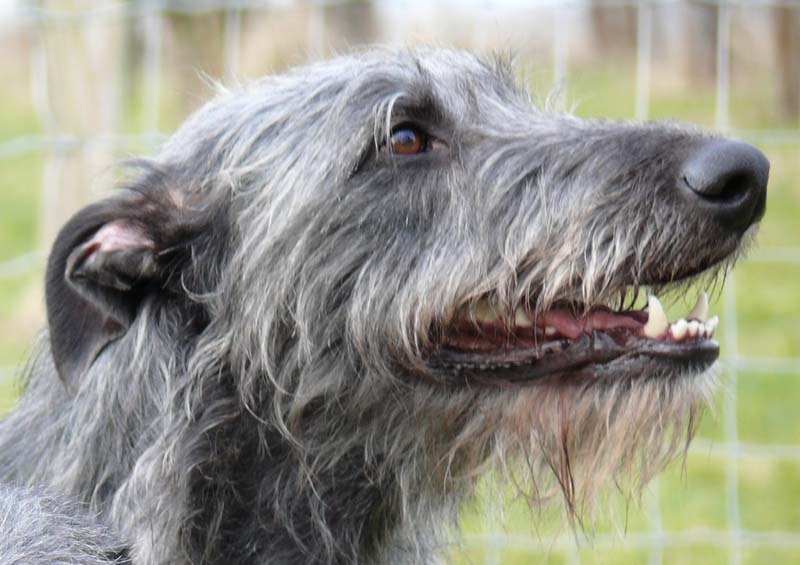 Maryse and Ron took Cabhan and Comhghall to Almelo, Clarence went to Marijn van Iersel, Cocidius moved to Leiden, Checuevarah and Curney went to Linda Tomlinson in Brasschaat, Chime went to Germany with Gabi Horn, Coquette Claire also moved to Germany to live with Bettina Middendorf. Sonja Hansen was happy to take Cheytah. Cheytah, it was easy to see, loved coursing, and she was going to do insanely well in the show ring. Sonja did both sports, so it would be fine. Cscarf stayed with us for the time being, to the age of 8 months, because he was possibly destined to go the Betina Adams in England at that age.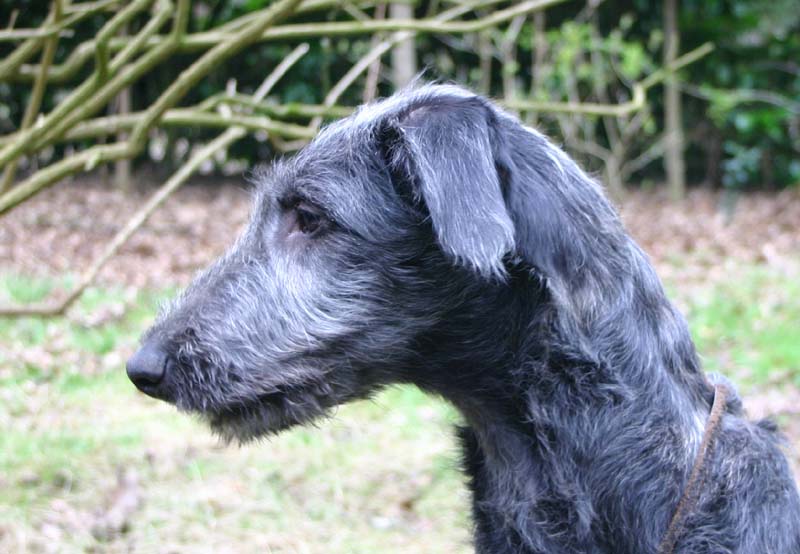 Fortunately, in the end, all was well with Coney, the love of my life.
On August 16, 2010, we very suddenly had to say goodbye to Cavanaugh. The day before he had run a course in his own way with great pleasure. In the evening he suddenly ran a fever with elevated heart rate. We got him to the vet right away, but nothing was found. Early in the morning NafNaf indicated that he was in pain, so again we went immediately to the vet. Radiographs showed that there was a large tumour in his lungs, and it was now pressing against his heart. The hardest decision was taken quickly. For days, Craffitsh was upset, and Caintha missed him as much as I did. My teddy bear was gone.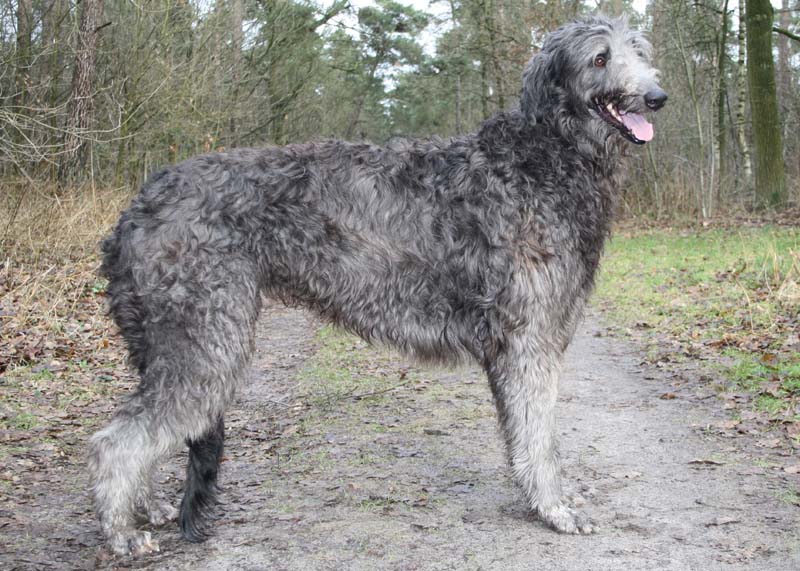 Calhoun and Cheytah regularly go to a show and now (end 2010) both have the titles Dutch, German, French, Danish, international champion, Europajugendsieger ' 09 and German youth champion.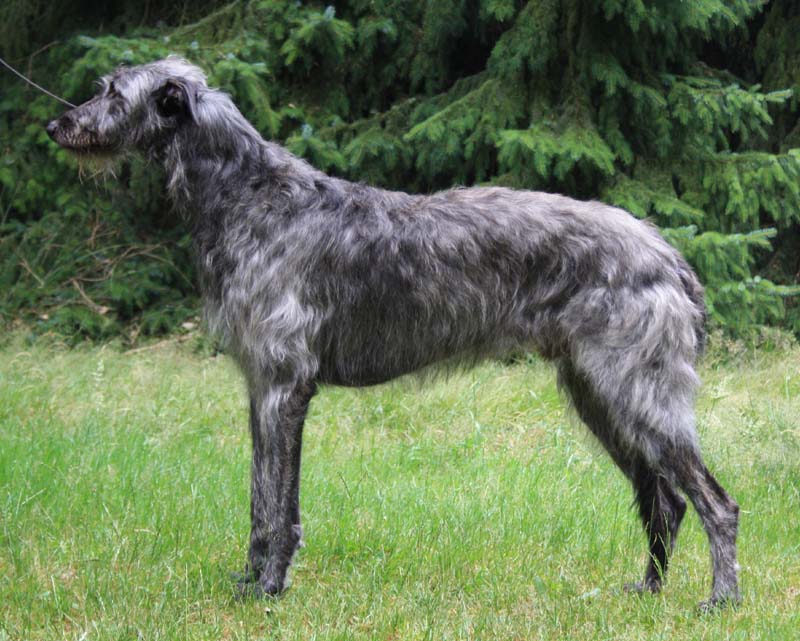 Calhoun is also Dutch Junior Champion and Belgian Champion, KWBC Winner 2008 Junior, Junior Winner and Winner 2008, Landesjugendsieger and Landessieger Weser Ems 2009 and Brussels Winner 2009.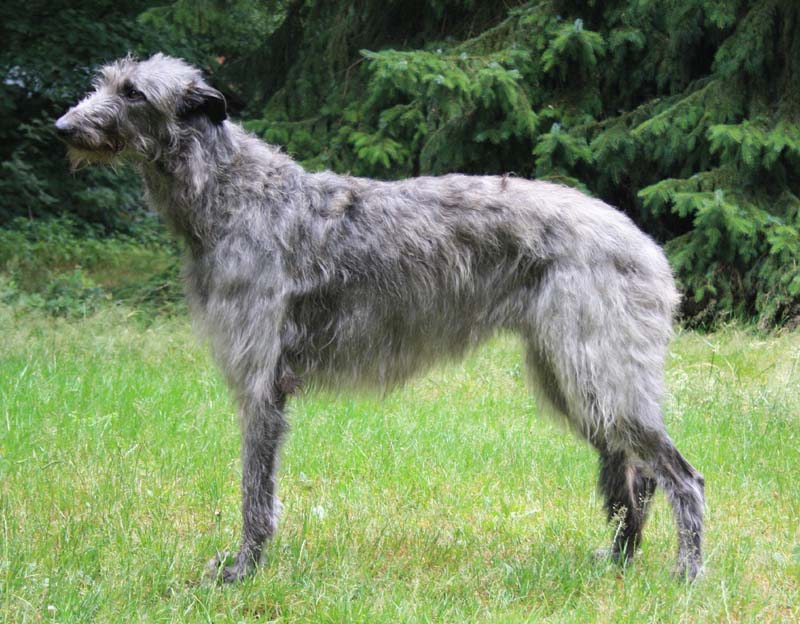 Cheytah also earned the titles Ch. Für Schönheit und Leistung, Landesjugendsieger Baden-Kurpfalz 2008, and Weser Ems 2009, and Winster 2009.
Also on the coursing field both were not without merit, and Calhoun was European Coursing Champion 2009!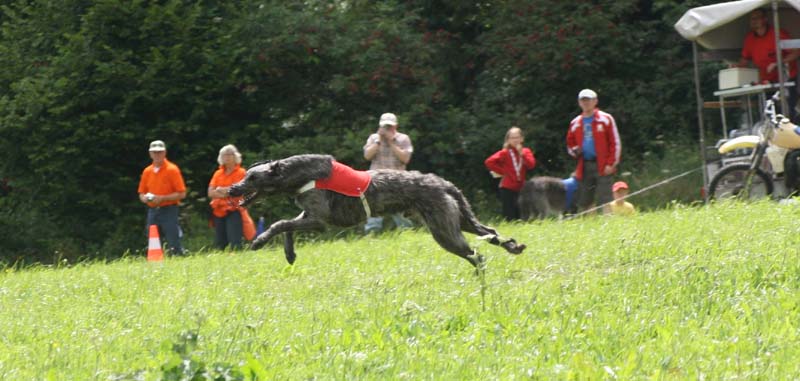 Clarence also became a Dutch and Dutch Youth Champion. Chime also had a number of successes, but lately Gabi has not had much time for showing.
Cscarf has earned one CC. It is too bad Betina has not showcased him so much, as I think otherwise he would probably have had more CCs.
On Tuesday, January 4, 2011, Sonja and I took Cheytah to England to breed Cheytah to Clanardwood Sovereign on January 6.
Unfortunately, Cheytah did not take, and we will try again at her next season.
This is in brief our history in hounds. It is a bit sad, but despite all the setbacks and all the sadness, we found that we could no longer live without Deerhounds.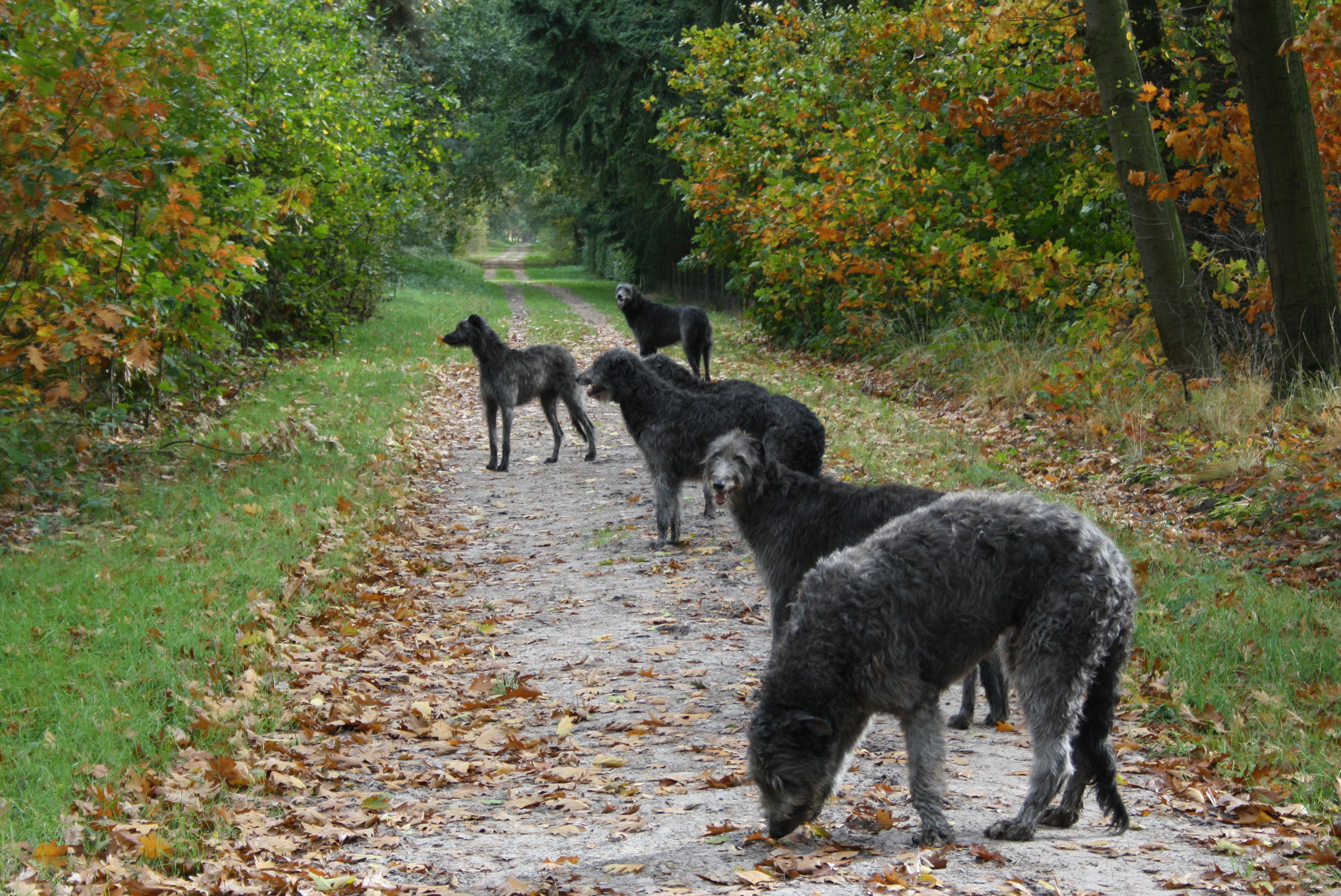 The many beautiful moments, delicious daily walks, intense hugs, their huge personality, selfless devotion, simple beauty, and graceful athleticism have drawn us to adapt our lives to them.