2011
January 6: Cheytah O'Cockaigne is bred in England by Clanardwood Sovereign.
Alas after 4 weeks Cheytah doesn't appear to be pregnant. What a pity! We had great expectations of this combination. Hopefully we will have more success at the end of the year.
February 28: Cwillyaigne O'Cockaigne breaks her lower jaw in 4 places because she was chasing a hare at top speed and ran full tilt into a concrete culvert. Our veterinarian, Rens Pellenaars, puzzles for hours to get everything back together again with metal plates and steel wire, but … read further at "Tags" – Cwillyaigne.
April 9: International CACIL Coursing in Axel (the Netherlands). Luckily there are 6 Deerhounds at the start. Calhoun wins his second CACIL! This makes him my third International Coursing Champion. Cheytah is second with the R-CACIL. Caintha is last.
April 16 & 17: Sonja and I take Cheytah & Calhoun to the Breed Show in England where 203 Deerhounds are entered. Calhoun is in the Open Class (9-4 absent) and gets 3rd place. Cheytah is placed 5th in an Open Class of 12 (15 entered). The following day Calhoun is 2nd and Cheytah 4th in the Special Racing/Lure Coursing Class (19-2 absent), and of the 22 Braces they get 5th place!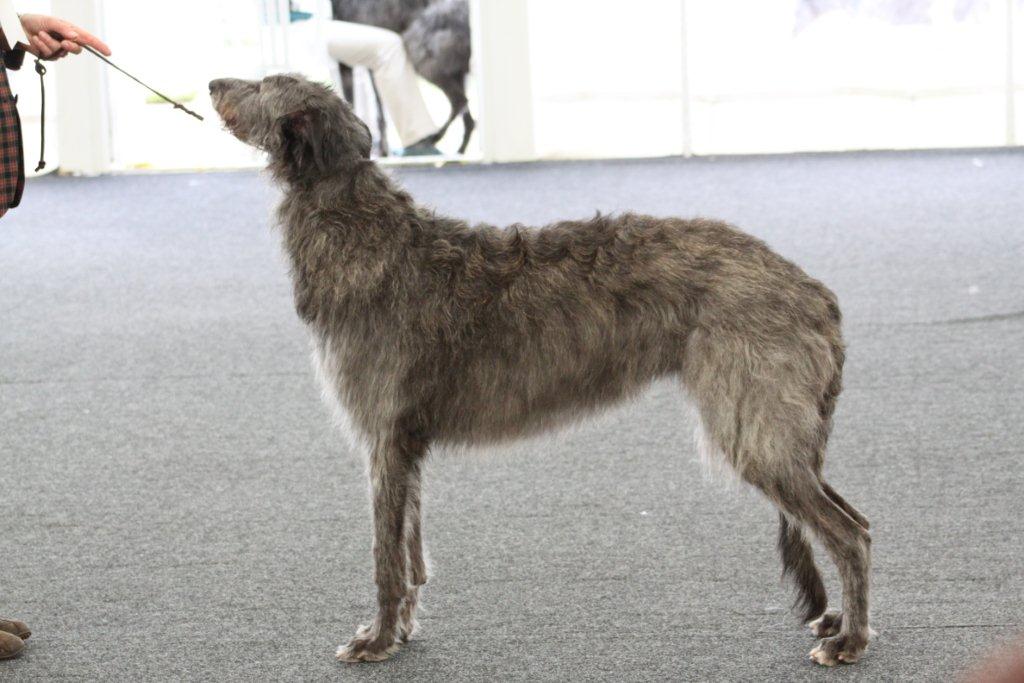 April 22, 23 & 24: Hoope (Germany). Friday at the Show, 18 Deerhounds entered. Calhoun wins BOB and Cheytah Best Bitch. Sunday, the DWZRV CACC Siegercoursing, there are 24 Deerhounds entered. Cheytah runs spectacularly in the first course but in her second course she becomes unsighted twice and loses any chance of a placement. Calhoun in contrast wins his fourth CACC and can call himself German Coursing Champion. Caintha gets tenth place.
April 30: DWZRV Siegershow in Wismar (Germany). Calhoun is BOB of the 11 entered Deerhounds and this combined with the coursing in Hoope, makes him DWZRV-Champion for Beauty and Performance.
May 1: International CACIL Coursing in Wismar. 9 Deerhounds at the start. Cheytah wins the CACC and CACIL. Calhoun is third with the Reserve CACC and Caintha is eighth.
May 8: FCI Centenary Champion Show in Dortmund (Germany), Calhoun is second with Reserve CACIB and Cheytah wins the CACIB and the title FCI Centenary Champion.
June 10, 11 & 12: Show and International CACIL Coursing in Tüttleben (Germany). There are 15 Deerhounds entered for the show on Friday. Calhoun is Best Dog with the CAC, Cheytah wins the CAC and Caintha the R-CAC. BOB is Sonja Hansen's Fritzen's Silver Cloud. On Sunday 6 dogs and 10 bitches run the coursing. Calhoun is third with the R-CACIL, Cheytah sixth and Caintha ninth of the bitches.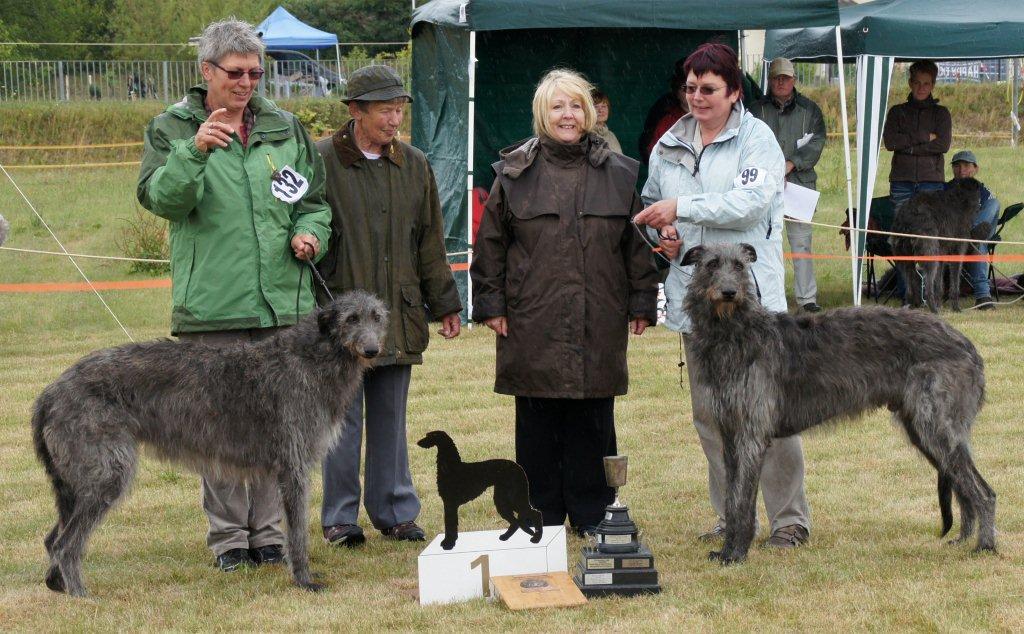 July 2: The Annual Show for Deerhounds in Greppin, East Germany (previously the DDR). Unfortunately there were only 52 Deerhounds entered, 18 dogs for Sue Piggott and 34 bitches for Mary Girling. 2 dogs and 1 bitch were absent. 1 dog was disqualified for unacceptable behaviour in the ring. Incredibly Calhoun won Best Dog, Cheytah won best Bitch, BOB and BIS – and together they won Best Brace. And both out of the Working Class! The Annual Show has never seen a result like this before!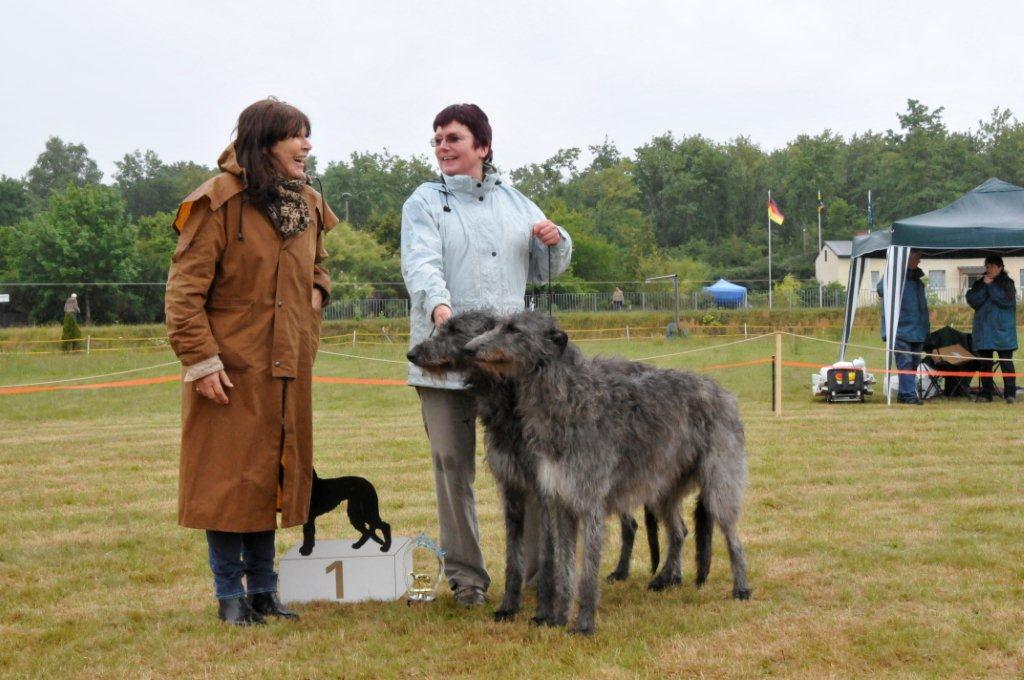 July 3; The LCO* Coursing was held. Initially 6 dogs and 11 bitches were entered, but 1 dog and 2 bitches were withdrawn and so they ran as a mixed breed group. There were some spectacular courses as it was a very exciting course layout. Cheytah was second, and Calhoun was Best Dog in 4th place. Both won the prize for Beauty and Performance.
*LCO Leistungcoursingordnung, (German system)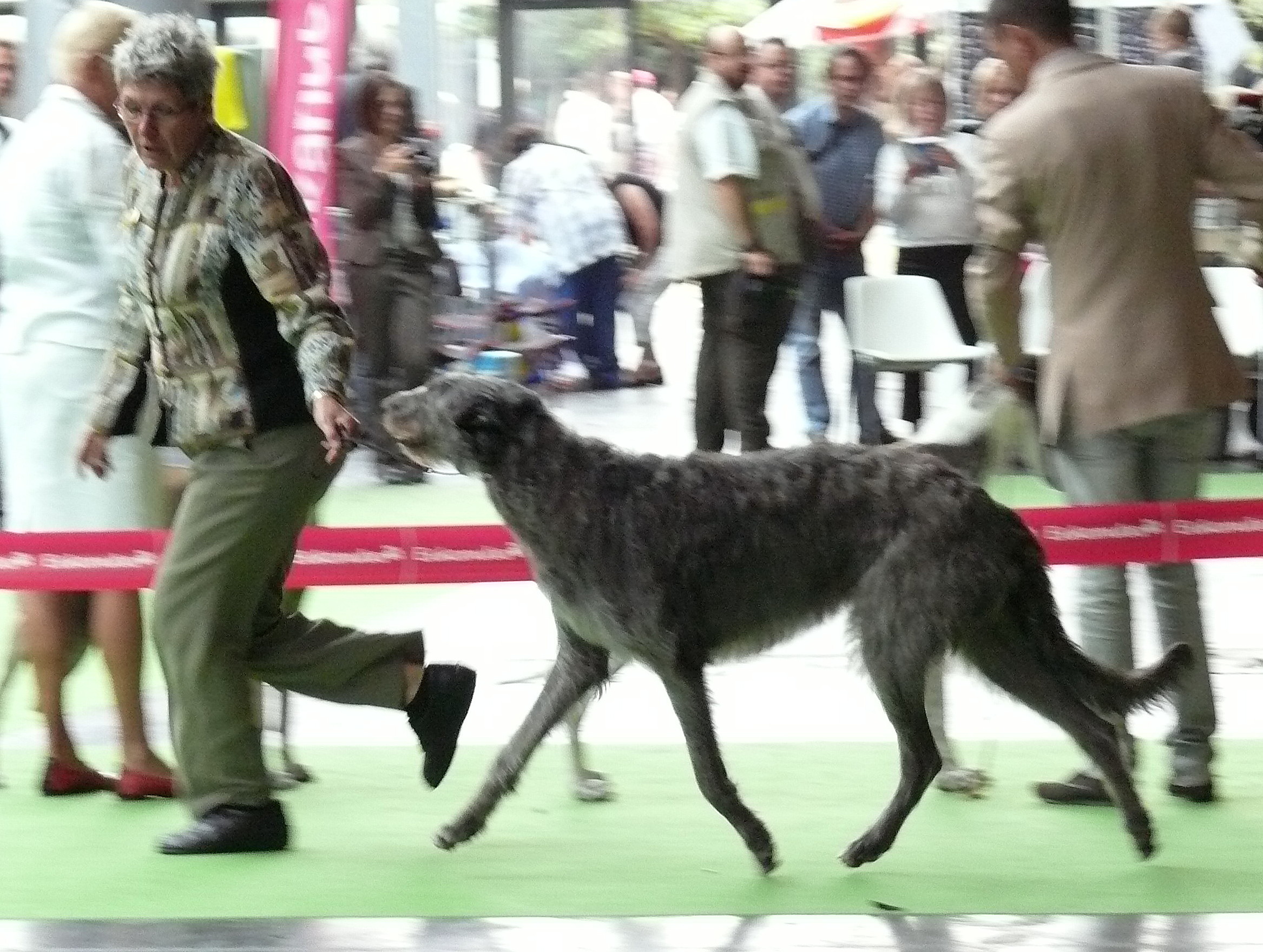 July 7: The French Championship Show in Paris. 23 Deerhounds entered, 1 absent. Calhoun is Best Dog, Cheytah earns 1 Excellent in the Champion's Class and Cute Coney 1 Excellent in the Veteran's Class.
July 8: the FCI Centenary World Dog Show in Paris. 22 Deerhounds entered, 4 absent. Calhoun is second with the R-CACIB, Cheytah is third, and Cute Coney holds the family honour high by winning a Veteran World Champion title. A very disappointing show, all the more because the previous year the very same judge let Calhoun and Cheytah win over almost the same group of Deerhounds now present.
July 16 & 17: European Championship Coursing in Oirschot (the Netherlands). Deerhounds, 18 bitches and 14 dogs entered; 2 bitches and 4 dogs absent. What should have been a great party turned out to be a drama for the organisers. I won't write much about it – I would prefer to "delete" the whole thing. For those who want to know everything, I refer to the blog of Anne Marie Rouw (www.ballisticwhippets.web-log.nl) and Lisette van de Kerkhof (www.princevalerio.blogspot.com).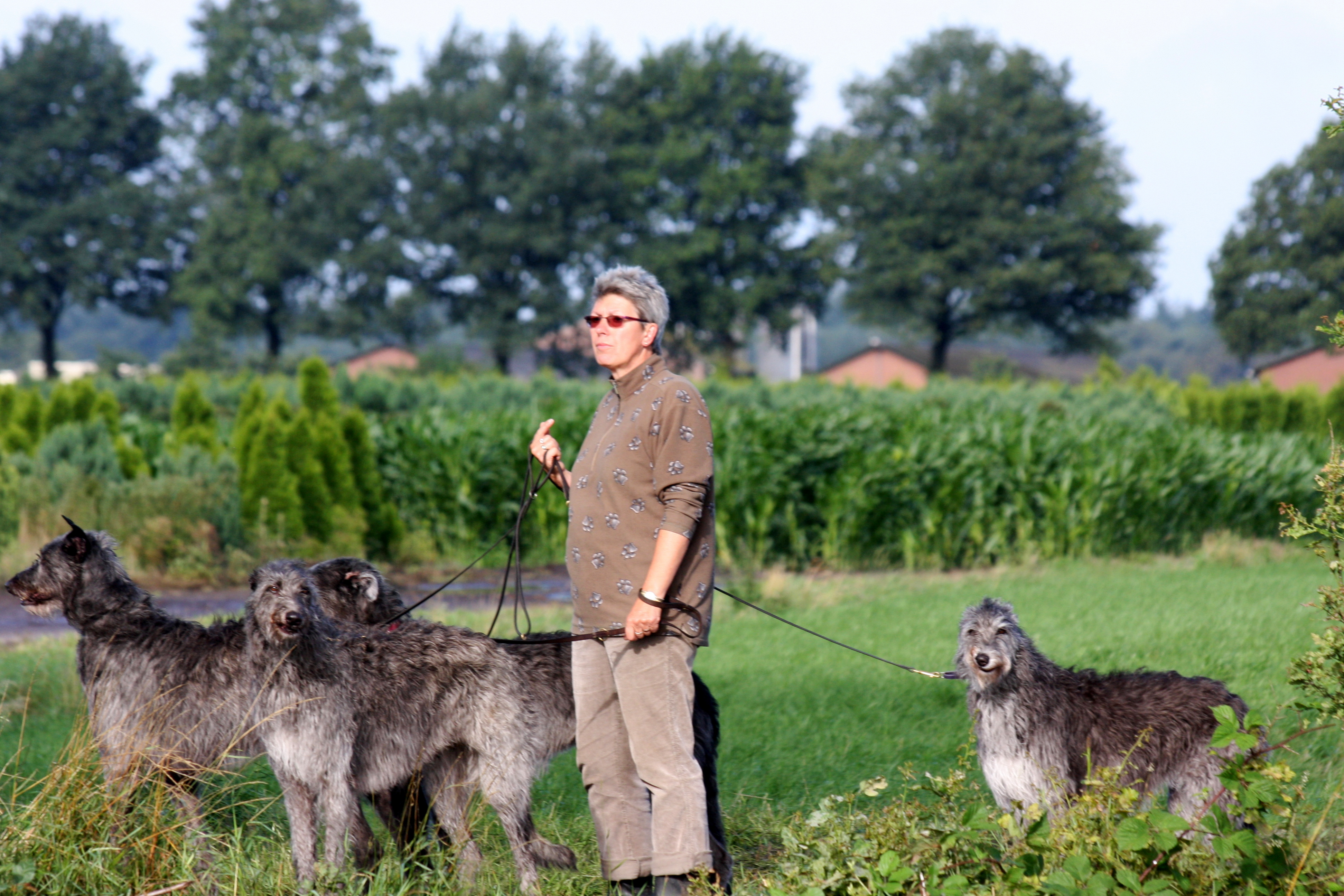 My Calhoun is rather sensitive, he will get very upset for example if a dog or a person yelps in pain. So he felt the enormous stress we experienced here because of the poor organisation. Friday afternoon he was yelping while I was a hundred yards away trying to convince the exhibitors to stay where they were. We all had to move because the catering people wanted us to and threatened to withhold meal tokens for the organising staff. Pure blackmail. Finally Calhoun completely upset, myself completely upset, and any hope for a good coursing prospect lost. I could see it straight away Saturday morning as Calhoun was not the slightest bit enthusiastic. He had a poor start, ran halfway into the field swerving from side to side. The chance was lost but I understood him all too well, it hurt because he really loves the game but under stress he couldn't play.
Cheytah is completely different, not bothered by anything, and she ran amazingly. At the end of the first course she had a shared third place. My Caintha, once again "under-appreciated", ended as one of the last. A bitch from Norway, Manticorn's Josefin gave up, and the French bitch, Entre Ciel et Terre du Triple Bois, earned so few points that she was excluded from the second course. Before the start of the second course there was some dismay over the running order. Finally some dogs had to run with the same partner they had in the morning, that's a pity, but happily it doesn't matter at all to the dogs. We had decided that Sonja would slip Calhoun, maybe he would run better. And sure enough he started better and ran with more enthusiasm. Before Cheytah could start there was a long delay because the line was broken, then a new lure had to be tied on, it takes all too long. You could see the enthusiasm just ebbing away from her. Such a pity, she ran much less well than she actually can. Manticorn's Julia, sister to the Norwegian bitch that gave up in the morning, was disqualified in the afternoon (you come all the way from Norway for that!) as well as her partner Celina of Albainn from Gerd Zekert.
I didn't watch the last courses for bitches, Caintha had already run, was soaking wet, stood shivering and wanted to go to the caravan. I was by then really fed up with all the rain and after her run we went straight back to the caravan with Cheytah, dried the hounds of thoroughly and had a stiff drink. The prize giving was held after dark, past ten o'clock in the pouring rain. They played the wrong natio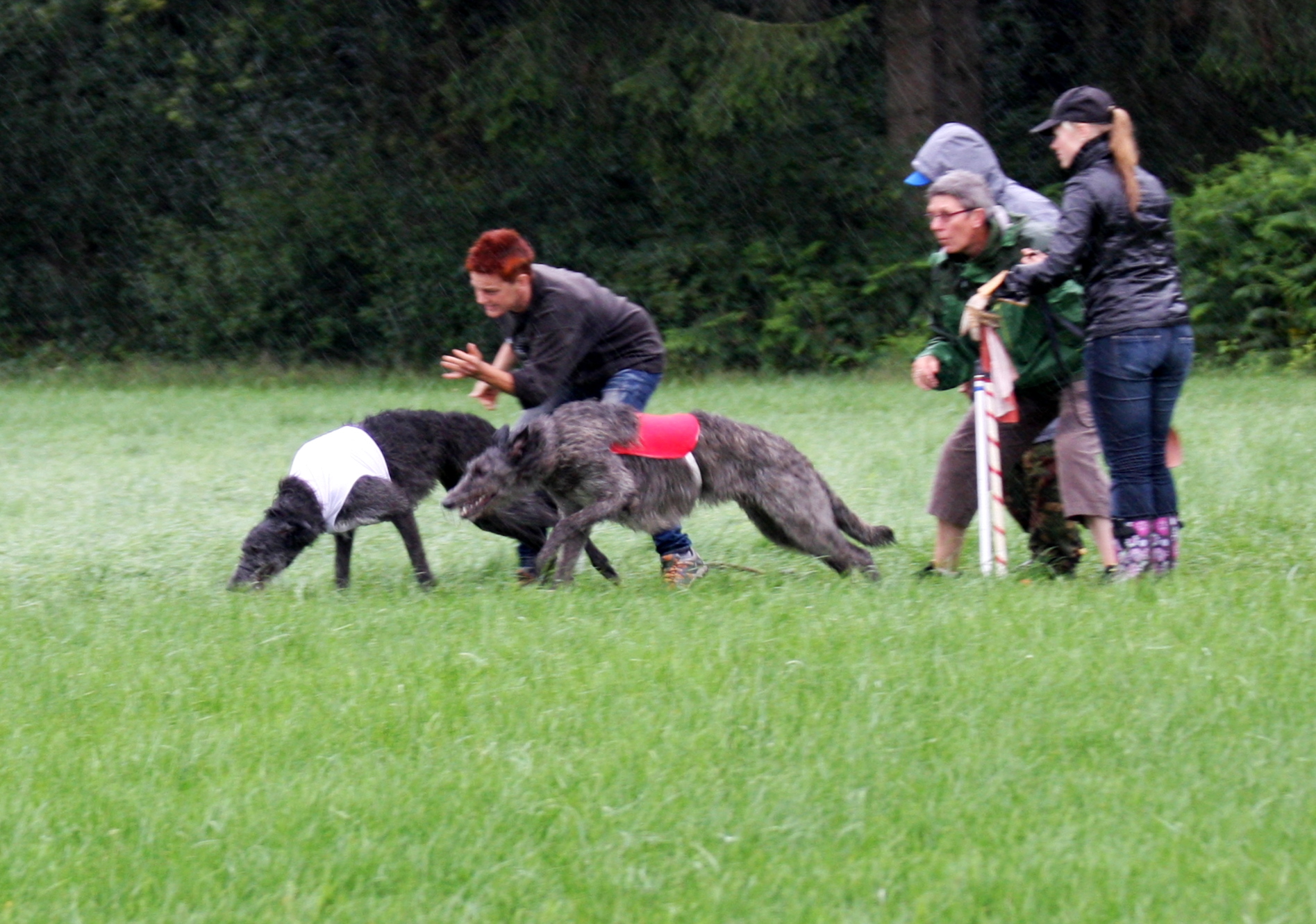 nal anthem for the Chart Polski's, and for the Deerhounds the anthem was played without the winner being present. This was for the few that still remained the last straw – an organisation that doesn't even know how to hold a prize giving – what a disgrace!! Of the dogs, Germany's Eva Petzold's Cunamara's Miles was European Coursing Champion 2011 with the CACIL, and Calhoun still managed to get sixth place with the CACNL. Of the bitches, from the Czech Republic Eva Vobornikova's Queen Qumolly Qwinta of Dirty Mind won the title and the CACIL + CACNL, and Cheytah got fifth place. The difference in score between Queen Qumolly and Cheytah was just 5 points!
July 23: the Sighthound CAC-Show in Sevenum (the Netherlands). For this Open Show there are 7 Deerhounds entered under Judge Wim Wiersma. Sonja and I are present with Calhoun, Cheytah and Coney. Calhoun wins Best Dog, Cheytah Best Bitch and BOB, and Coney earns her first Excellent in the Veteran's Class.
July 24: The next day we leave Sevenum to travel to Liège in Belgium because Cheytah needs 1 more Belgian CAC. Unfortunately the judge Ms. Hanlon-Carroll from Ireland doesn't find Cheytah nice enough and she gets the Reserve. Calhoun wins Best Dog. However, early in November Cheytah's CAC, which had been moved up, falls in to the mail box and she still gets to be Belgian Champion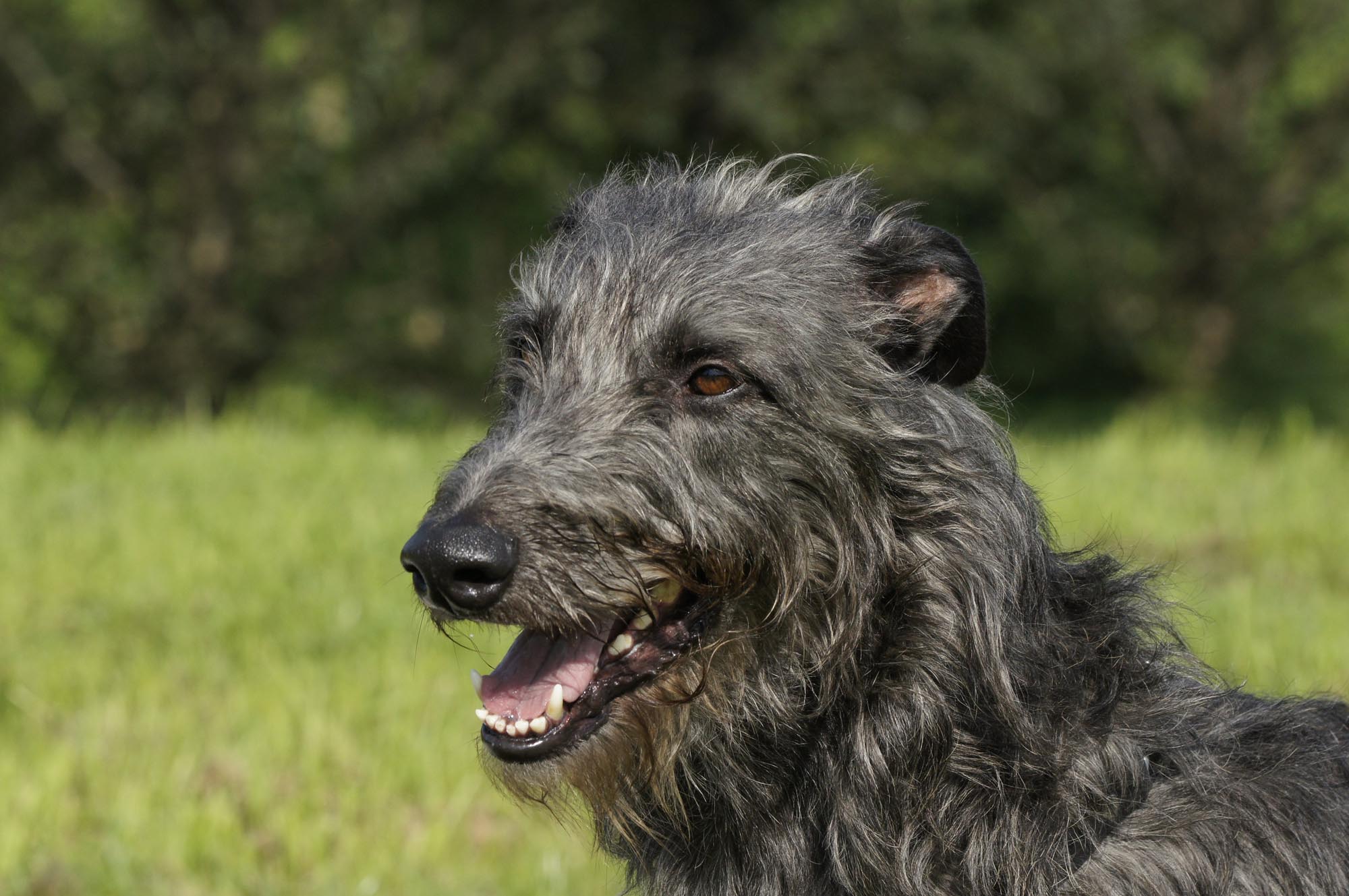 this year!
August 13 & 14: is the combination weekend of the Coursing Club 't Haasje in Kronenberg (the Netherlands). On Saturday the (unofficial) show in which we have only entered Calhoun and Cheytah. And so, on Sunday the coursing. It's funny but it's a fact that for years our dogs have not run well on this terrain. What exactly the problem is we don't know, maybe it's just not exciting enough, too flat and open, maybe some obstacles would work wonders. Cheytah is first with the title for Beauty and Performance, second is Fritzen`s Silver Cloud, third Caintha and fourth Calhoun, who also gets the Beauty and Performance title.
From the 1st to the 3rd of September there were three shows at the World Trade Centre in Leeuwarden (the Netherlands). Thursday the CAC-Show, on Friday The Sighthound Evening Specialty and on Saturday the FCI Centenary European Dog Show. Wednesday afternoon, all three of us, Sonja Hansen, Angelika Evertz and I, arrived at a lovely camping in the vicinity of Leeuwarden. Here a least we could take the dogs for a good walk.
When we arrived at the hall on Thursday morning we thought we were at the wrong place. There wasn`t a sighthound to be seen and the notice board at the ring was blank. In the adjacent rings there were only Spaniels and Retrievers. Still, we settled down and sometime later a Galgo appeared. When the ring officials arrived it took an awfully long time before the breeds that were to be judged appeared on the board. First of all the wrong notice went up so that lots of people thought that their breed was the first to be judged, but because we had been there for some time I could correct this mistaken impression as Galgos and Deerhounds were first. André van den Broek judged the single Galgo and 9 Deerhounds. One Junior Deerhound was absent. Calhoun was Best Dog , Best Bitch and BOB was Sonja`s Fritzen`s Silver Cloud who earned with this CAC her Dutch Champion`s title. Cheytah got the R-CAC and Coney was second in her Veteran`s Class.
I thought the Evening Specialty on Friday was a really successful event. The show opening was spectacular as the `Borsoi Club singer` sang the Wilhelmus (the Dutch National Anthem) beautifully in appropriate attire. He provided wonderful music during the whole evening which made for a great atmosphere. People were singing and dancing and that in combination with their lovely evening wear made for a very special atmosphere. 10 Deerhounds were entered for the judge Mr. Landarte from Uruguay. Best Dog and BOB was Calhoun and Best Bitch was his mother Cute Coney O`Cockaigne. Cheytah won the R-CAC.
The Centenary European Dog Show was held on Saturday and our breed was judged in the Ice Hall. Only sighthounds were being judged there, nice and quiet, but there was absolutely no atmosphere. The 10 Deerhounds entered were judged by Espen Eng of Norway. For Cheytah and Calhoun not a success, but Coney won the R-CAC and Best Veteran Bitch. In the main ring Coney was placed 2nd Best Veteran of around 40 veterans! And with that Coney was FCI Centenary European Dog Show Veteran Winner and Dutch Veteran Champion!
Friday 23rd of September while I`m combing Craffitsh I notice a swelling just above his left hock. I need to take Cwillyaigne to the Anubis veterinary clinic for a check-up that afternoon and decide to take Craffitsh in the hope that they can see him too. That works and they take some X-rays. The on-duty vet cannot, and will not confirm my suspicion. It doesn't look typically like osteosarcoma. Come back in two weeks and maybe perform a biopsy. That happens. In the week of 17 October I get the result: osteosarcoma. I take Craffitsh to a holistic vet in De Bilt hoping that they can still do something for him. It looks initially as if its development is minimal. Lung X-rays are negative and blood panel demonstrates that Craffitsh is not so bad. We have hope.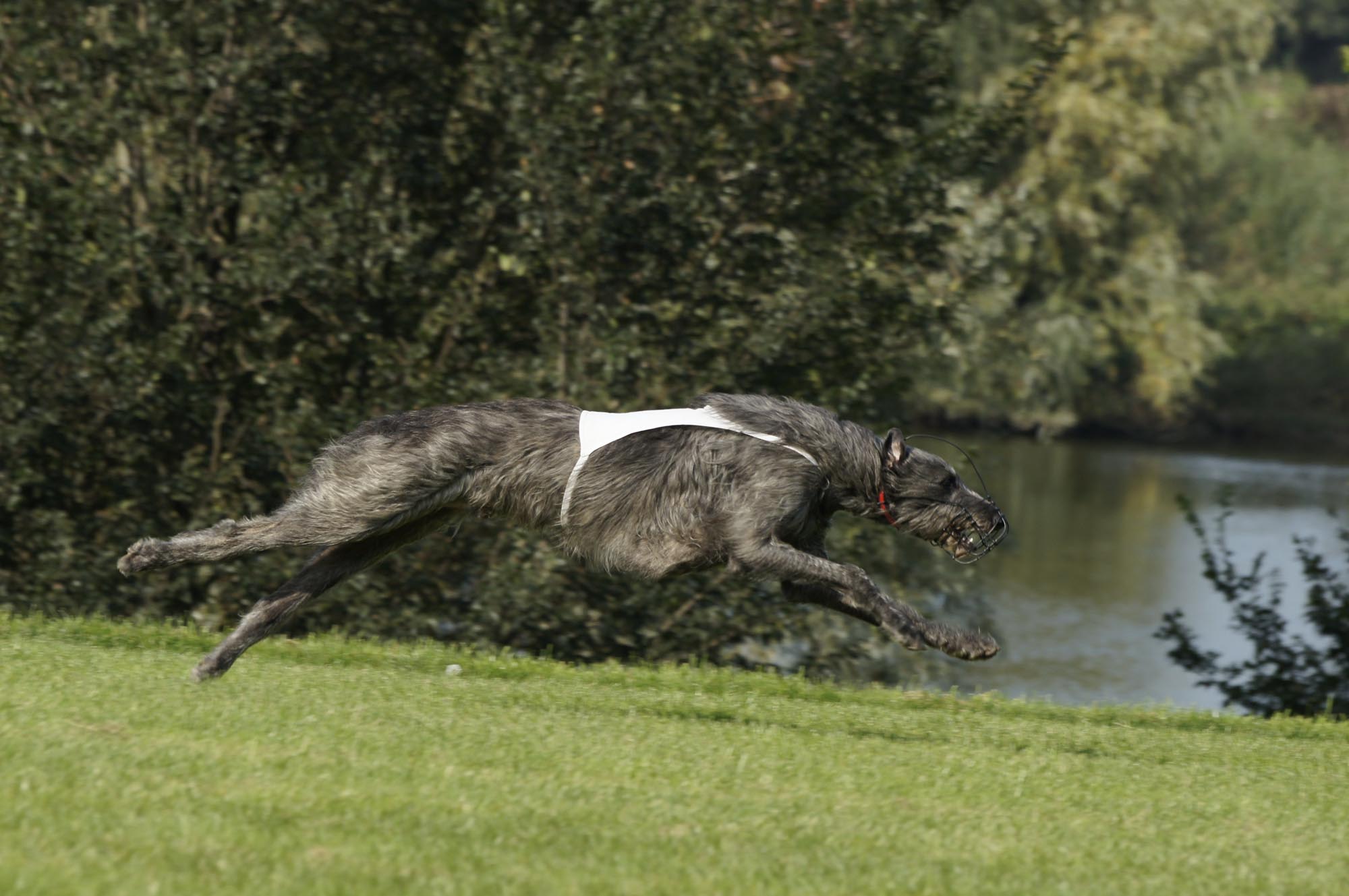 On the 24th of September the WRZ (the South Holland Racing Club) held their Coursing in Bergschenhoek. Once again 4 Deerhounds entered but this time some were different. In the first course Calhoun ran with E'Lynnhe Palantiri belonging to the Bults family. Calhoun felt "something" and had a bad start. He is getting more sensitive which is hurting his coursing performance. Caintha ran with Islay's Hannah, also belonging to the Bults family. In the second course Hannah (with 155 points) and E'Lynnhe (156) were classed together. E'Lynnhe who had just come off her heat gave up and was disqualified. Caintha (152) ran with Calhoun (149). Again Calhoun had a poor start, but Caintha was so enthusiastic that Calhoun went with her. Hannah came first with 311 points, Caintha second with 309 and Calhoun third with 279. Caintha earned her second CACNL and in combination with her earlier show results I can apply for the title of Champion of Beauty and Performance for her.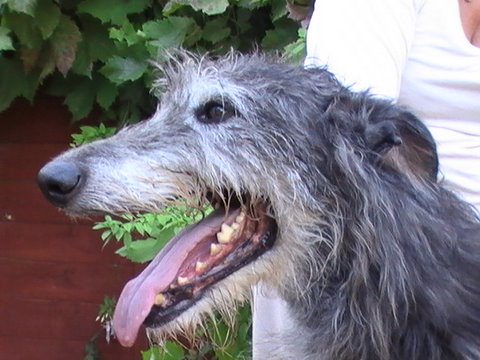 On the 29th and 30th of September Cheytah was bred by Rosslyn Magi Among Shagied. I fell for this 8 year old partly because of his resemblance to Grandma Amy. A large, powerful, dark dog, who is very energetic for his age, few faults that are not present in Cheytah and vice versa. But unfortunately it is not to be, Cheytah is not pregnant.
October 30. Usually we would be at the Ronostrand Coursing in Een (the Netherlands) but this year I decided otherwise. I wanted for once to go to the CACIL Halloween Coursing in Landstuhl Germany. For various reasons Simon stayed at home with Craffitsh and Cwillyaigne, while I took off with Granny Amy, Coney, Caintha and Calhoun, for Landstuhl. It was blissful weather and the trees were changing colour beautifully so it promised to be a lovely ride. Not so. My car was not working properly so I decided to avoid all steep climbs. This meant I had to make a detour. 'Never mind" I first thought, but when my GPS sent me off route via all sorts of minor roads, I thought differently. Instead of the planned trip of 400 kilometres or less, in the end I almost drove 800! I ended up on narrow roads where I wondered if my left and my right tires were all on the tarmac together, had to take hairpins hat I didn't think would be possible with my caravan combination but … it was fabulous! Instead of arriving at three I got there almost by six while it was getting dark. Sonja had just arrived too and together we set up camp.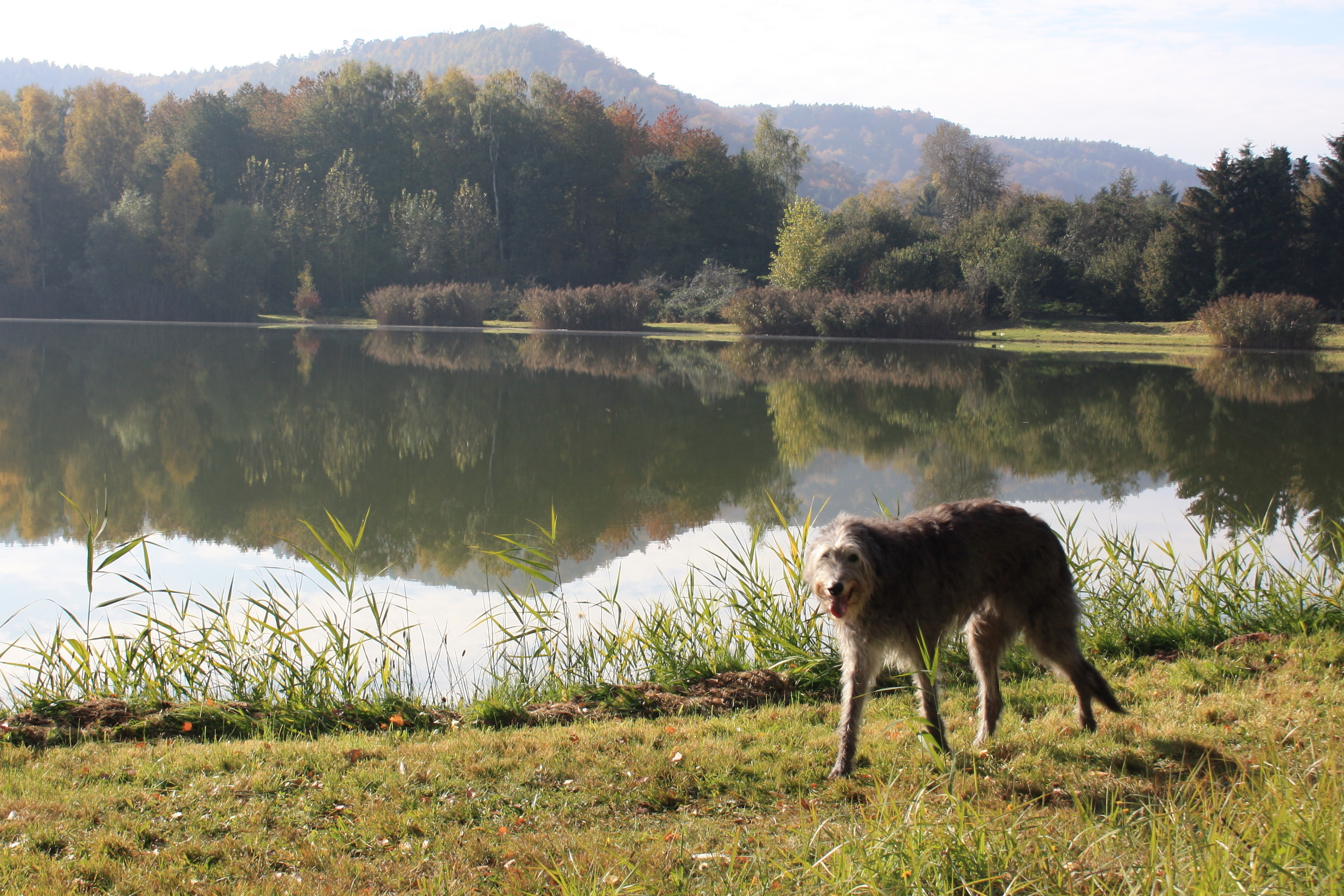 The Deerhounds would run on Sunday, that meant we could take a nice walk in the woods on Saturday. Granny Amy looked after the caravan while we took two and half hours clambering over a huge steep mountain. At least our muscles had a good workout! In Landstuhl too the start of the course is on a field next to the racetrack. Then the lure goes onto the infield through an opening in the track fencing. If the dogs follow closely there's no problem. After a round on the middle field the lure returns via another opening to the adjacent field. Some dogs overshoot the last opening but mostly correct themselves well.
On Sunday 11 Deerhounds at the start. Silva and Calhoun are in the third course. Calhoun starts well and runs amazingly. With 80 points he is in a shared second place. Cheytah is in the fourth course with Chabibi's Nice. Nice is a very young enthusiastic bitch with a good follow. Cheytah has a phantom pregnancy and is just not fast enough. She tries to be smart, overshoots the opening and loses the lure. She keeps looking and searching but doesn't realise that she needs to go through the opening. Nice scores 83 and Cheytah gets 47, happily not a "Dismissal for the day"! In the next course we have Gerd Zekert's Celina of Albainn and my Caintha. Now we need to be alert at the finish as Celina has already had a disqualification for aggression. But I needn't worry. Caintha is very fast and very smart, approaching the opening she is in the lead right behind the lure. So she overshoots the exit but sees out of the corner of her eye that the lur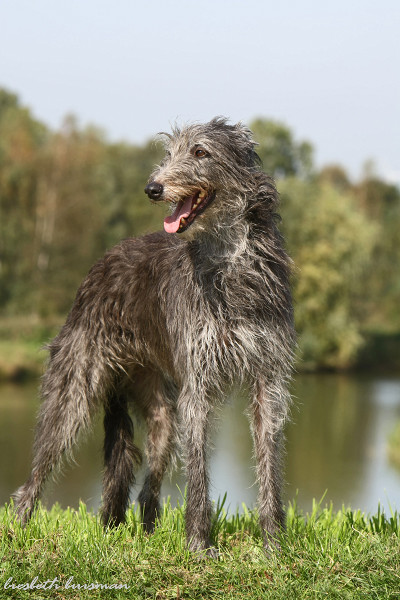 e turns right. She doesn't hesitate, dives under the racetrack wire fence, takes a great leap over the enclosure and lands in the field where the lure is continuing its course. Quite spectacular! Unfortunately I think the judges must have dozed off because she only got 61 points. Celina must have been watching Caintha and not the lure as she was still prancing around on the infield while Caintha was making the kill. And yet she scored 57. Judges … I really don't understand (maybe that's a good thing too!). In their second course of the day Caintha and Celina are running mates again. Once more Celina gives up half way and that earns her "Dismissal for the day". Calhoun starts with Eva Petzold's Cunamara's Mango. Mango flies away and Calhoun stands still. We're hoping that he will run through the opening into the field but that doesn't happen either. Calhoun gets a dismissal too. Cheytah is left as the odd, solo Deerhound, and gets a bye-dog, which also gives up.
Cheytah starts well but stops at the first opening. Dismissal for the day. That's what you get, driving with the two of us almost 2400 kilometres, and going home with two dismissals!!! Happily eight and half year old Caintha saved the family honour. At the prize giving she was given a formal farewell, this was her last competition day. Caintha has always been a consistent and excellent courser. She has run in a total of 77 competitions in numerous countries, and also run in a lot of "fun" coursings. She has taken part in 5 European Championships, twice with a final place of second and once a fifth place. She carries a number of show and coursing titles, and is after Calhoun (her nephew) the second Deerhound in the Netherlands to win the right to the title" Champion of Beauty and Performance. And that she earned!
In the course of November Craffitsh's tumour appears to grow. Now and then he coughs but lung X-rays show no metastasis. Yet after some time, small light areas can be seen, not good, hidden metastases. Blood analysis also shows that he is not well. He needs to go back on to antibiotics otherwise he gets stuffy and runs a temperature. Oddly he is not lame. From time to time he doesn't put all his weight on that leg and will not go for a walk, but there are days that he walks normally, even runs and jumps! How long will he still have some real joy in his life? I ask myself that every day, but his eyes are bright and clear and he has the appetite of a dockworker.
Sunday 27 November Sonja and I take Cheytah, Calhoun and Coney to the Winner Show in Amsterdam. Our judge is Mr. Magnus Hagsted from Sweden. He has 7 Deerhounds to judge. Calhoun gets the Reserve, Cheytah to our astonishment gets a Very Good, her first, and Coney at 8½ is Best Bitch in the Veteran's Class. Coney is now Veteran Winster 2011. In the main ring she is part of the judges selection taken out of about 45 veterans, but doesn't go any further. I am so very proud of her!
This last year Calhoun has won the following titles: German Coursing Champion, International Coursing Champion (I still need to apply for that), Dutch Champion of Beauty and Performance (also needs to be applied for), Landessieger W.E. 2011, Landessieger M.V. 2011, Jahressieger 2011, and Champion for Beauty and Performance.
Cheytah won these titles: Landessieger W.E. 2011, FCI Jahrhundertsiegerin 2011, Belgian Champion and German Coursing Champion.
Coney has in her old age earned another 4 titles: World Veteran Champion 2011, FCI Centenary European Dog Show Veteran Winner 2011, Dutch Veteran Champion and Veteran Winster.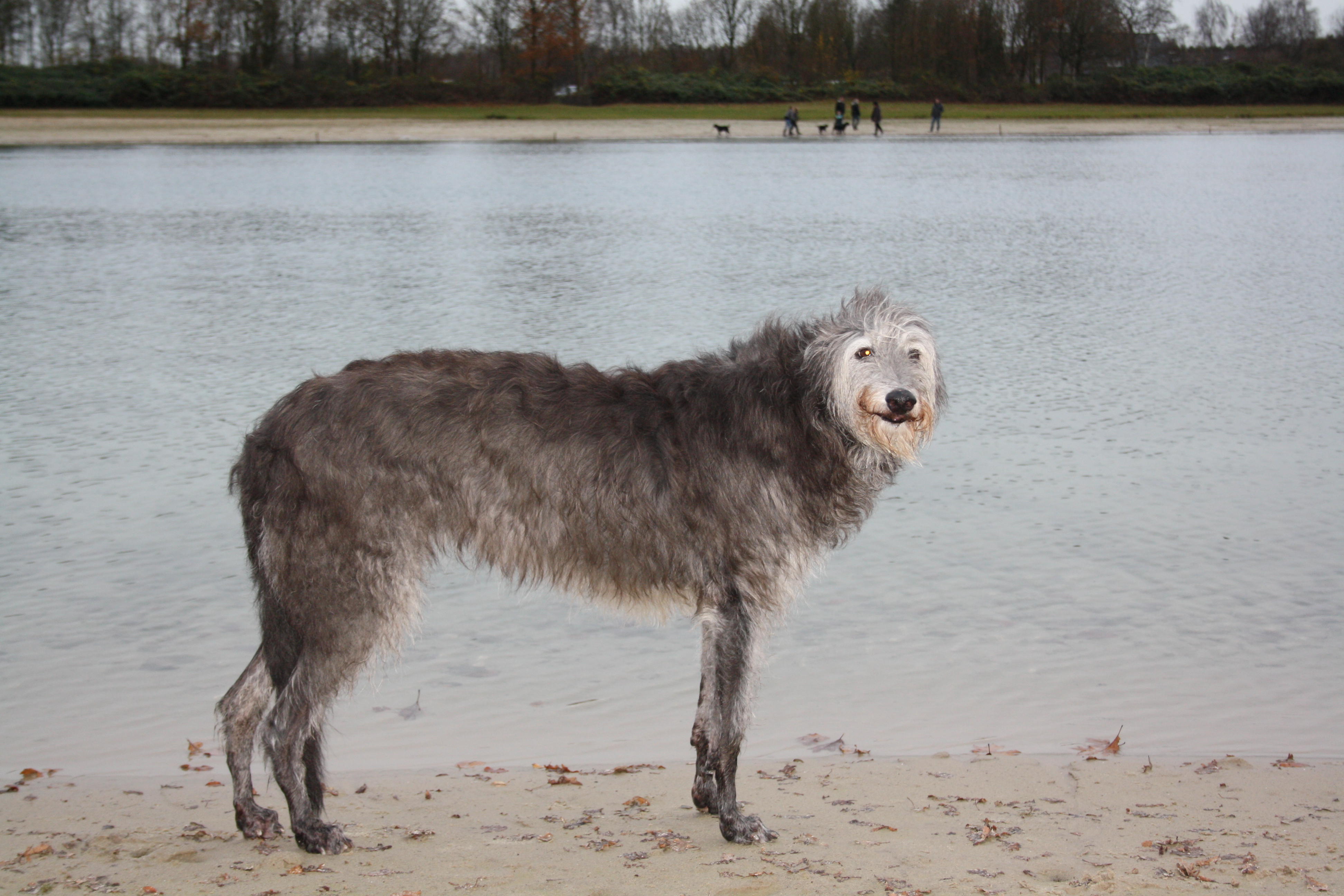 Happily Granny Amy is still fit, she determines her own tempo and her own life. The only thing I have to do is adapt myself to her.
Altogether not such a great year, the highpoints and the hard disappointments followed each other. The hardest blow is yet to come, saying goodbye to Craffitsh. Up until now, the 7th of December, things are going well. He takes a walk with us every morning and is not yet breathless. Every day is a plus.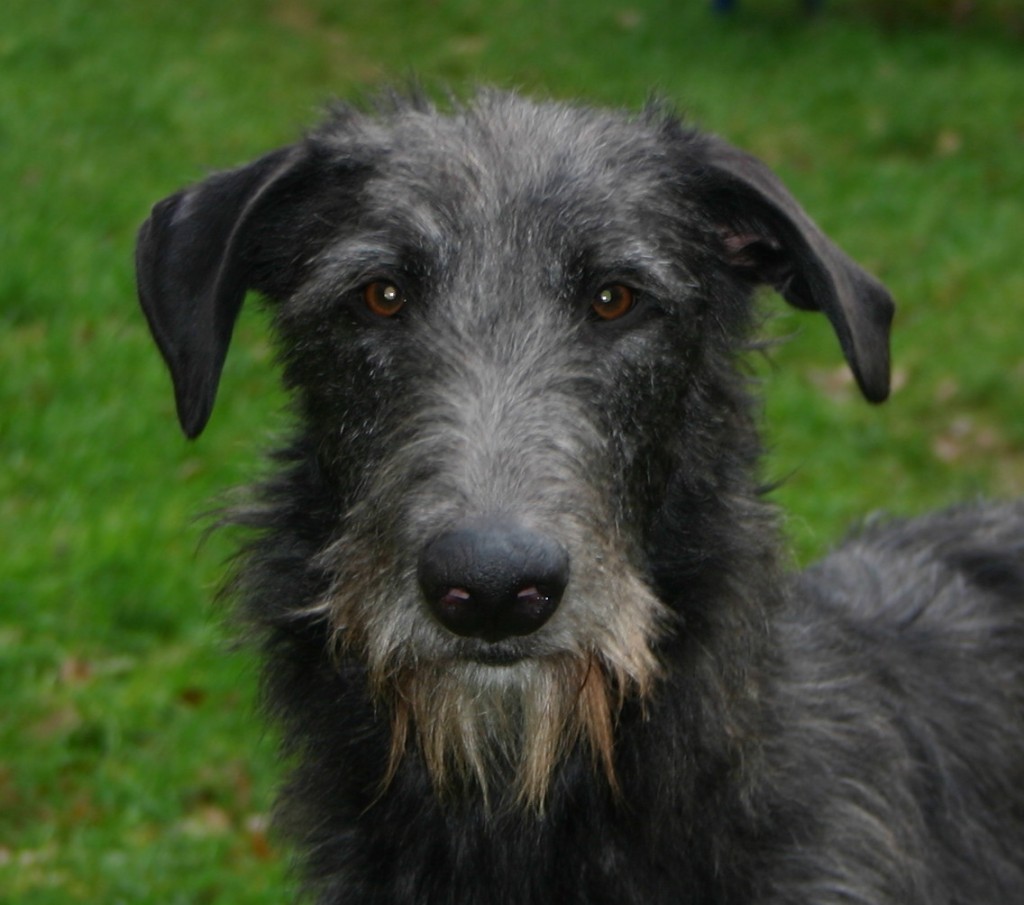 Sunday 11 December, it really was time to make our Christmas photo. We decided to all go for a ride to the Galderse lakes to make "The Christmas Photo". When we got there it was very busy, we drove on to the Mastbos woods, lots of lovely spots there! Granny Amy at the age of almost twelve and a half was with us so we found a spot that wasn't too far to walk, also of course because of Craffitsh. Quickly took some shots and went on because Granny Amy does like a nice little walk. Of course Calhoun and Cwillyaigne provided some excitement again but as we had Craffitsh on the leash we could still get some nice photos of him.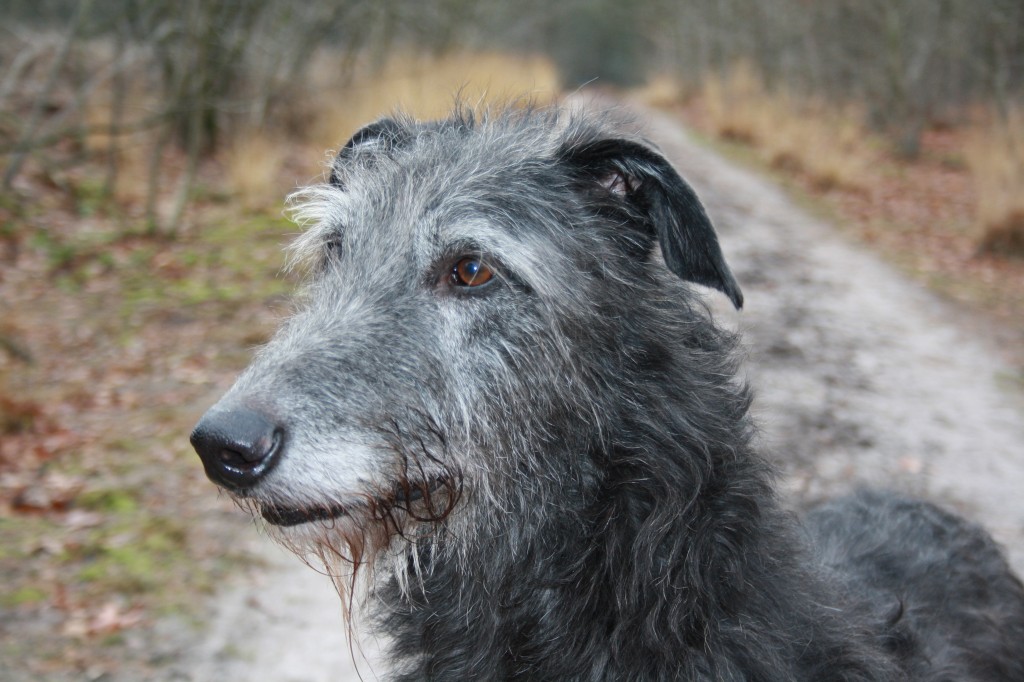 Wednesday morning 14 December Craffitsh showed that he found the morning walk of 20 minutes really too long. He came along at a distance behind me and appeared very tired. While I made breakfast for the dogs, he would now and then stand next to me, and only just put a little weight on his left rear foot. But he wasn't lame while walking and not showing any signs of real pain. I spent the rest of the day worrying. That afternoon at the clinic I spoke to Rens, our vet, and took home more antibiotic for his lungs. I thought he would still have a good life for a few more days.
15 December, Thursday morning early, as Simon got up to go to work, Craffitsh wanted to get up on the bed with me. When it was time for the morning walk and he came down off the bed I was not happy. He was obviously in pain and tried not to use his rear leg. He really did want to come for the walk, which lasted 10 minutes. After that he ate really well and put more weight on his foot. Now I was really in doubt – do it now, or not … that day I had to help him onto his bed twice. Finally I made the decision and called the clinic, knowing that it could only get worse, never any better. The pain would only get worse and every day the chance greater that his leg would break.
Rens came that evening.
Goodbye my dearest Craffitsh, quick now, go to Naf Naf, your greatest support and comforter in the past and in the future.