Posts Tagged 'Cscarf O'Cockaigne'
O'Cockaigne Deerhounds-purebred Deerhounds.

Since last year it is possible to have a greyhound tested on varietal purity via the DWZRV. Through the following link you can read all about the nomination of Ms. Dr. Wimmer. Vortrag von Frau Dr. Wimmer über den DNA-Test zur Rassebestimmung bei Windhunden… For the Deerhounds you can here können Sie die Ergebnisse der Studie Herunterladen (PDF)…  Find more. In the article below, written by Dr. Dominique d Caprona, the same is treated but you will also find everything about the other greyhounds and halfwind dogs. Http://sloughi.tripod.com/preserving/geneticswesterbredsighthoundsgermany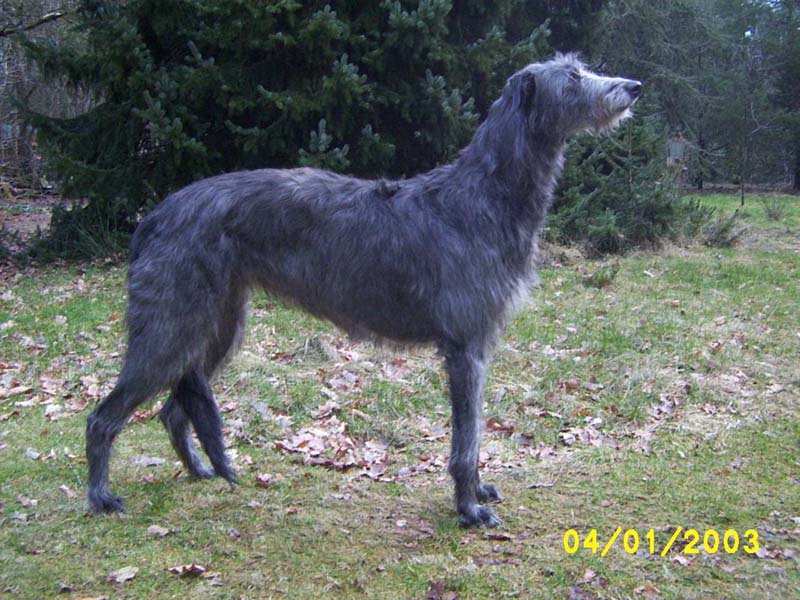 .html In the past year has shown that many hounds are not purity and as you can read/See, this is also the case with the Deerhounds. Last year, Sonja had her hounds take part in the test and also the blood of Cheytah was then investigated. Fortunately, she appeared to be purity.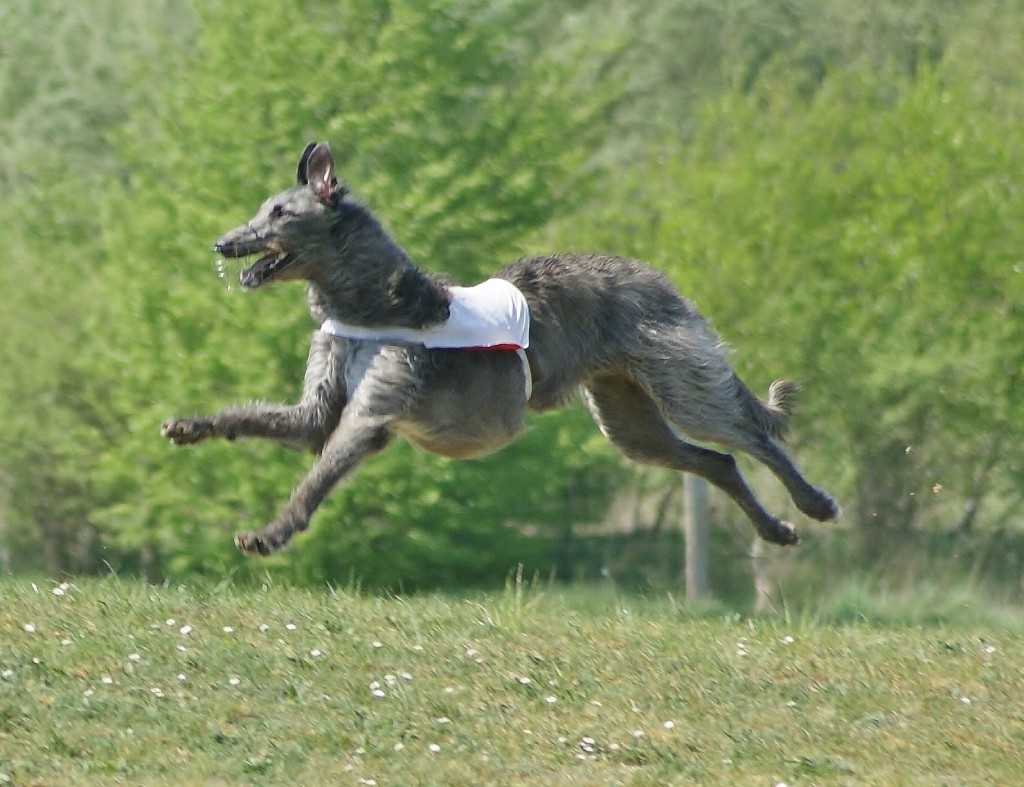 In the meantime we find that there are several breeders selling dogs as Deerhounds while this is longdogs and/or lurchers. (A longdog is a cross between greyhounds and a lurcher is a cross between a greyhound and another dog, usually a shepherd or terrier.) A very well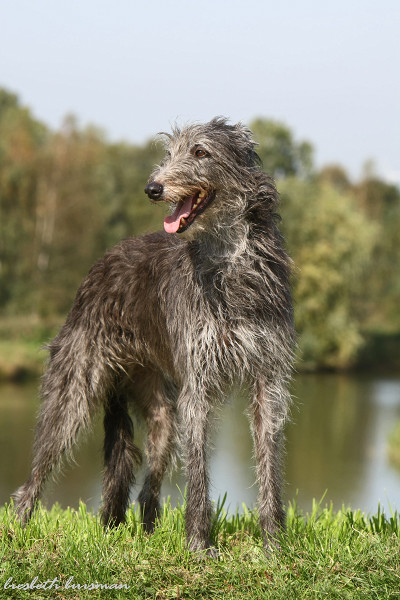 known Deerhoundfokker, who has been in the breed for many decades, has recently announced that he has never seen a Deerhound with Hubertus claws and also the colour ' wheaten ' according to Dr. Jödicke (He has already reported this in the last century) for quite some time ' Extinct '. But there are also ' grey ' crossings where in most cases you can see certain forms of body parts that the dog is not purity. If you doubt the varietal purity of your greyhound, you can let it be tested by having some blood (EDTA) in your vet. It must of course also check the chip number using the union booklet or the pedigree. This should be along with the form completed by you and your veterinarian, which you can find on the site of the DWZRV (www. DWZRV.de → Formulare → DNA Fingerprint) sent to Frau Ursula Arnold, Schlierbacher Weg 56, 64678 Linden Felsen, Germany and accompanied by a letter stating that it is the "DNA Test zur Rassebestimmung bei Windhunden". If you send it somewhere else you will most likely not get a correct result. The cost of the test is approximately 80,-euro, you will receive a later account.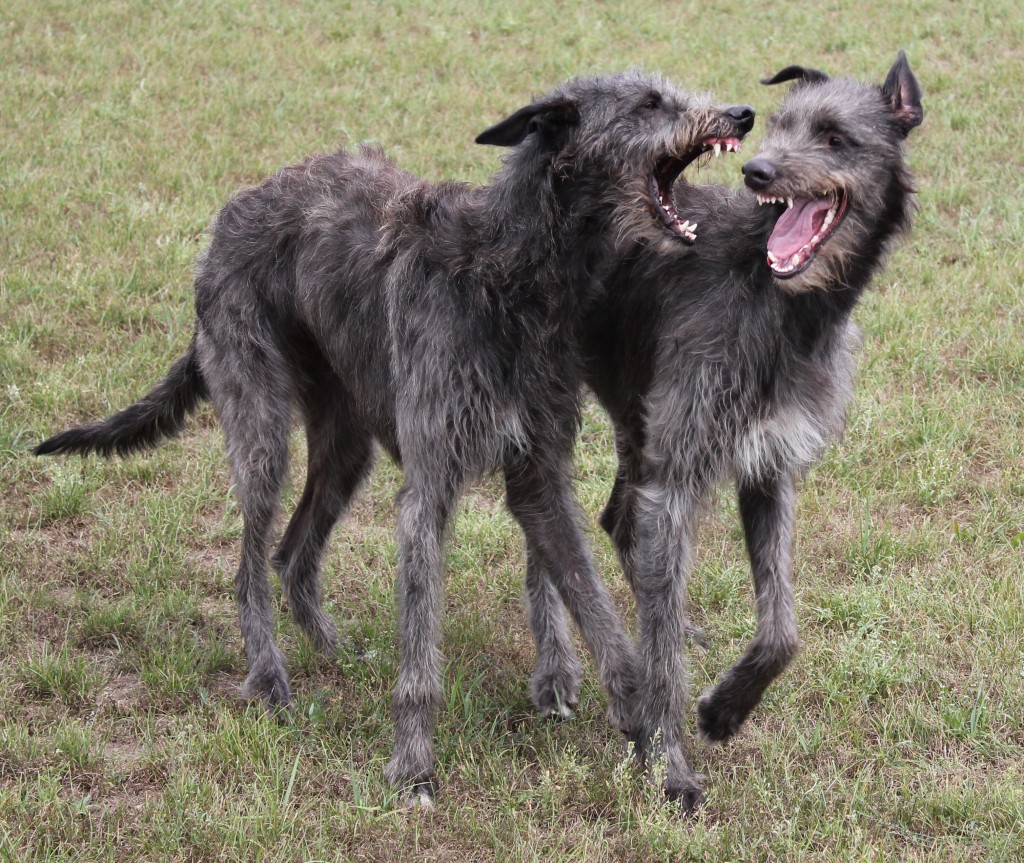 Anyway, in order to be all misery in the future, we have also tested Brandir and Bernice and fortunately this Deerhounds is also a real Deerhounds!


Since Sonja and I had planned to go to the wide show of the English Deerhound Club, Sonja stayed the days between Pentecost weekend and the wide show here. Fortunately it's a lot better with Bernice and so the puppies had fun for ten. The first days they simply couldn't stop playing and we had to get them in every now and then to relax. The problem is that when they get tired, they are going to make estimation mistakes and then run against them somewhere. They had jumped over a bank a few times, but at some point this went wrong and Brandir walked on three legs with a hole in his wrist, a hefty abrasion on his knee and a huge swollen second thigh. Traumeel and cold compresses did their miracles and the next day he ran again like a kachru. Also Silva and Calhoun find it wonderful to chase behind the puppies here on the premises but we prefer not because it always ends in a jar of chopping on one of the two puppies. Anyway after a little week of playing, Brandir and Bernice were a bit quieter and that gave good prospects for the trip to England as it was of course for the first time that they had to behave neatly in a hotel and fortunately they did that too.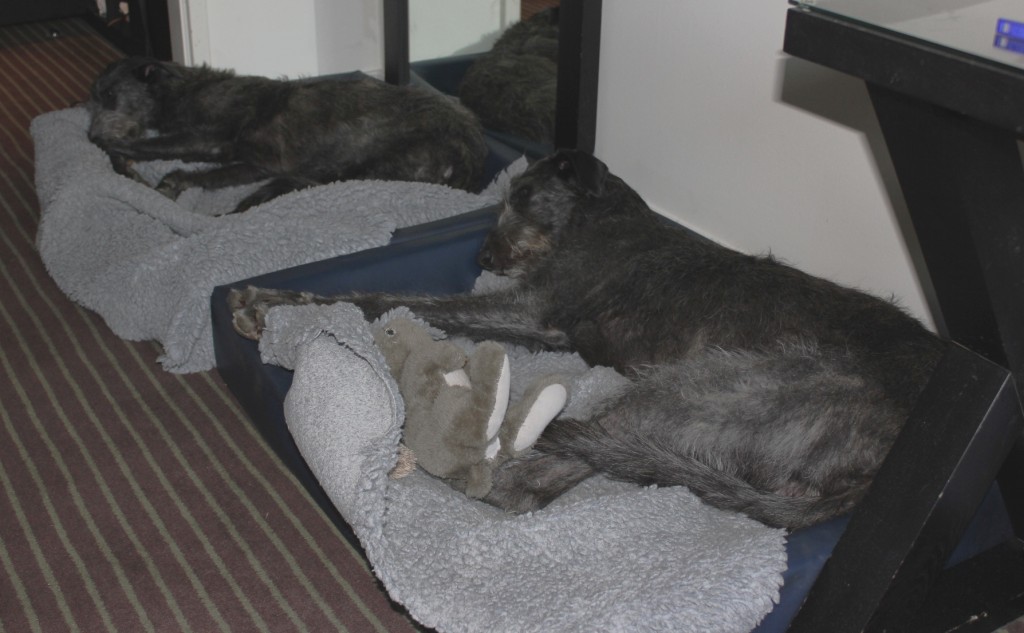 The trip through the Eurotunnel was successful until we came to London in England. Here they were, as always, with the road busy and this caused of course long traffic jams. A little later than planned we arrived at the hotel and we first started walking with the hounds. Most of the vast estate was confiscated by a golf course, but there were also a few sports fields where no chicken could be seen. Here we have the daily Brandir and Bernice can have a good romp because they really need it! Unfortunately we forgot to take the camera every time, otherwise we really had some very nice pictures. Pity! Brandir found all those Deerhounds very exciting, every time there was someone with a Deerhound on the line he had to look at that, just as if he had never seen a Deerhound! He always wanted to greet them all and especially the very small puppies he found brilliant. At one point we were talking to Mick Peach when Toby, the breeder of Brandir and Bernice, came to us. A joyful resounding and after a good look also recognized the puppies Toby. I noticed that in one of the cars that stood with us, a Deerhound was very interested in looking at us. Until Betina came to us and said it was CSCARF! I walked right to him and through the Autorek I was completely licked. Betina had very serious hair just verzwikt and on this I immediately offered to show Cscarf the next day. That was a good id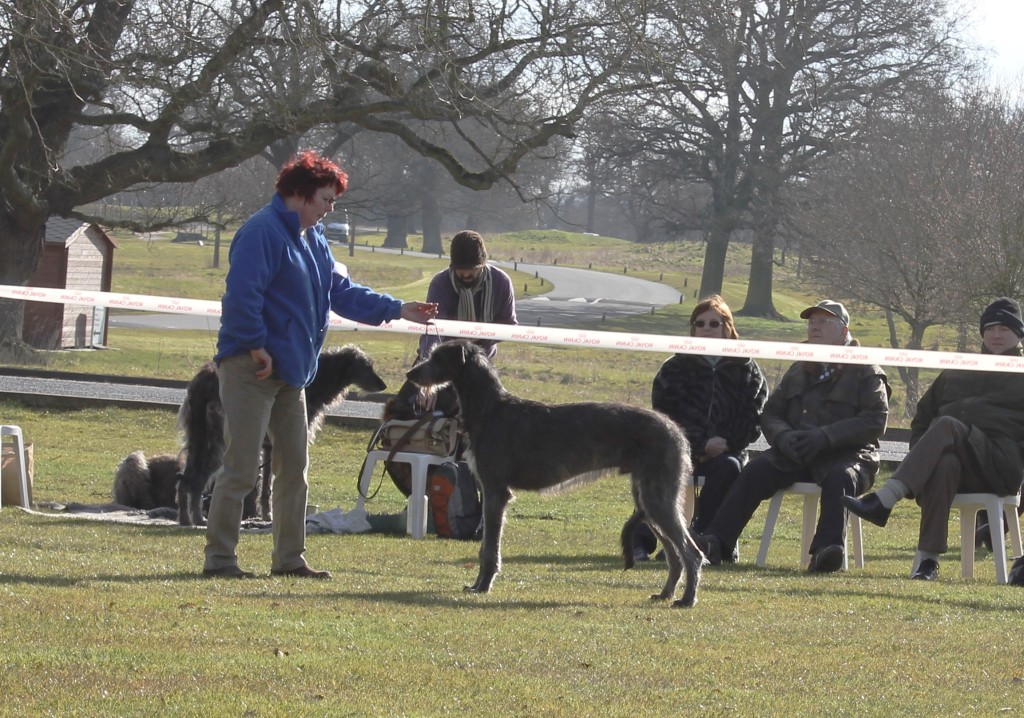 ea.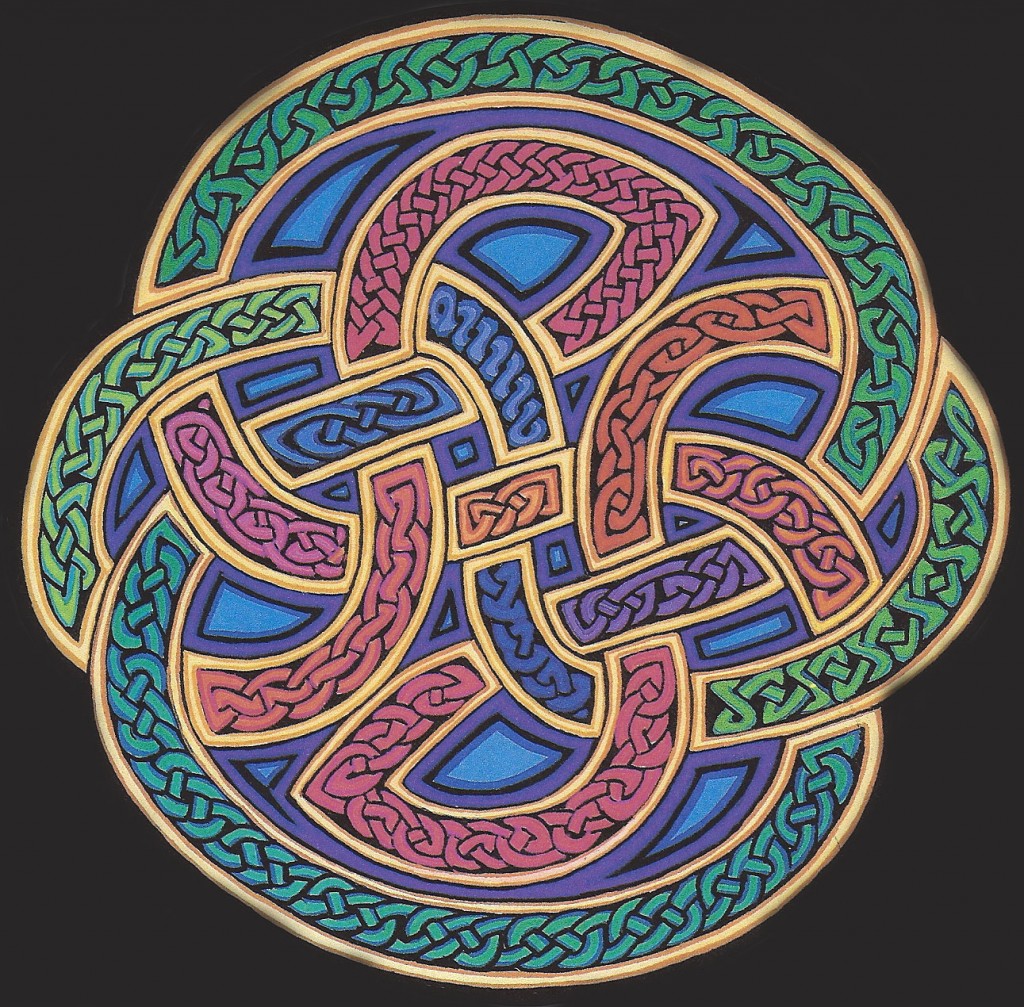 On Saturday we had to be out of the feathers because Brandir was in the first class. Judge was Sandy Platt of the Charbonell Deerhounds. The weather was fortunately slightly better than Friday, less wind but still very fresh. The sun seemed watery but in the course of the day she became stronger and when the wind was not there, it was delicious. Brandir was in the puppy class in which 11 were reported but 8 were present. He could not very much concentrate on showing, all the Deerhounds around the ring where he was not allowed to go was very difficult for him. He looked his eyes out! Yet the ring training, which I had followed with him for a few weeks, was very fruitful. The walk went fine and occasionally he kept standing neatly, by straining the tension and showing something too little corn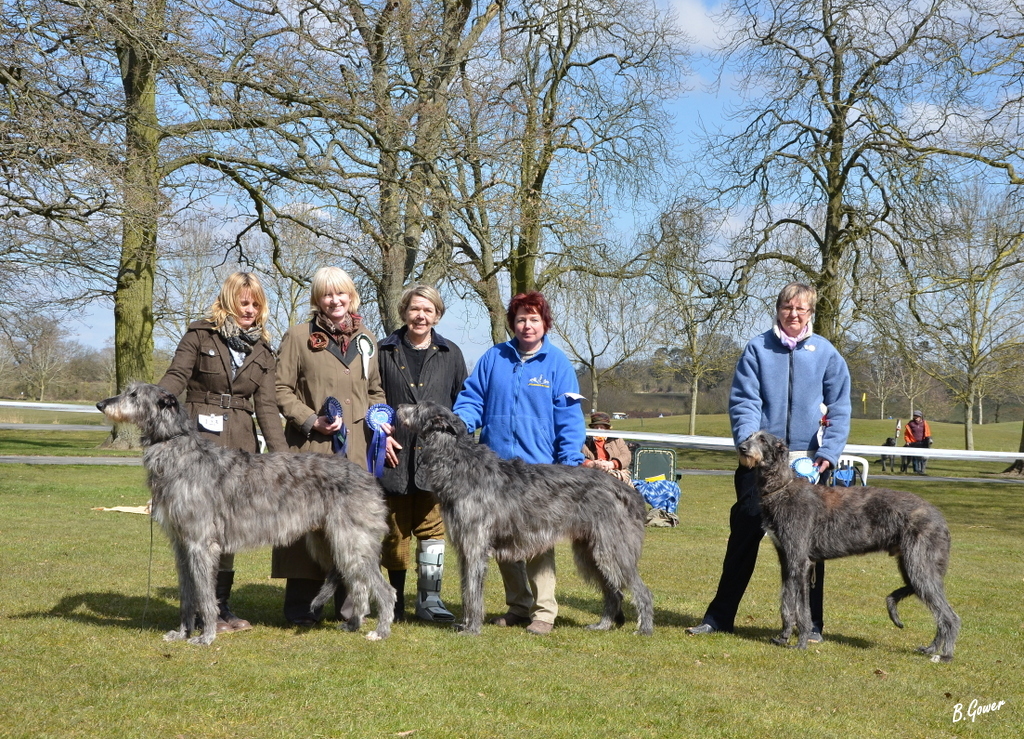 ering but I was not allowed to complain because he was third!
Cscarf stood in Open Dog, 10 reported, 7 present. He showed himself very well by me and although he was not in top condition, he walked like a spear, I could barely keep him up. He was placed second, behind the Crufts winner this year. In the end he became a reserve Best Dog, 45 males behind him!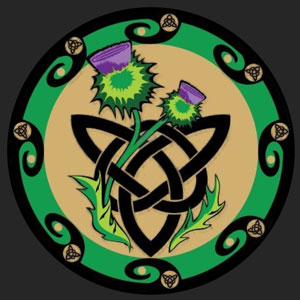 Sunday we were again early on as I promised Betina to walk with Cscarf in the Champion Parade. At half past ten we were at the ring but there was still virtually no one present. Normally you will get a folder on Friday on arrival with all information about this weekend; What time, what and where. Very handy. But this time we had not received anything and we had to ask someone every time with the result that we received occasional contradictory information. Anyway, we were clearly too early but this had the advantage that Brandir and Bernice could get used to the bagpipe player. They found it very interesting and had to look up close.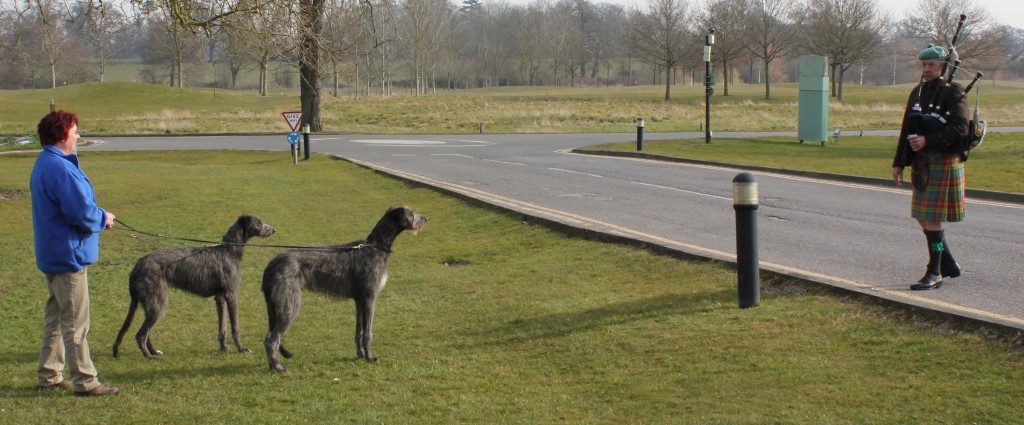 In ten quarters, most English champions were present and I had to head with Cscarf behind the bagpipe player to the ring. I have done this a number of times now and always find this a very emotional moment. Mary Girling suggested every champion and during the honorary lap through the ring we were rewarded by the bystanders with a loud applause. Then quickly a comb by brandir because it was reported for the Maiden Dog or Bitch Class. He was somewhat more relaxed, what got accustomed to all the Deerhounds to the ring and showed a lot better. He became third of the five and got his second beautiful yellow rosette. A wonderful toy! After having enjoyed the beautiful weather, all the Deerhounds and our friends and acquaintances have said goodbye, we headed back to the Netherlands. Of course we had a back-up in Belgium and in the evening after Eights got tired but met at home. It was a very nice weekend and the puppies have learned a lot again!