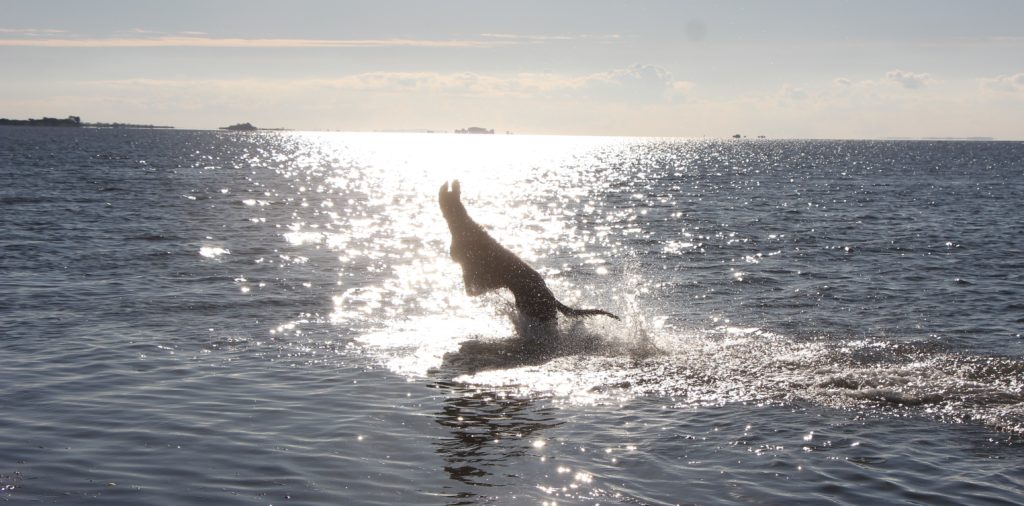 While we were busy on Sunday August 25 to pack the caravan and the car for a 25-day trip, one of the young Faverolles chickens turned out to have major problems laying her first egg. This came out with cloaca and all. I removed the egg and tried to fix it but unfortunately to no avail so Simon could take her to the vet on Monday morning, before we left, to put her to sleep. Very sad, it was such a nice chicken. This was a bad start to the holiday and the weather forecast was also not so good for the first days.
In the meantime I had further packed up the caravan and filled the two freezers, which were at the back of the car, with about 40 kilos of meat for the hounds. Not enough for 25 days, but we would supplement it at Sonja if we would descend towards Tüttleben.
After Simon returned from the vet, we hung the caravan behind the car and we could leave. But when we get through the gate, we have to uncouple the caravan and take the next corner with the mover. Unfortunately the reels didn't respond to the remote so we couldn't turn the corner. First replace the batteries, this to no avail. Bought new batteries and tried, this did not help either. Then we asked the neighbour to help push and yes, with united forces the caravan got around the corner and we could finally continue our way towards camping "De Paardenbloem" in Deurningen.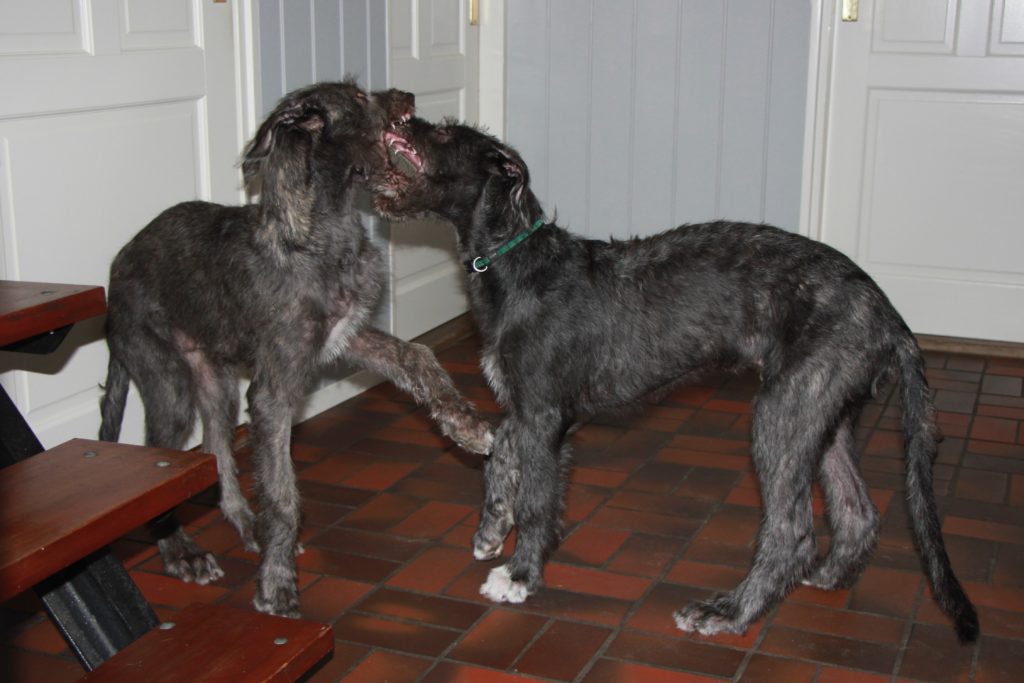 We would stay here for two nights. We decided to only put the awning on but when Simon put some tension on it, an attachment eye broke off. We were convinced that there should be something like this in the caravan but unfortunately…. so Simon had to go because without this eye we could not set up the awning.
We were now close to Lemele where Callaghan lives, so that was a great opportunity to hand over the pedigree and let the two brothers play together again. Well they did!
On Wednesday we left for Camping-Paradies "Grüner Jäger" in Everinghausen, just past Bremen. The name of the campsite suggests something and indeed there was a large meadow with a fair number of fallow deer. In the meantime it was pouring out of the air and I tried to let the hounds out in between the showers, but Cranston and Cearrean could not be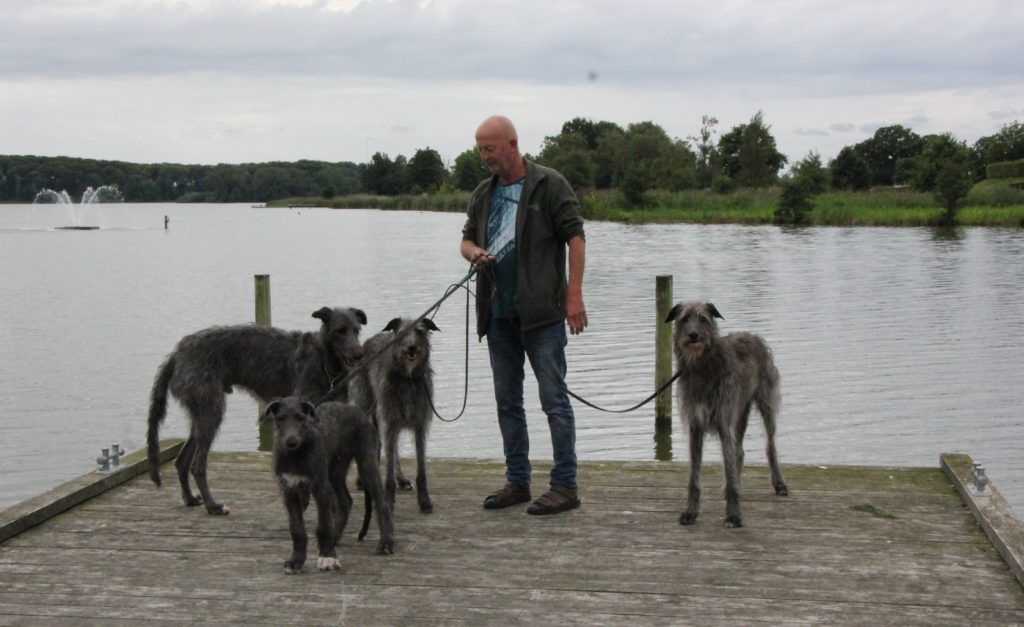 lieve their eyes and were no longer able to do another step. Too interesting all those deer!
The next day the journey went by ferry from Puttgarden to Rødby to Maribo in Denmark. This was a beautiful spacious campsite where you could walk extremely well with the hounds and where we could finally enjoy the sun.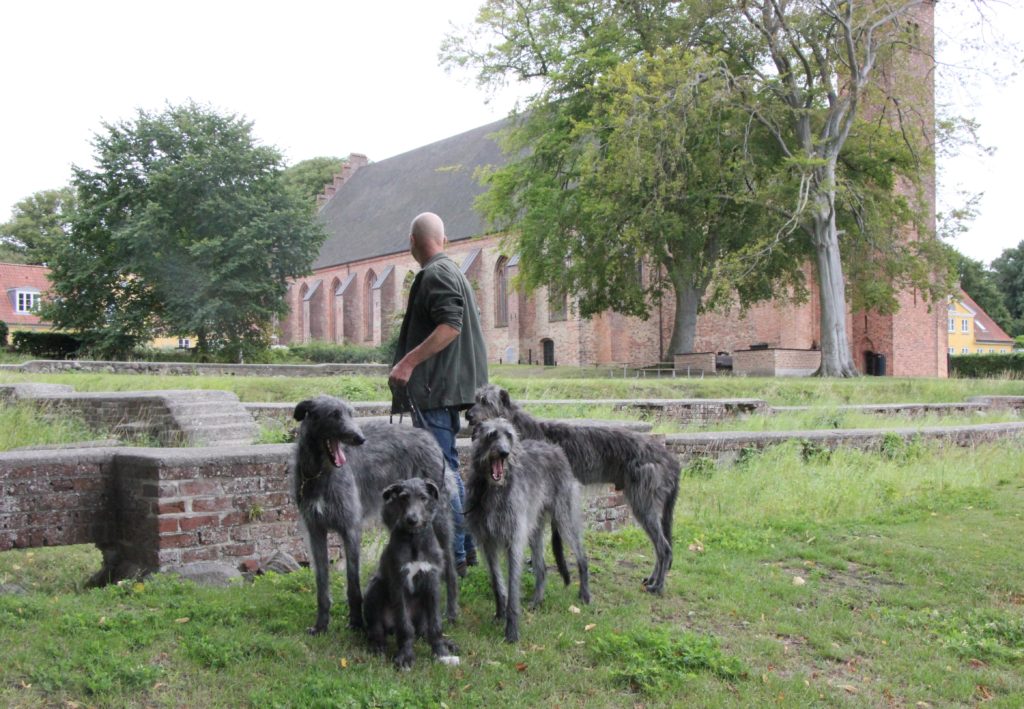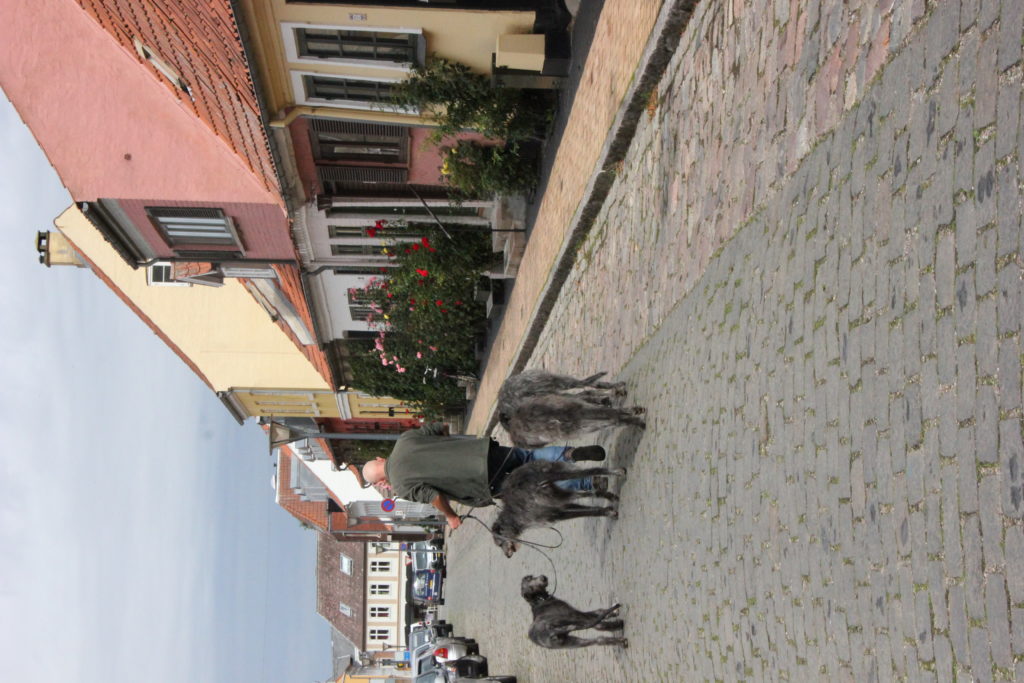 But not for long, because after we had done some shopping in Maribo on Friday morning, we continued towards Vordingborg, where Simon would give a seminar on "building a good coursing parcourse". This would take up all of Saturday and Sunday. It was organized by Frank Plith in collaboration with the Danish running and coursing committee and it took place with Bille and Freddy who provided a nice large field of several hectares.
Fortunately we were able to build up our things in a nice sheltered spot because it was very windy. In the night from Friday to Saturday it started to rain and thunder terribly at one point, really huge showers passed over us and I did not sleep a wink because I know that Brandir is / was terribly afraid of thunderstorms. He has been on Chinese herbs (Geria) for a few months because he started to show symptoms of dementia, and I had already noticed that he was much better. Only now it turned out how good! He just slept through !! No anxiety or panic, he just stayed calm on his bed. Unbelievable!
The seminar was a great success. About 15 people participated and were very enthusiastic, they later said that they had learned a lot and now understand why a good parcourse is so important. Several parcourses were also explained and laid out, then commented on and discussed why it didn't work. All in all very educational and it should happen in all countries because what you usually see in courses… ..!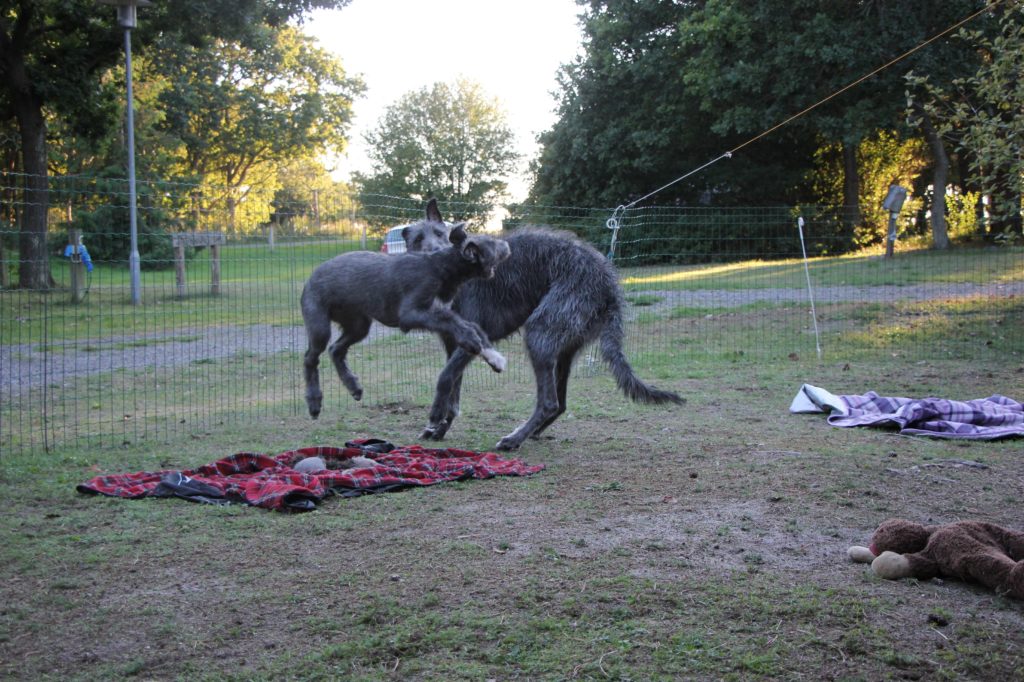 Monday morning we broke up our things again and left for Flyvesandet. A campsite in the north of the island of Fun, where we have been regularly since 2001. Just before we got to the campsite, a herd of fallow deer crossed the road. Cearrean just hung his head out of the window and would have popped out if he had been a little smaller. That was promising because once Cearrean knows that there is game running, he can no longer run free.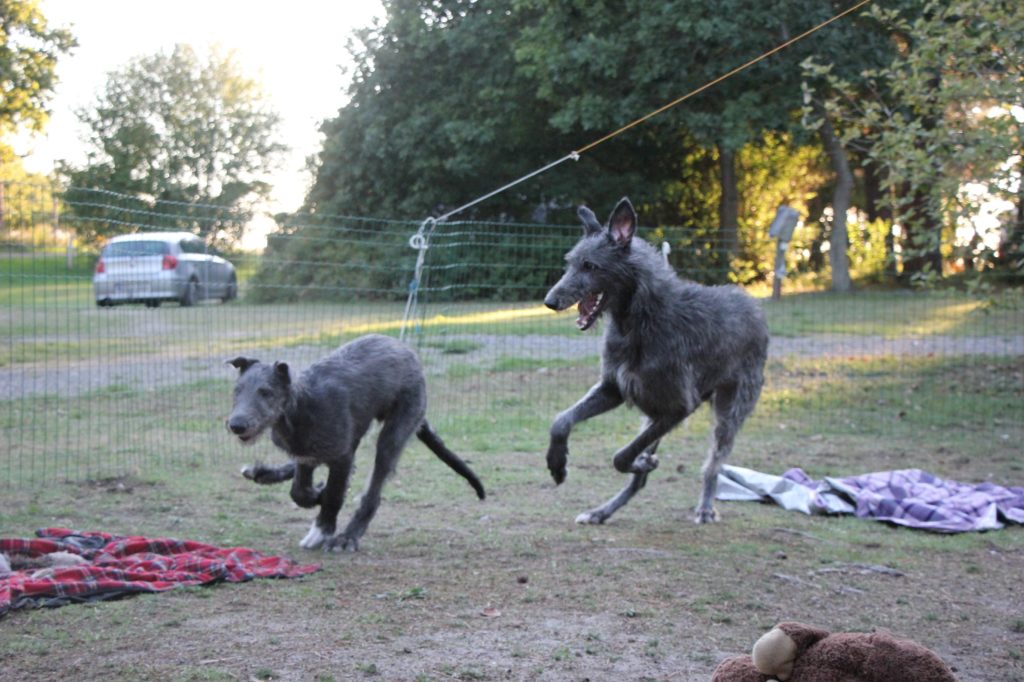 After arrival we first walked around the campsite to find a nice place where we could drop off a large part so that Cearrean and Cranston had enough space to play. Halfway through the "quest" a large hare jumped up. Well that could get exciting! Fortunately, he didn't show himself that often anymore for the rest of the week and he also stayed a bit away from our camp, so sensible!
If the moon phase is good, and therefore not a full moon like this week, you can walk for miles here. There is then about 5 centimetres of water on a mirror-smooth seabed. Ideal to let the hounds race. But unfortunately the water did not drop more than about a foot now and that is a bit too high for Cranston. The first time Simon walked into the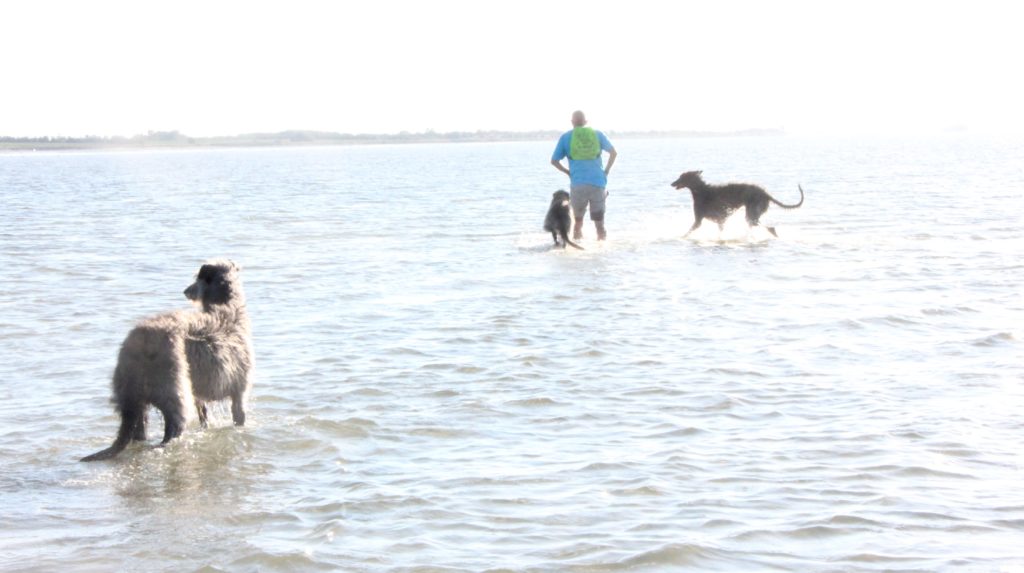 water and the hounds followed him, Cranston followed, but soon almost went under. After this he preferred to stay on the shore, wet feet could then just but he did not go further into the sea. But he still had a lot of fun and enjoyed it to the fullest.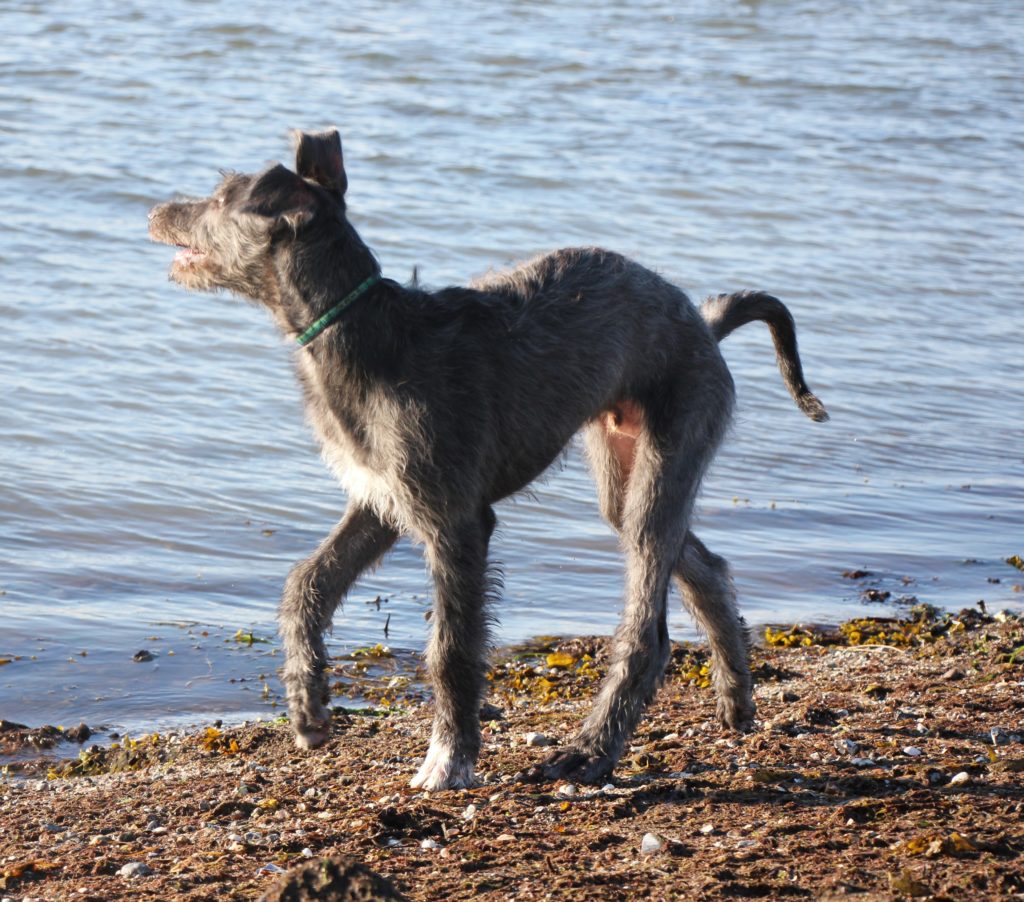 For Cearrean we brought the throwing stick and a tennis ball, he was completely fed up and couldn't get enough! In any case, he is not afraid of water!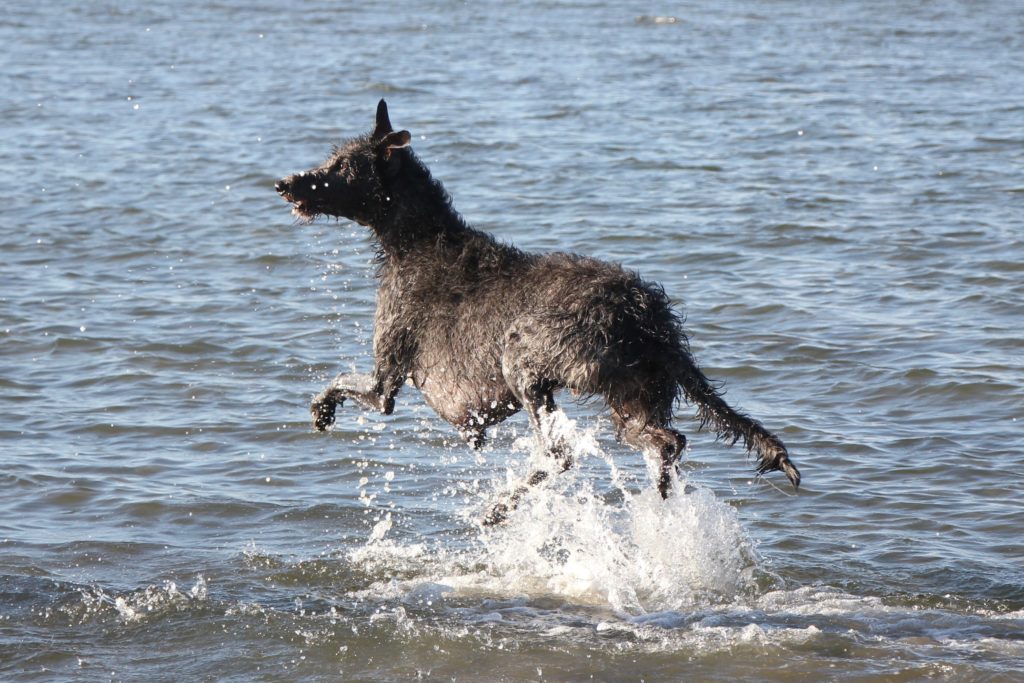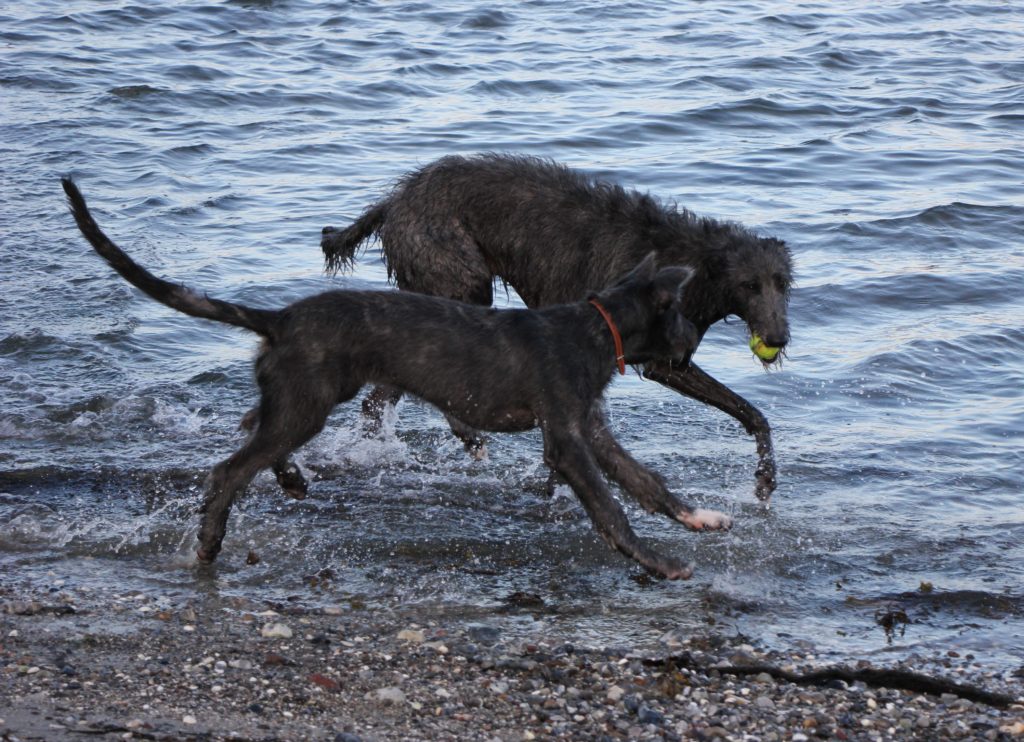 But unfortunately …. Cytaugh had decided to come into season on the Monday we arrived in Flyvesandet and since she was supposed to be mated, the plans had to be overhauled. This meant; not going to Sonja the following week to then go to Tüttleben where Simon would provide a coursing training, but leave for home on Saturday.
In the meantime we had already heard that Tüttleben would probably not continue due to too few registrations. Should it still go ahead, Simon could always go there with his tent and take care of the training.
With an overnight stay in Everinghausen, we came home on Sunday afternoon. Fortunately, the heart examination that was planned for Wednesday, September 16, could be brought forward for a week so that it was still done in time. To make 'sure' that Cytaugh would be on about the same schedule as two years ago, I made an appointment on Tuesday, the ninth day of her season, to have a progesterone test. Fortunately, this was still very low, as hoped, and the heart examination the day after, also had a very positive result.
I also consulted with two cardiologists regarding breeding with Cytaugh because Chidish, her brother, passed away last year after a coursing. He had mild DCM. But both believe that if the heart is so good at the age of 5.5 that you should not pass up the opportunity. It is very difficult to find lines without a hereditary condition and if there is a problem on one side and this problem has not yet manifested itself in the other line, you could risk it. Hopefully it will work out well too!
The chosen male is Beardswood Uther. A still young male with a nice spring of rib, strong bone and a fantastic character. The I.C. is 1.85 over 7 and 5.74 over 10 generations. If you look at the pedigree, there are many beautiful hounds behind the lines of which I have known several. Also quite a lot made it into double digits or near to it. We expect a lot from this combination!
The bad thing is that I couldn't go to England for a natural mating and that is why fresh, chilled semen came to the Netherlands. We hope it all goes as expected and that we can welcome a few beautiful, healthy puppies in mid-November.