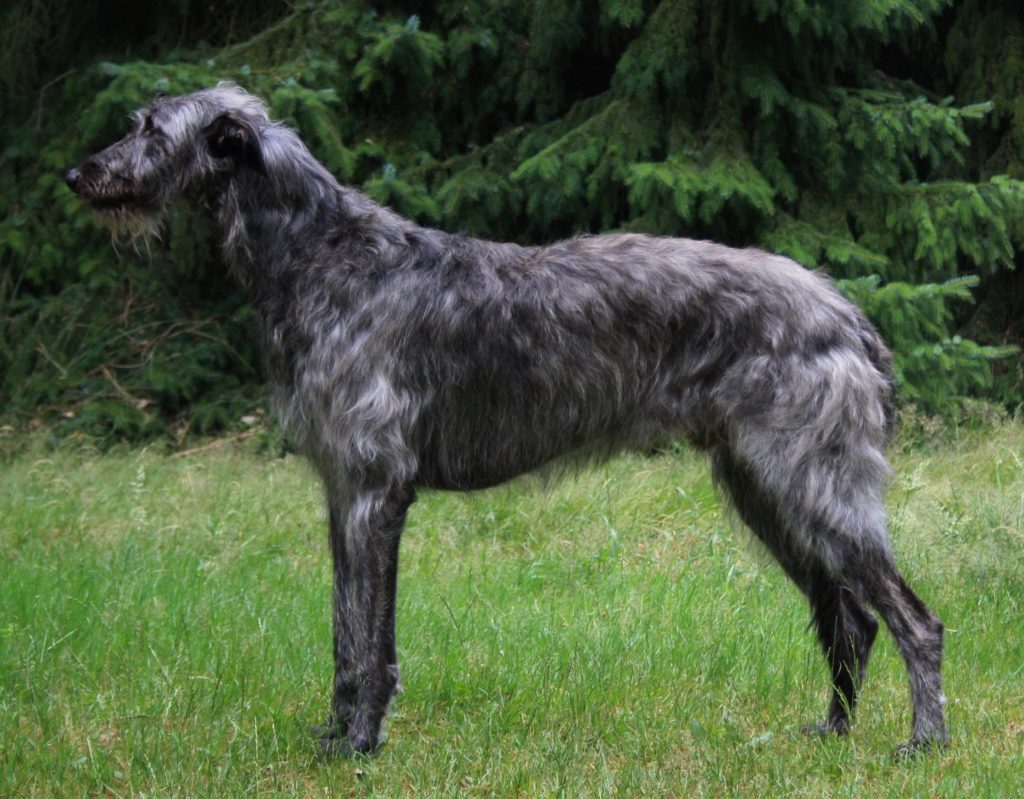 Calhoun O'Cockaigne still gets his CACIL and thus the title European coursing Champion 2009!
On 23 August 2010 I write the following article for the Dutch Deerhound Club magazine.
"It would happen to you!"
Last year I was still very enthusiastic and proud that my Calhoun O'Cockaigne had won the European Coursing Championship, on 1 July this year I received a letter from the Board of directors that the FCI has withdrawn its title. How can this be? To keep a long and difficult story short, it is tantamount to saying that, on the basis of statements by Frank Schmidt and Mr Martin Haas, both from Germany, the FCI believes that Calhoun would have walked his two qualifying matches too young.
If we read the Dutch regulations well, we will see as first important article that all greyhounds can get a starting license from 15 months. So also the big varieties. As a result, Calhoun also had a 15-month license. In the Netherlands, Germany and Belgium, in their national regulations, the large varieties are allowed to participate in a competition (national and international) from 18 months, but in France the large races of national competitions can take part from 15 Months. Nowhere, even in the international Ren and coursing regulations, does a greyhound have to run its qualifying competitions for the European Championships in his native country or whether it should be international or national competitions. There is also nowhere that a Dutch greyhound also has to keep the Dutch national Ren-en Coursingreglement abroad. (A French greyhound is not allowed to participate in a national competition in the Netherlands with 15 months, he must be 18 months because he then runs through the Dutch rules).
So Calhoun has walked for 15 months, two qualifiers during a national PVL in France, like several Dutch and French greyhounds.
We therefore find it very unjustified that the FCI Calhoun's title and the CACIL has withdrawn and are therefore engaged in a legal process to challenge it.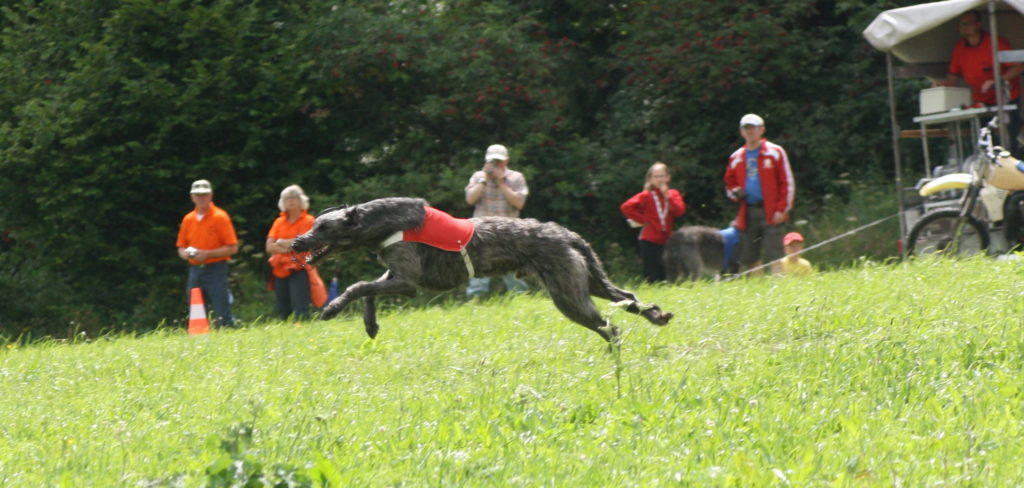 From that moment on I am trying to get right through the appropriate channels, but unfortunately it is not that easy to go. A lot of back and forth is written and mailed and eventually it ends up at the CdL. A body that really does not have anything to do with it because the FCI forgives the title and in this case has also withdrawn. The CdL brings it to vote twice during meetings but the majority vote against giving the title back to Calhoun. By now I have taken a lawyer, Anne-Greet van der Wal, in the arm and again a thick letter has gone to the board of Management. Yes, direct contact with the FCI is not allowed. The dossier grows into a huge pile of all the same letters, council statements and requests for additional data as it is now really in the process but… Nothing happens. Beginning 2016 shows that everything has been lost and Anne-Greet resends the writing. And sure enough…. On Friday 25 March I received an e-mail from Mrs. Sabet of the Management board. She shared that she had just received notice from the FCI regarding Calhoun. The FCI Executive Committee has renegotiated the request for the CACIL to Calhoun and they had decided the following:
"It was further agreed to re-confirm the CACIL awarded to Calhoun O'Cockaigne, Deerhound, NHSB 2683124 at the CACIL coursing of Marianske Lazne (CZ), July 2009.  The CACIL award will be sent by post to the BOM in the next days.
The titles of European coursing Champions are issued by the CMKU or the organizing club of the event ".
I have had to read the writing several times to be able to realise that it is now finally, after almost 6 years of fighting for it, succeeded!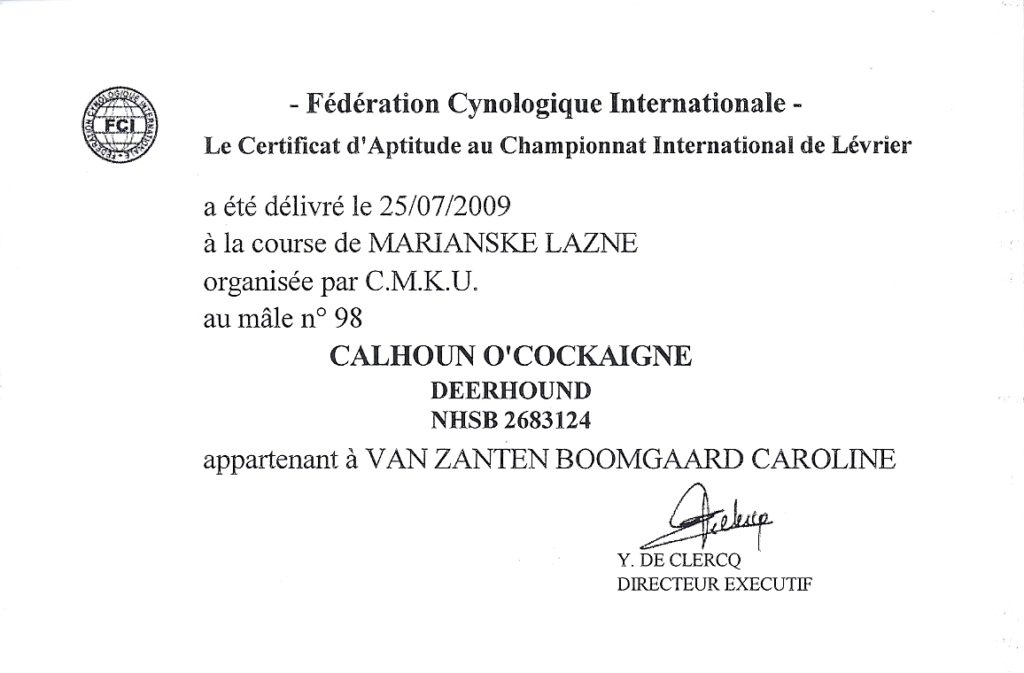 A few weeks later I was allowed to receive the CACIL by post. No accompanying writing, no excuses, nothing at all attached to the FCI. But, of course, it is also very difficult to admit that it was terribly dumb to listen to two Germans who have no knowledge of things.
Meanwhile, I have applied for Calhoun as well as the international coursing Championship. Hopefully that won't take 6 years!! Of course it is also very difficult because they have to use the international Ren and Coursingreglement of 2011, the year in which Calhoun obtained his last CACIL. We are waiting for it.