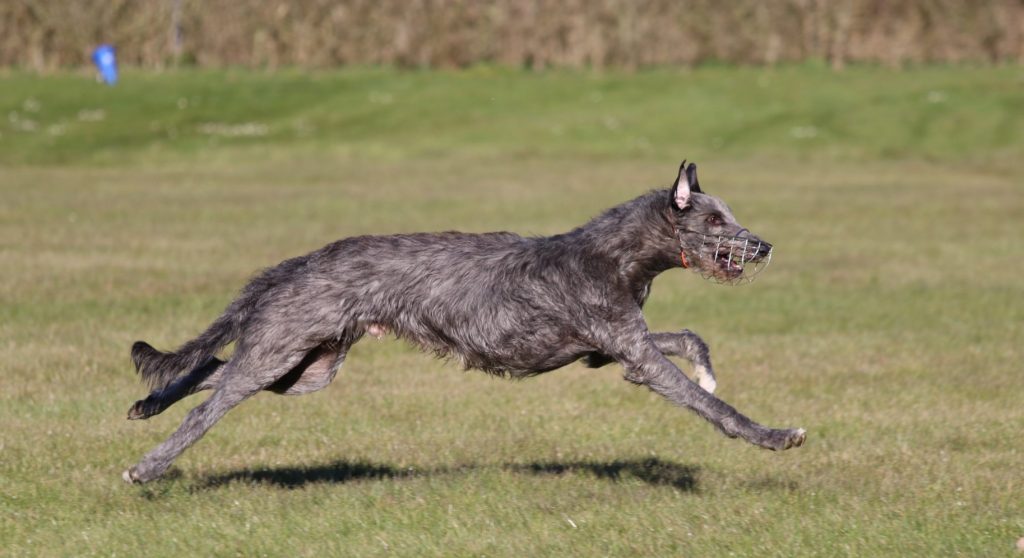 At the beginning of this year I sent DNA from Vision and her sons and from Cytaugh and her puppies to America for research on Post Operative Bleeding Syndrome because I suspected that Vision died from this. After several weeks I got the results and it turned out that Vision did indeed have the genotype SERPF2-VAR, meaning she had the highest risk, as much as 500 times higher than hounds that have no risk or the SERPF2-WT genotype. Due to the bleeding after her operation, the supply of oxygen was not sufficient for the organs and the nervous system and kidneys can be damaged very easily by too little oxygen; the haemorrhages were thus the cause of the eventual renal failure.
Her sons, Cranston and Callaghan both have SERPF2-HET, meaning they are 25 times more likely to have bleeding after surgery or an accident. It is therefore important that the vet has the right medication on the shelf. Unfortunately, it turns out that you are not allowed to have that medication under your own management, so if you are on the road you have a problem.
Also two of Cytaugh's puppies have the SERPF2-HET variant while Cytaugh himself has SERPF2-WT. The owners have of course been informed immediately so that they can inform their vets and I have also informed the owner of the father of the puppies.
I am very pleased that, in addition to Factor VII Deficiency, we now also have the opportunity to test the hounds for this bleeding disorder, Delayed Bleeding Sydrome (DBS – also called hyperfibrinolysis)). You can avoid a lot of trouble with it.
The commercial test is not yet on the market, but if necessary one can simply send a swap to America for research. Unfortunately, there are still breeders who do not even test for Factor VII, which is very irresponsible as it carries great risks. I therefore recommend that when you want to buy a puppy, you ask the breeder whether it has been tested for Factor VII  and DBS. You can read more about this via the following link, http://www.o-cockaigne.eu/?page_id=20680.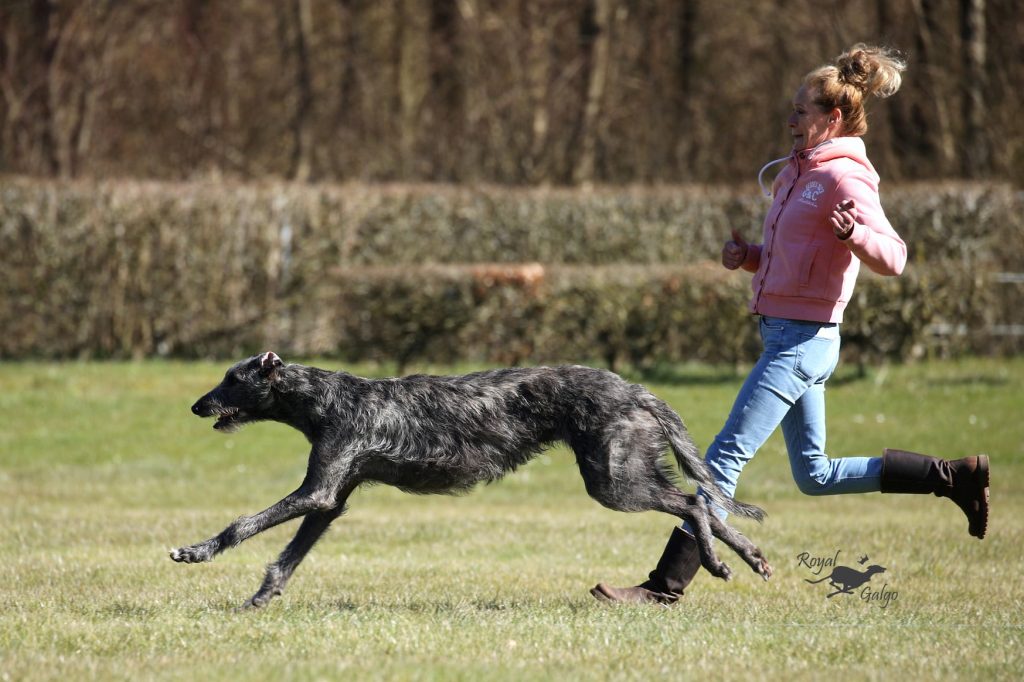 We were finally able to remove the caravan from under the caravan port in mid-March and muck it out. In the course of the winter it always becomes a kind of storage place and before you have everything back in place and cleaned, you are a day further. But in the course of Thursday morning 17 March, we could then leave for Lelystad where the first CC2000 event would take place. More than 50 hounds were registered and it was a very pleasant day with perfect weather for the hounds. It was very nice to see Mackenzie (and of course Bert and Mariëtte who belong) again and also Simone and Marco with Finn and Kick.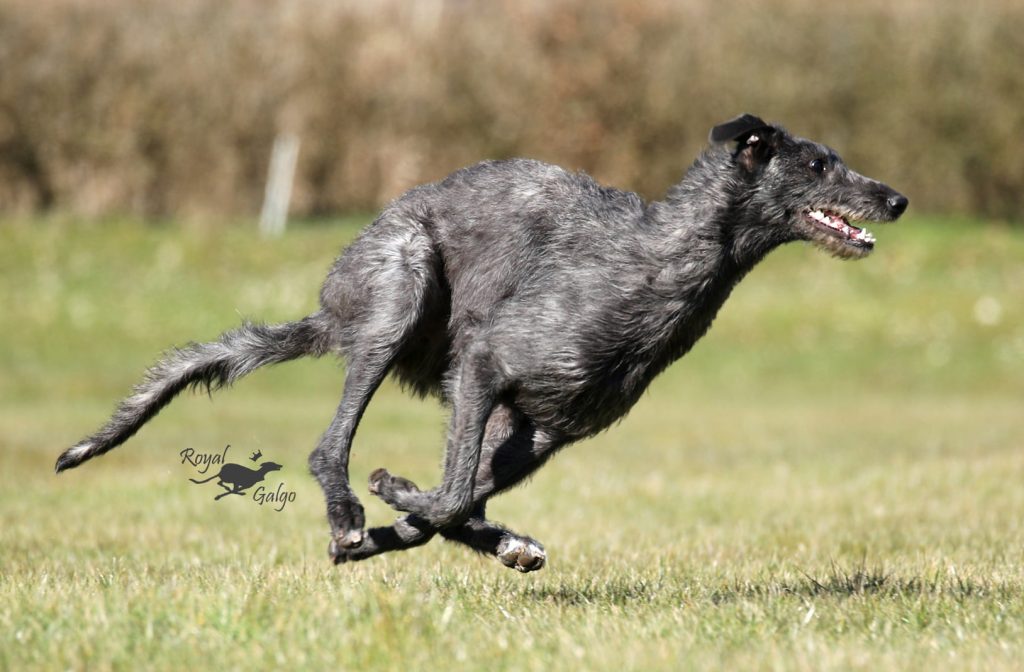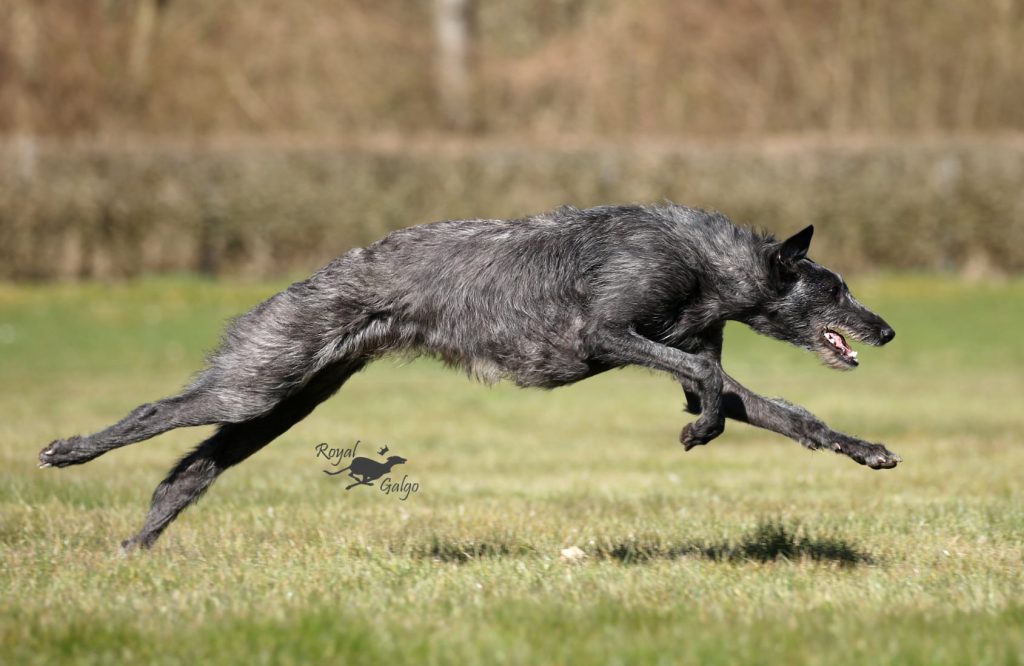 Unfortunately Charlaigne was not allowed to walk, he was still in the rag basket but there were 6 Deerhounds walking that day! Mackenzie had to get used to it again but in the end ran very nicely. In the afternoon she walked with brother Crumbaugh and that went perfectly!! Also very nice courses from Cranston with the Afghan Kimi from John and Karin, and in the afternoon with the Barsoi from Anneke. Everyone enjoyed it immensely.

On April 11 I had Brandir's heart tested again and it has improved again! By adding Carnitine, Taurine and Q10, his heart becomes more and more powerful and I no longer have to worry that the same thing will happen to him as Chidish. Cranston has also been tested for the first time and found to be fine. Nice to know before he starts his coursing career.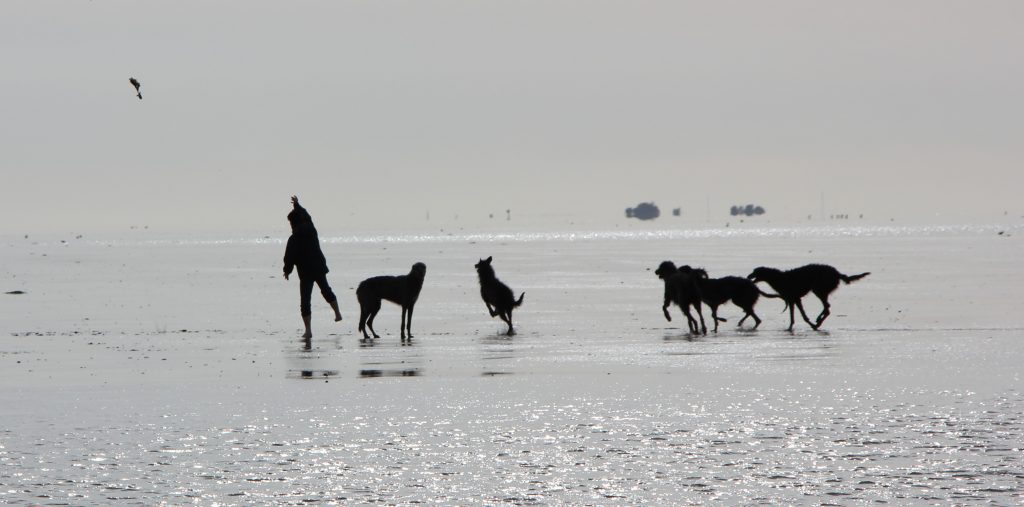 Cranston, Crumbaugh and Charlaigne have now obtained their coursing license and Cranston has already successfully completed a number of coursings.
The last major event was the World Coursing Championship on May 27, 28 and 29 in Kalajoki, Finland. We left on May 18 and had planned for a few weeks with a few days Flyvesandet in Denmark and a stop at Sonja on the way back. At Flyvesandet it was great fun again with the low water. Even Brandir, who in previous years was afraid of the tide, now walked freely and cheerfully. He even went crazy on a regular basis!
It is a lovely area and the hounds always enjoy it. It is also a great terrain for a good fitness training because walking through such a layer of muddy sand is quite hard!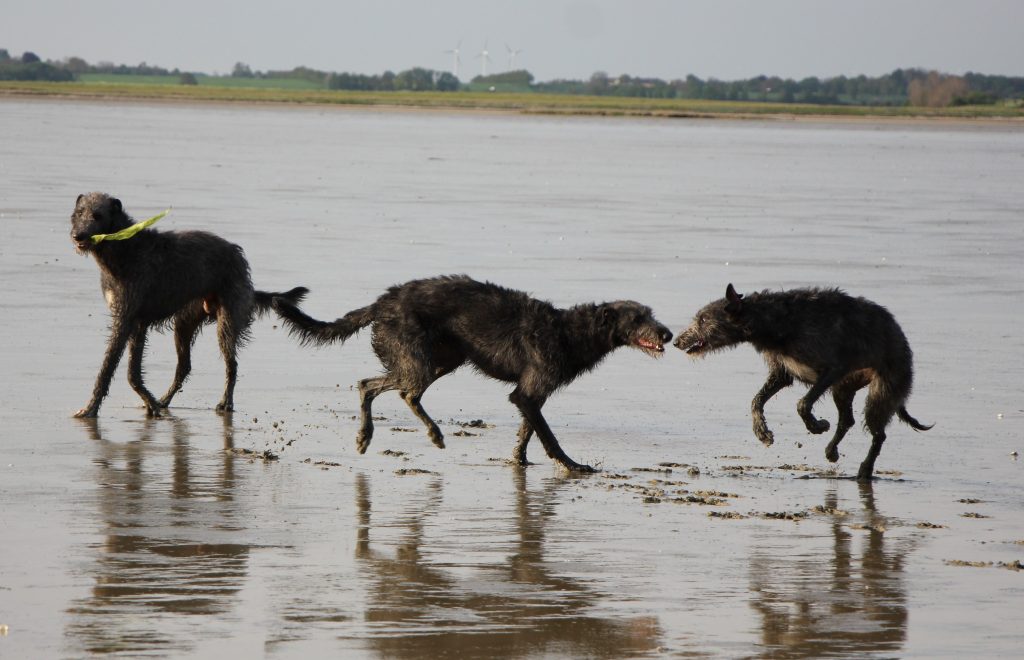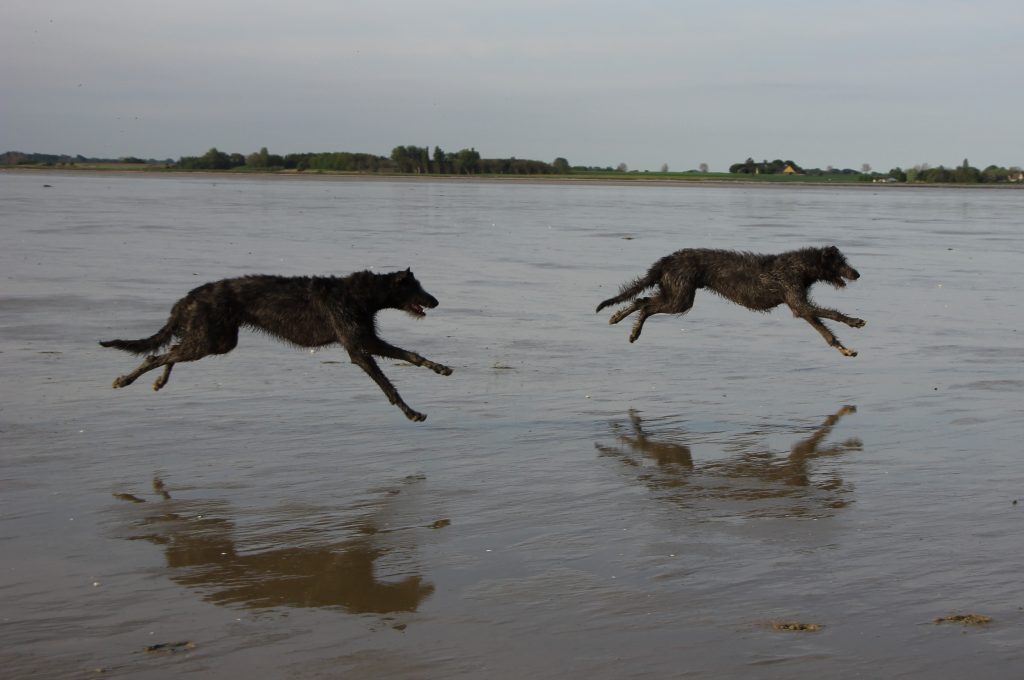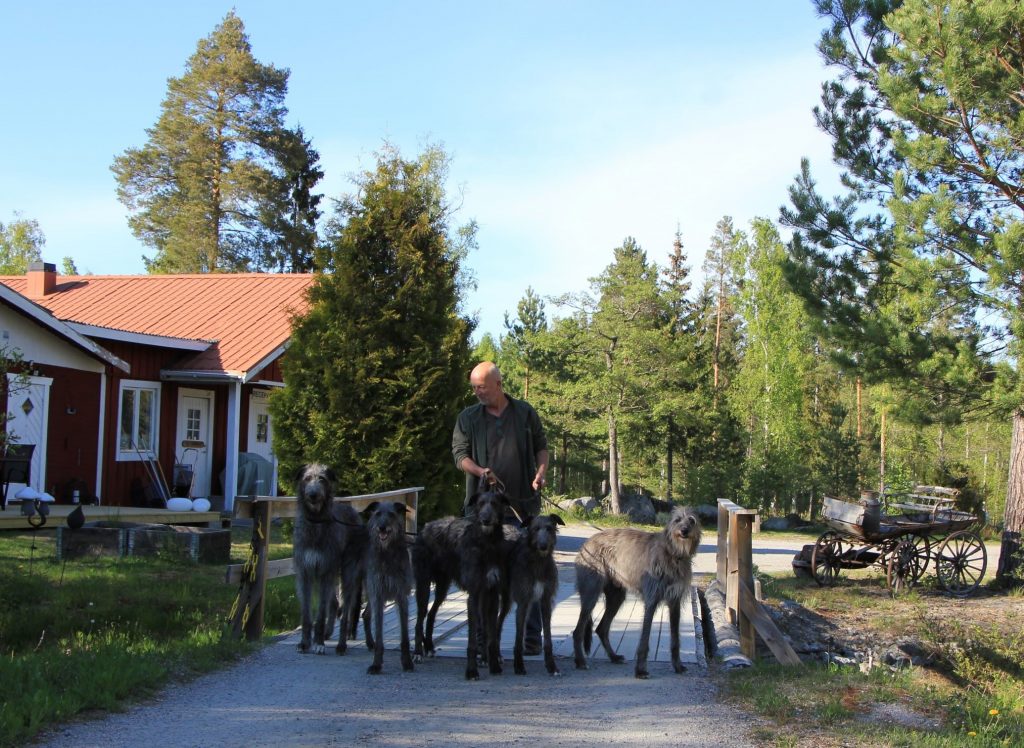 On the way to Kalajoki we stayed at various campsites, including in Sweden, including a very nice nature campsite in a very beautiful environment.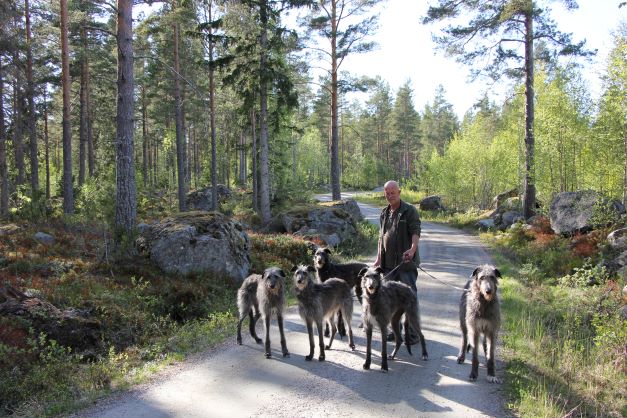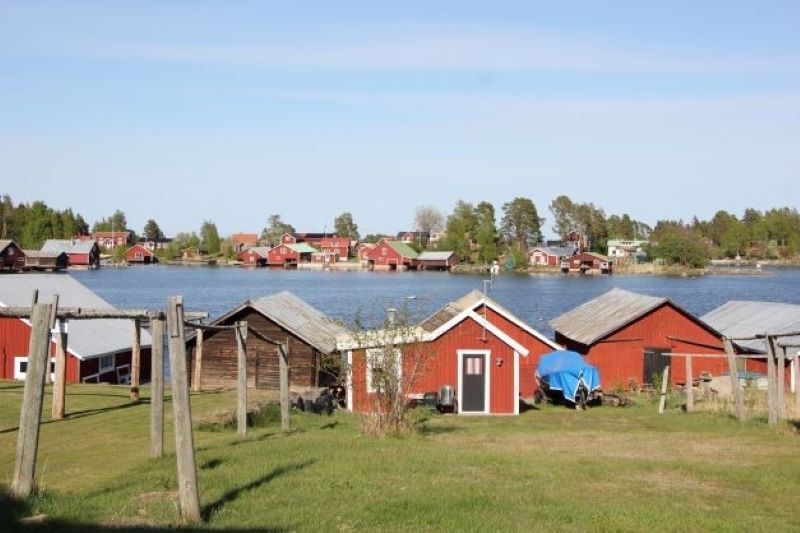 On Wednesday 25 May we arrived in Kalajoki and were directed to our spot, a strip of asphalt in front of the caravan with a large sandbox next to it. We stood right on the beach, or rather on the beach, and looked out over the Gulf of Bothnia where the sea ice was still floating. A strange sensation as it was nice and warm those first days and everyone was walking around in T-shirts and shorts. The hounds loved the sandbox and we swept the sand outside every day.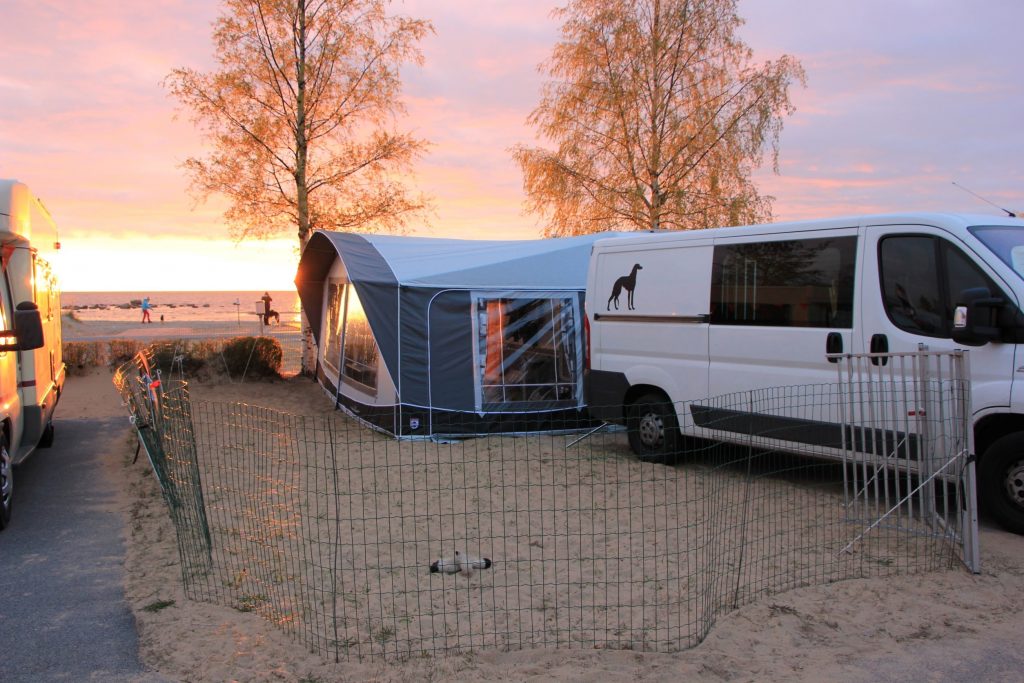 The three coursing parcourses were also on the beach and all had a length of about 800 meters. This was long enough as it is of course very hard to run through the loose sand. On Wednesday, Thursday and Sunday Crumbaugh and Charlaigne were allowed to do a test run but on Thursday I saw afterwards that both had a total of 6 broken feet from the sand that had sanded away the skin at the bottom between the toes. A very painful condition that unfortunately was not cured quickly – so no more test run on Sunday.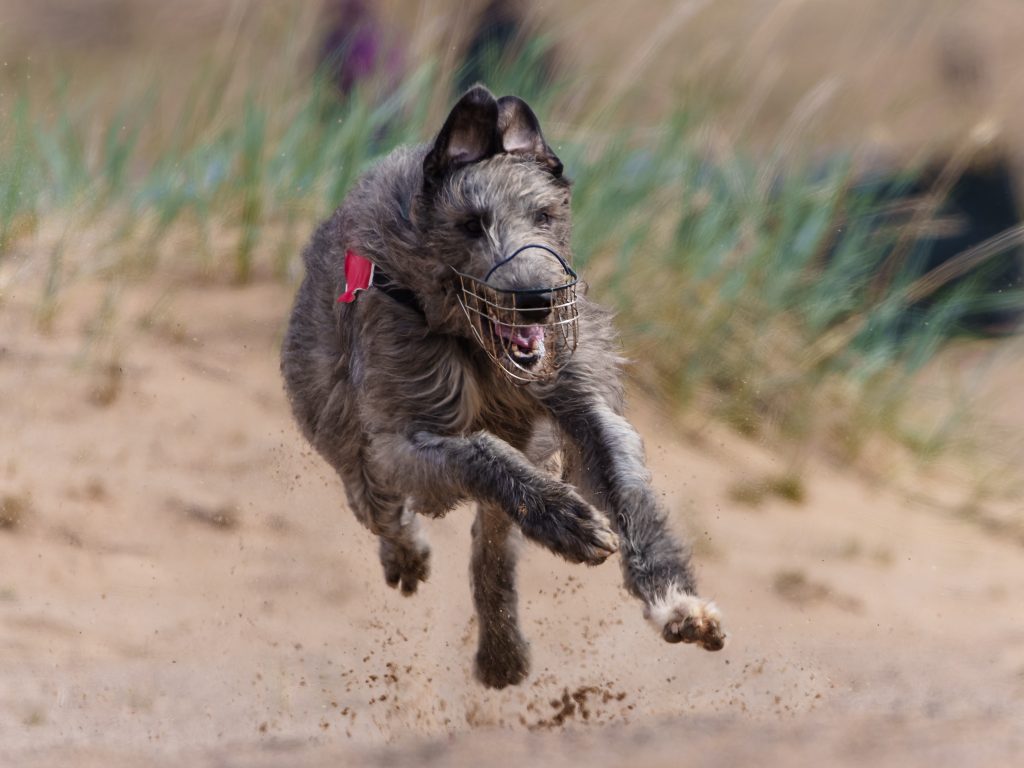 Cranston was in CSS class on Friday with two Swedish females and one English male. I judged this male, Kirjojax Harris, at the Breed Show in England last year and it was very nice to see that he was suddenly a lot more mature and changed in a positive way. Beautiful male!
In the first round, Harris ran under red and Grayrory's Kestrel under white. Harris started very well but halfway through Kestrel came by and after this Harris actually followed Kestrel and at one point he also touched her twice, in other words he disturbed her. He got a disqualification for this which is of course very sour when you come all the way from England.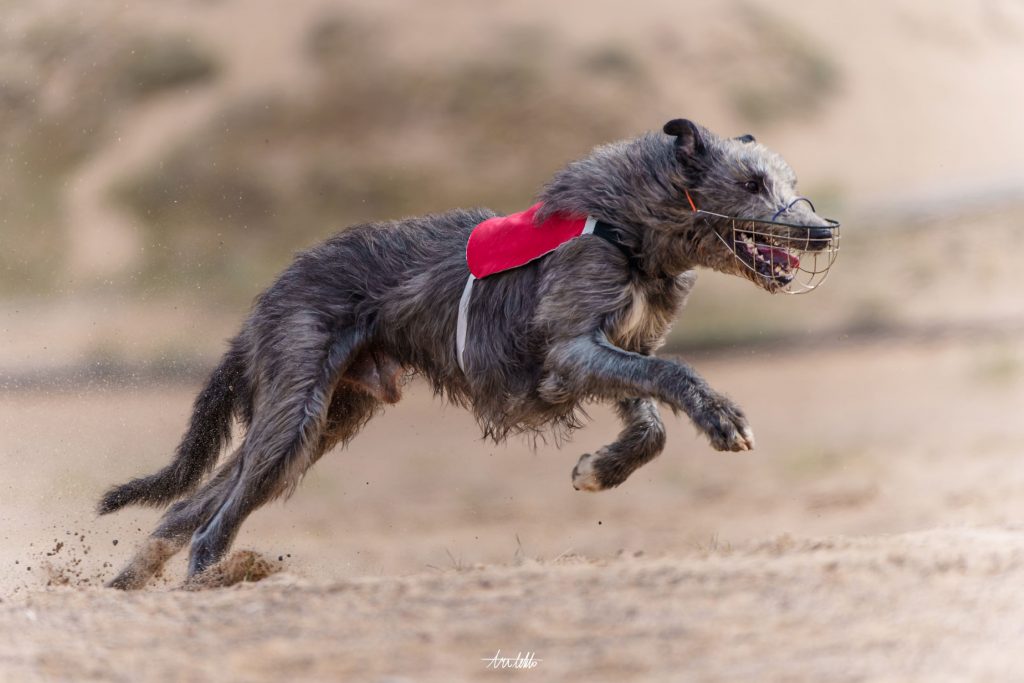 In the second lap, Cranston ran under red with Gray Mountain Maggies Aileen. As a young girl, Aileen usually walked closely behind the hare, but also made an error of judgment every now and then. Cranston coursed more with his head he read the terrain and cut where necessary. Three times the turner went wrong, he misjudged Cranston's speed and this caused Cranston to come into contact with the hare. Luckily he didn't care about it. Unfortunately there was one judge who most likely swapped the points and placed Cranston in third place.
In the afternoon he had to walk alone and that was very disadvantageous for him. Such a large, heavy male cannot be compared with the course before it of two females. He eventually ended up in third place. It's a shame it went like this but Cranston really ran very well and enjoyed it.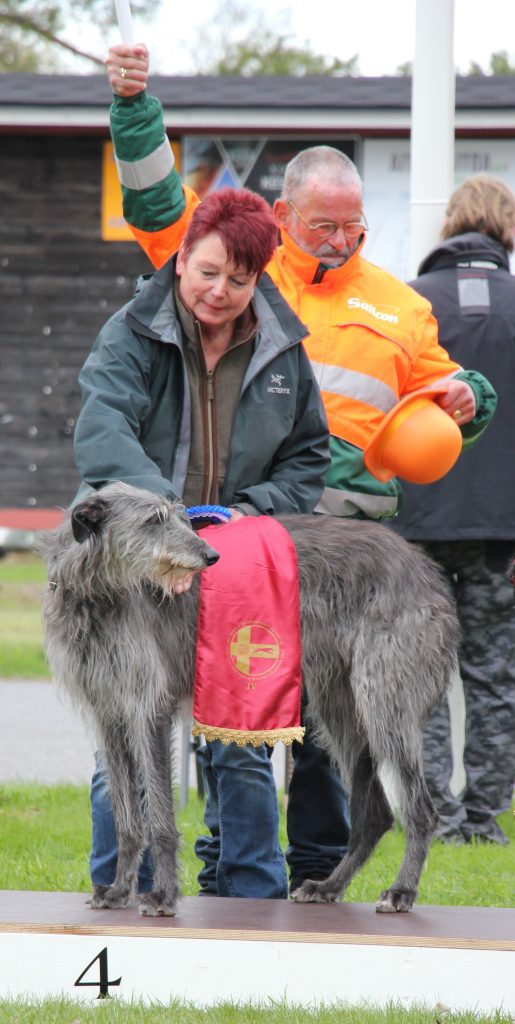 Saturday it was Cytaugh's turn. There were 12 bitches (6 German bitches, 2 Czech, 2 Swedish, 1 Finnish and my Dutch Cytaugh) entered for the CACIL class and not a single male! Cytaugh started in the first course together with Islay's Quickstep of Ira Johannsen (DE). Cytaugh got 243 points and Quickstep 230. Cytaugh was in a provisional fifth place!! In the second round, Islay's Luck Penny from Ira ran with  Crathlint Dwynwen Dee from Satu Hakanurmi, the only Finnish rider. Luck Penny got 228 points and ended up in provisional tenth place while Dwynwen Dee was disqualified. Fernhill's Rose at Grayrory from Åke Kack (SE) ran a very nice course and earned 245 points and Islay's Peekeboo from Ira got 232. In course four, Islay's Oonagh from Ira and Cotherstone Angrboda from Ann-Marie Boyle (SE)  and they got 247 and 229 points respectively. Course five was for Andrea Jahelková's Ailis Under Sharp Hill and Islay's Quinn by Silke Eichhorn, who tied for first place with 257 points. In the last course, Andrea's Aisha Under Sharp Hill ran with Islay's Luighseagh by  Claudia Oeljeschläger (DE) with 237 and 179 points.
In the second round, Cytaugh had to compete against Aisha Under Sharp Hill in course 4. Aisha got 1 point more than Cytaugh but that wasn't enough to beat her. Cytaugh eventually landed in fourth place.
I was quite proud of Cytaugh, with her over 7 years she has done well!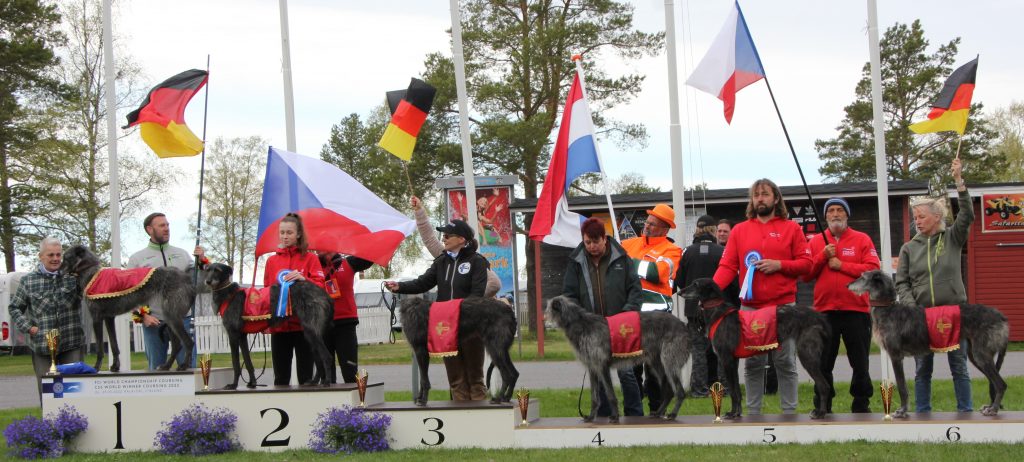 As said, on the way back we went to visit Sonja for a day. Very strange to find only two Galgas and Brandir and Cytaugh hadn't expected this either. After a lovely lazy day, we drove home on Sunday to see our new cork floor. The floor is beautiful, but we also found leveling everywhere; on the terrace, against the walls, even the door handles were covered. So that became a return for the floor layers to clean things up. It just meant that we couldn't immediately start clearing out our house because everything, really everything, was in the shed, on the porch and under the carport. Well, as long as we're ready for Christmas.