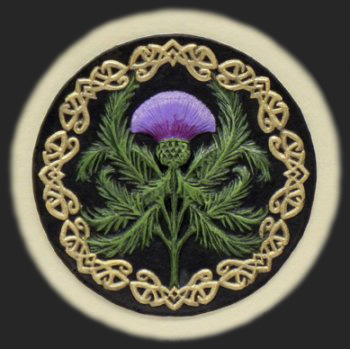 On Friday 15 April, Sonja and I left with Chidish and Cytaugh towards Stratford upon Avon where the wide Show of the English Deerhound Club was held. We went with the camper of Sonja because we would take a puppy with you on the way back and then the motorhome was so comfortable. I had booked a room in the hotel at the beginning of the year because we did not know that a puppy would travel back.
After we entered the hotel, we went up with our stuff. It was a very traipsing with dog beds, clothes bags and bags to our room there which was of course on the second floor and at the end of a very complicated and long corridor. First we had to go with the elevator, then a walk through, then stairs up and back stairs, all sorts of nooks and again a long corridor descend. After a lot of sighs and gepuf we came to our room. The first thing I did was pull the curtain aside and open the window, it's always too hot in such a room. Then we had to give the dog beds a place, the room was redecorated and when we finally looked at the bed it turned out to be a French queen! Well, we're not going to be there for a couple! So Sonja back down, to the reception and ask if there was no other room. That was there, on the other side of the hotel on the ground floor! So we load everything on the trolley and finally I closed the window and wanted to close the curtain again. After a small mahbub the whole curtain came down! This started all right! Limp of laughter we came down and after having reported it (it turned out to occur more often) we could go through to our new room; Corner, stairs and 10 meters in the corridor. It turned out to be a room for disabled people, s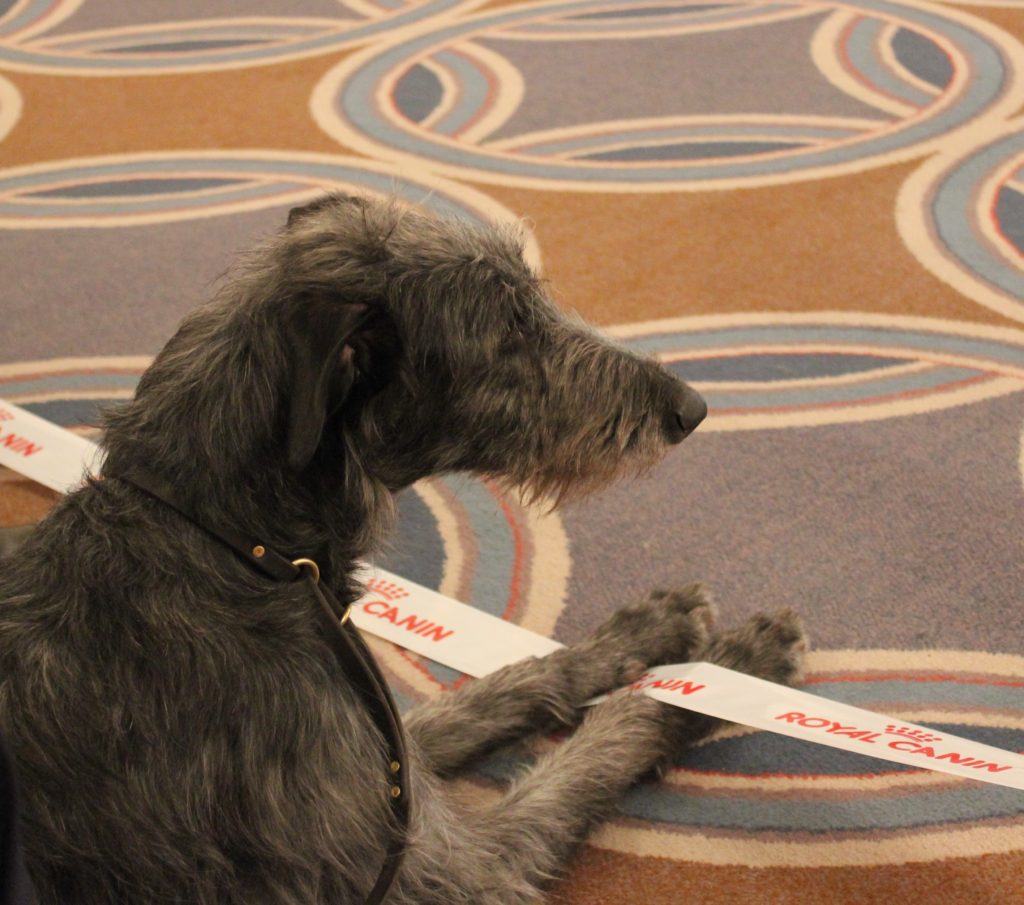 o nice spacious. Sonja warned me that I didn't have to attract anything, especially those red cords that were everywhere! For the show on Saturday I had Chidish in Junior Dog reported. He stood with 7 others in the ring. The judge, Mrs. Dagmar K.C.-Pordham was charmed by Chidish and placed him first! Best Dog was Pyefleet Tarka and Reserve became Hyndsight Desperado. Cytaugh stood with 6 other in the Junior class as well. She was third behind two Neroche sisters. Best bitch was Killoeter sai Tallavarjula and Reserve was Kilbourne Pandora to Talorpechie. For Sunday I had Chidish and Cytaugh reported in the ' Special not bred by Exhibitor ' class. A very strong class with 19 entries. Sonja showed Cytaugh. Here they made nothing under Judge Wendy Cross.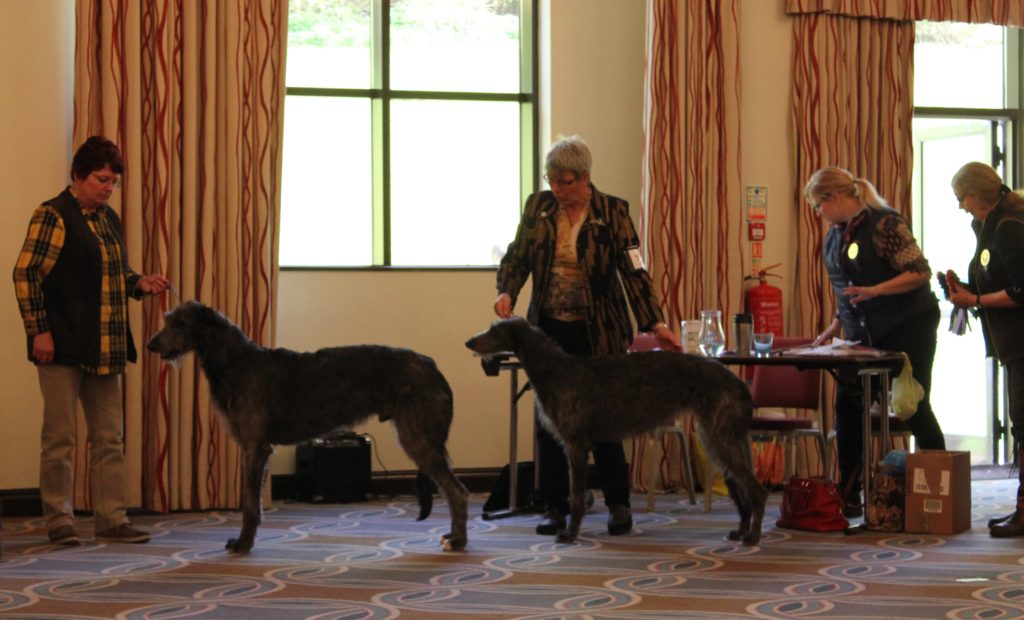 After this inspection we packed our gear and headed for Brightlingsea where we would pick up a puppy for Sonja. Mary Girling was still cleaning up the wide Show in Stratford and so we had the time to walk with the hounds, behold the puppies and prepare the food. I had dropped my eye on the smallest of the two bitches and hoped it would be for Sonja.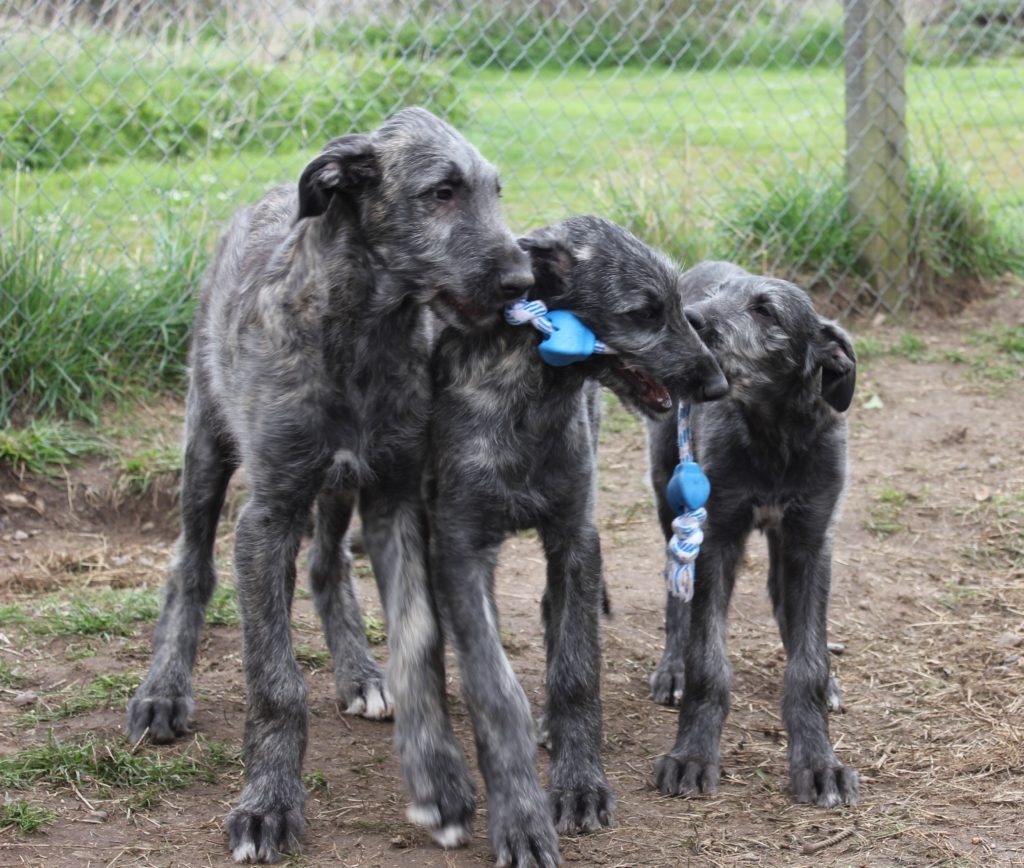 This proved to be the case and after all the paper Rompslomp to have completed and signed we left the next day again towards the Netherlands. The small Vision did just fine on the way, no beeping or whining, a prodigy and once arrived in Rijsbergen it soon turned out that she was a natural talent for shows!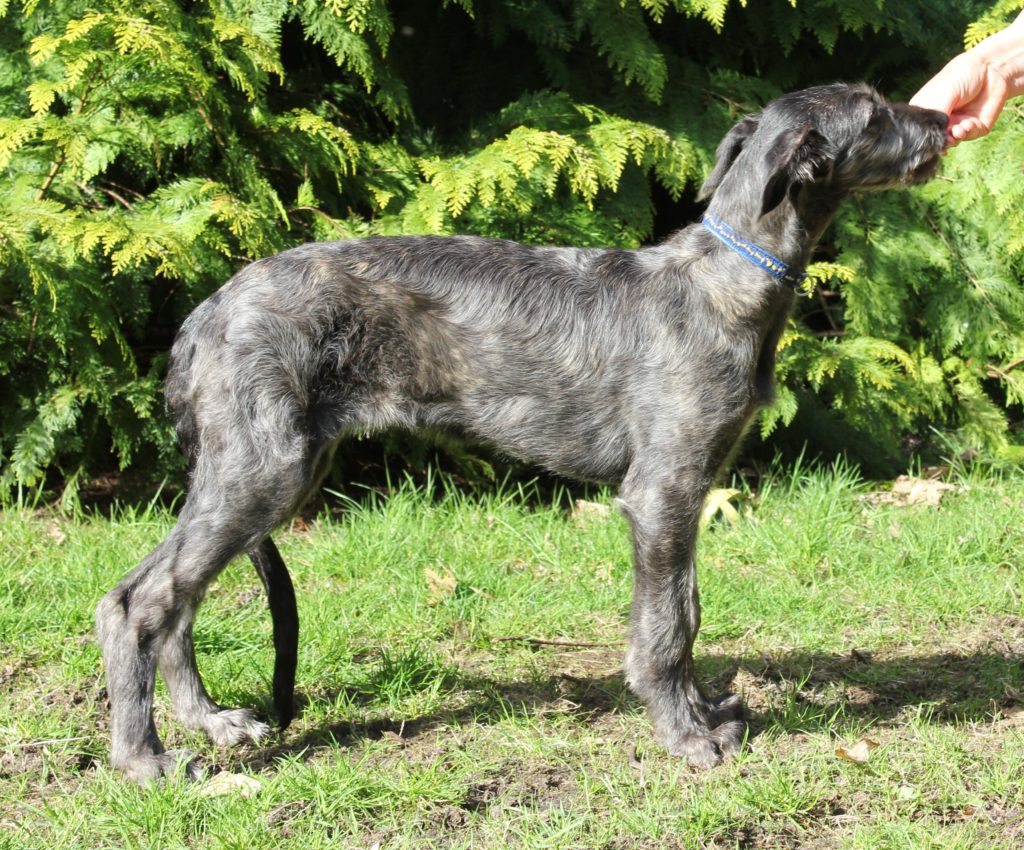 **********
A week later, Simon and I sat with the hounds in France at the club show of the RALIE, the French Irish Wolfhounds and Deerhound Club. I liked to Betina Adams, she approved the Deerhounds, my two ' youngsters ' show mainly because Chidish seems so awfully much like Cscarf. Brandir got 1h in the Championship class, Chidish also got 1h and became best youth Deerhound. Best Male became Jesus-Maria-Joseph du triple Bois and reserve became infidel-et-Ram du triple Bois both of Mari-Eugenie Vinen. At the youth bitches, Cytaugh also got 1h, although Betina would have preferred to put two others on her, but these two didn't want to show up, yes and then you're out of luck! Best Bitch and BOB eventually became Garbo or Muma of Gilles Barreda.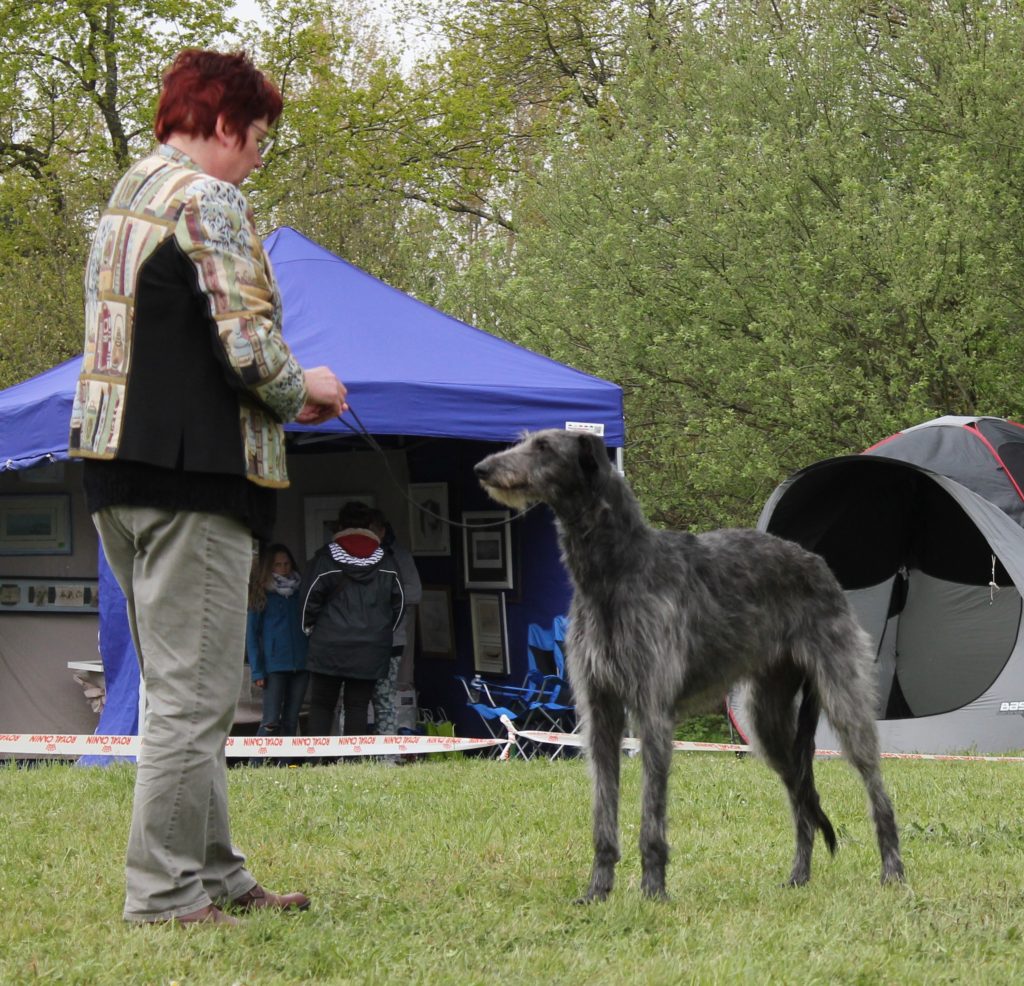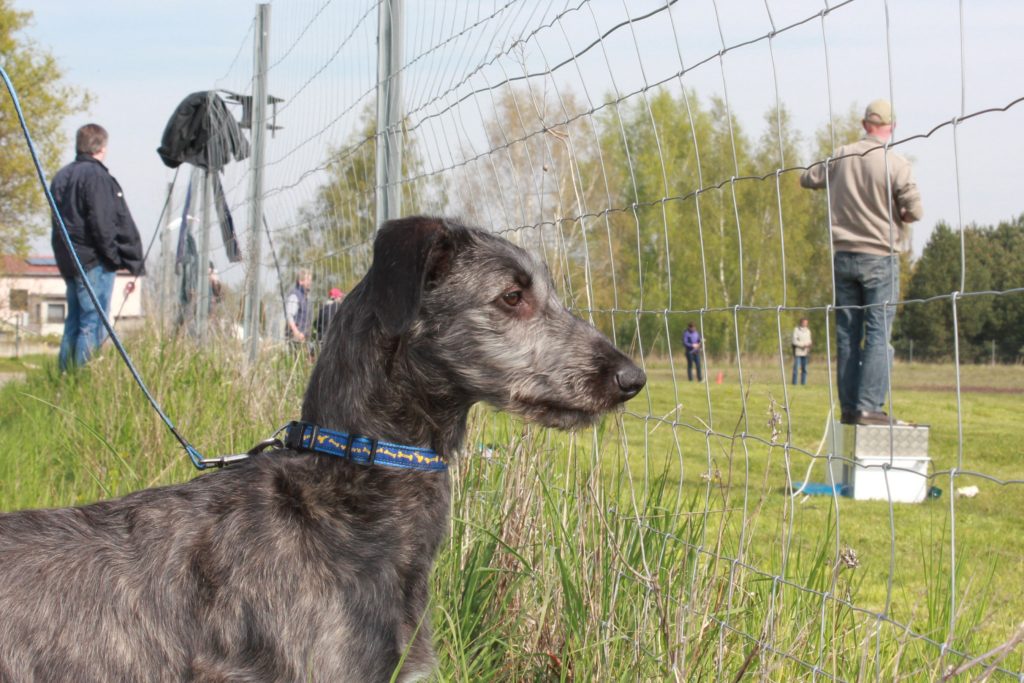 At the end of April we were in Göhlsdorf near Berlin. Gert Jan had made a turning machine for ' Windhunden-Rennclub Phoenix ' and Simon would turn the coursing with it. But first on Saturday the show. Only Chidish and Cytaugh were reported in the youth class. Chidish got from judge Mrs. Ella Yaschenko from Moldova 1h and became BOB over Cytaugh who also got 1h. In the Jügend BIS inspection, Chidish was placed fourth by Olaf Knauber. The next day was the coursing, this was the first time that Vision saw such a thing and she found it twisted interesting!
**********
Thursday, May 5 was the Deerhound club match. Judge was Willem outside camp. Brandir became fifth of the five, Chidish first of the two and Cytaugh third of the three. Not such a success. The pictures can be found on http://www.deerhoundcllub.nl I had in consultation with the Board and the University of Nottingham, organized that we would decrease DNA for the surveys that are currently running in England. I was very happy with our foreign participants because these were all willing to let DNA be taken from their hounds. This is in contrast to the ' big ' Dutch breeders. One for me (and many others) incomprehensible setting.
***********
On Saturday 7 May I was with Cytaugh and Chidish in Dortmund. Here Mr. Dux approved the 17 reported Deerhounds. Chidish got 1h and became best youth Deerhound and Cytaugh got 2h behind something that should never have been won. It was very strangely approved and many could not find themselves in the results. Next time, again to someone coming out of the greyhounds.
**********
Wednesday May 11th we left for Tüttleben. This year the Saluki Jahresausstellung took place. The center of the racecourse was nicely decorated with a camel, Sheikh and Saluki's. For the show on Saturday, 5 Deerhounds were reported. Chidish was the only male, he got 1h (with this he became German Youth champion) and became BOB, Cytaugh got 1h in the youth class and eventually became forest. Because there were so few couples logged in, I also reported Chidish and Cytaugh. They walked beautifully next to each other but of course it is not a real couple, they do not resemble each other. But the judge thought differently and made them first. Next, Chidish had to appear in the ring for best young dog. He also won this and a little later he became a further BIS! I found this very embarrassing. The BOB Saluki was also not exactly bad and just had to be BIS. For his victory Chidish got a beautiful bed but I found it more appropriate for Saluki's so the BOB Saluki got it.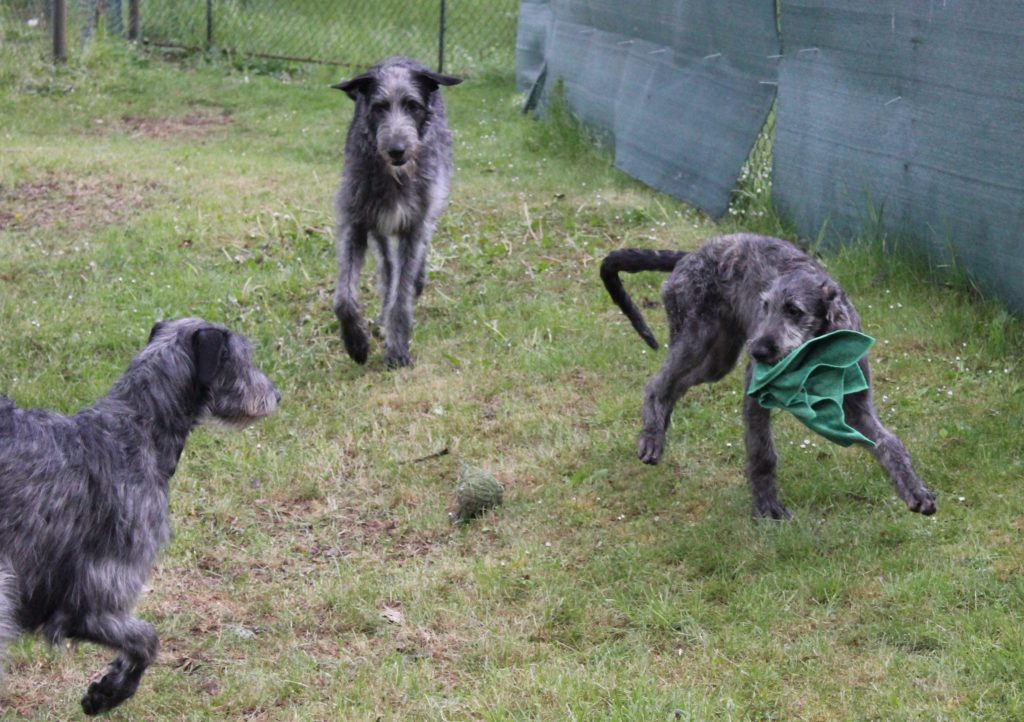 Vision had already grown considerably and thought it was wonderful to see her comrades again. They had fun for ten so with his threes. In Tüttleben We always have a nice piece of garden so that they can rauzen a lot but they found it very nice on Tuesday to also take a course on the Middenterrein. Simon had a spectacular trail over a ditch and back long the trees. You saw that the hounds enjoyed this, it was something else than in such a smooth, uncluttered field. Of course Vision could also be a piece and she did it full of surrender!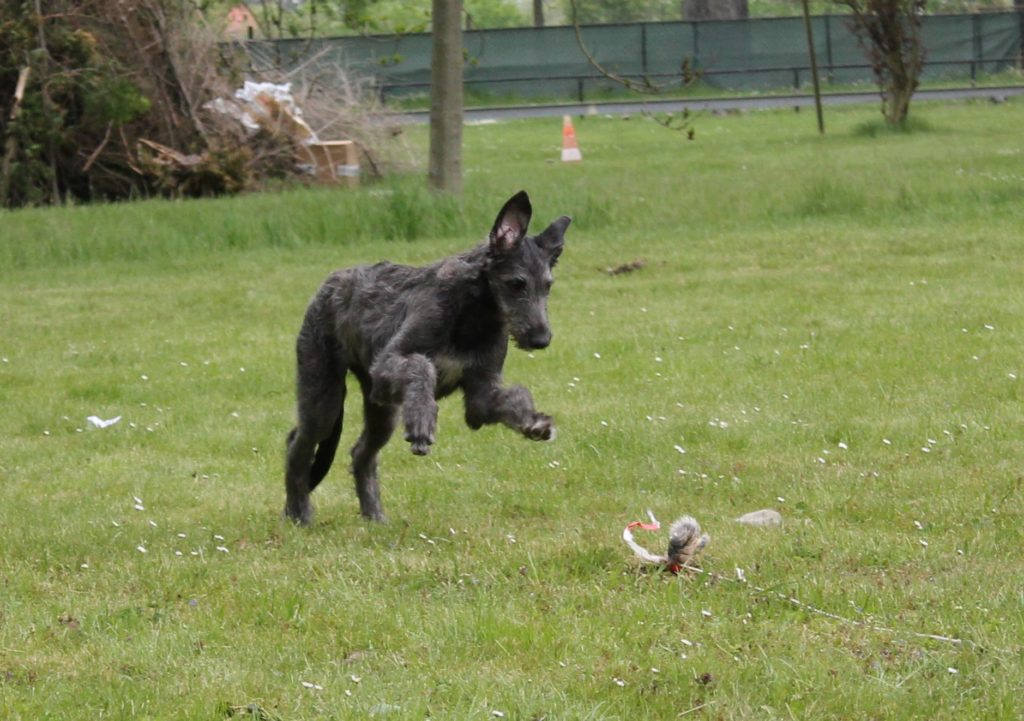 Two weeks later we were in Nörten-Hardenberg. Simon was in the front of the coursing and so I was staying with Sonja in the camper. This all went fine. From Thursday to Sunday it was the ' European Irish Wolfhound Congress ' with the Jahresausstellung of the Irish on Saturday. 250 Irish Wolfhounds were reported there for the three electoral masters; Gretchen Bernardi (USA), Chris Amoo (UK) and Jan Pain (UK). The results can be found at http://www.dwzrv.de    
Sunday was the CAC show for all the greyhounds and Mr. Peter Friedrich approved the 15 Deerhounds. All Deerhounds got an excellent so that says enough again. Chidish was first in his class and became best male. Cytaugh also got 1h and is now also a German junior champion. BOB became the Finnish bitch Brokenwheel Mc Blodeuwedd.
**********
Saturday, June 4, Chidish and Cytaugh were in Tilburg on the show of KC de barony. Here Ricky Lochs-Novels accepted the 5 Deerhounds present. Chidish got 1h and the reserve CAC and Cytaugh also had 1h in the youth class. With this U'tjes they have become both Dutch junior champion.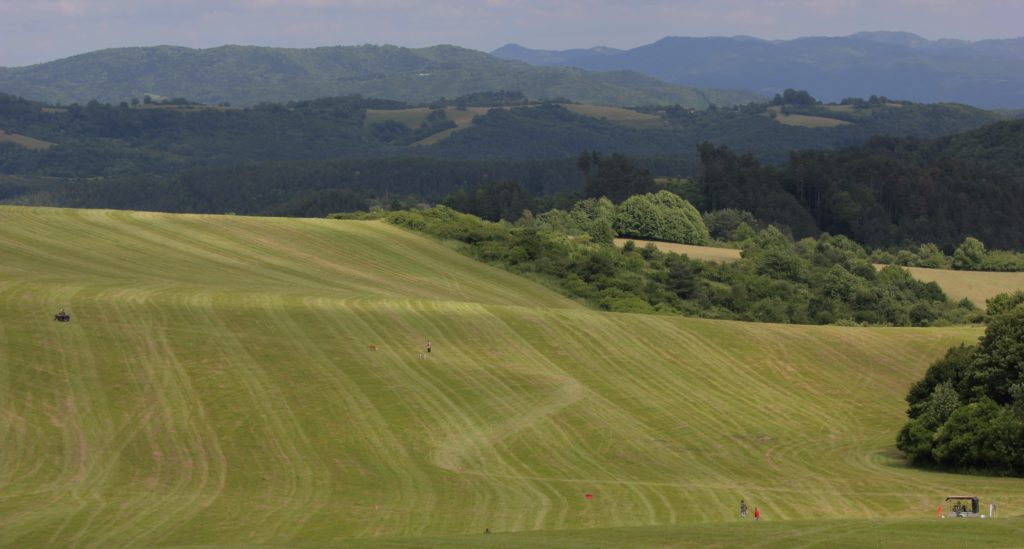 Above you can see one of the Coursingvelden of the EKC in Slovakia. This was held from 17 to 19 June. We planned to leave Sunday morning 12 June but when I drove home on Saturday afternoon of my Greyhound inspection in Lelystad, I got a breakdown. It was such a serious that the roads waited it could not fix it and honor a garage that could be it of course Monday! Only on Monday-evening we were able to leave and drove the first piece until just before Frankfurt in record tempo. Wednesday evening we joined the group at the racecourse at Vienna and Thursday afternoon we were in Vel'ké Pole, Slovakia. We had no hounds in the fight but Simon was once again chef D'équipe. It was all not such a success; The organization left a lot to be desired, variable prices for eating and drinking were requested and no good agreements were made with the associations that provided the coursings. This resulted in a single field that started off with a very small round of racecourse instead of a coursing and where, after this was changed, it turned out that two people manned this terrain for three whole days. This resulted in errors of the Turner, tensions with the participants and organisation and finally the removal of the greyhounds on Sunday a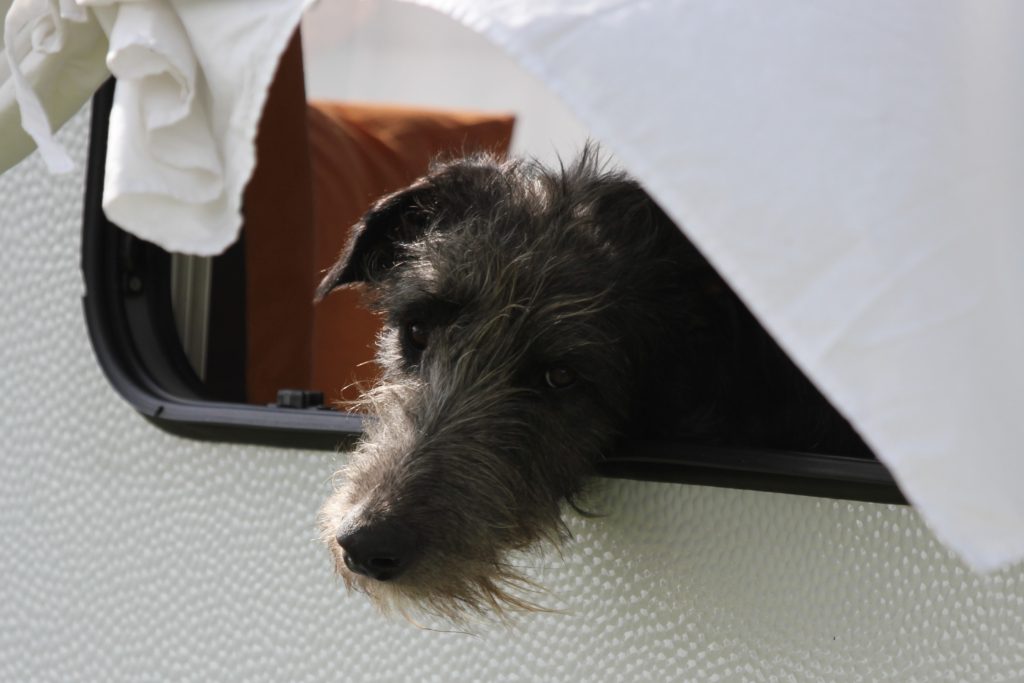 fternoon to prevent injuries caused by spinal errors. Another field on Sunday turned another team and it had no spare material. So when the turntable started at the beginning of the second turn, the German team gave a different field, their the spare, but the driver did not want to turn. Anyway, the German Turner that he took over, turned much better than the first one and this gave the hounds quite different points than the hounds who had already walked. This caused a huge shift in the rankings. Don't like them all. For Brandir, Chidish and Cytaugh It wasn't really nice either; You couldn't walk well, during the day it was sometimes very hot and I was looking much at the far-away fields or with my ceramics. In order to make up for it we had planned a few days of holiday at the back, but at the camp site where we initially landed, we were geattaqueerded in such a way by Hornets and other very large flying rigs that we will be right the next day Have left. After that we went to a campsite in the Czech Republic and that was better. We could take a very large piece of ' garden ' and walk very well in the surroundings. After three days we went home again and the hounds were happy again that they could uitrazen on their own terrain.
**********
2 and 3 July I was allowed to Hyvinkää the windhondenspecialty in Finland. On Saturday I had the Barsoi's and on Sunday the Deerhounds. The quality struck me from both breeds and because I am strict with the Barsoi's (49 present) I forgive 10 excellents and at the Deerhounds (39) 4. Especially the Bovenbelijningen were very flat in both races and the corridor works really bad. Something that is very important for a Barsoi and Deerhound! Best Barsoi was Yegorov Morning Haze of Virva Sundberg & Seija Piippo Kokkola and best Deerhound the beautiful bitch Kerslake Doreen by Carina Engman.
**********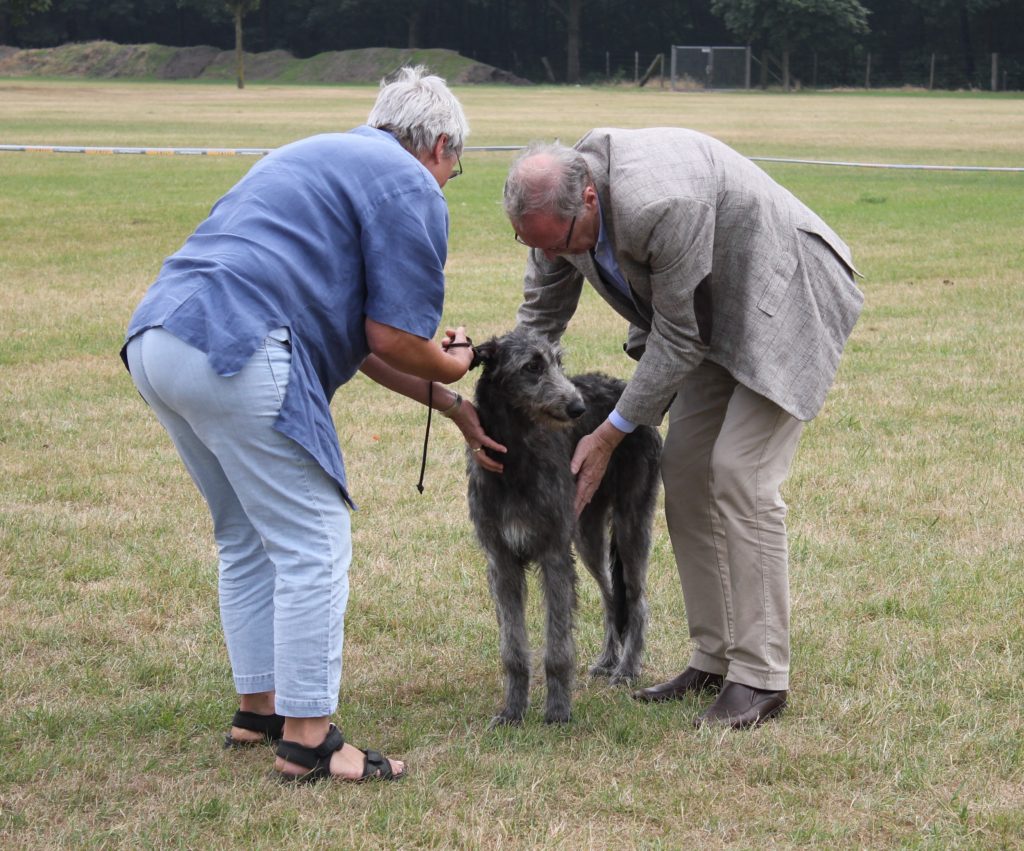 On Thursday 21 July we went to Crown Mountain near the Here was on Saturday the exterior inspection for which we had signed Vision. And as I wrote before, she is a natural language. She showed herself as an accomplished lady at the Judge Willem Outer camp.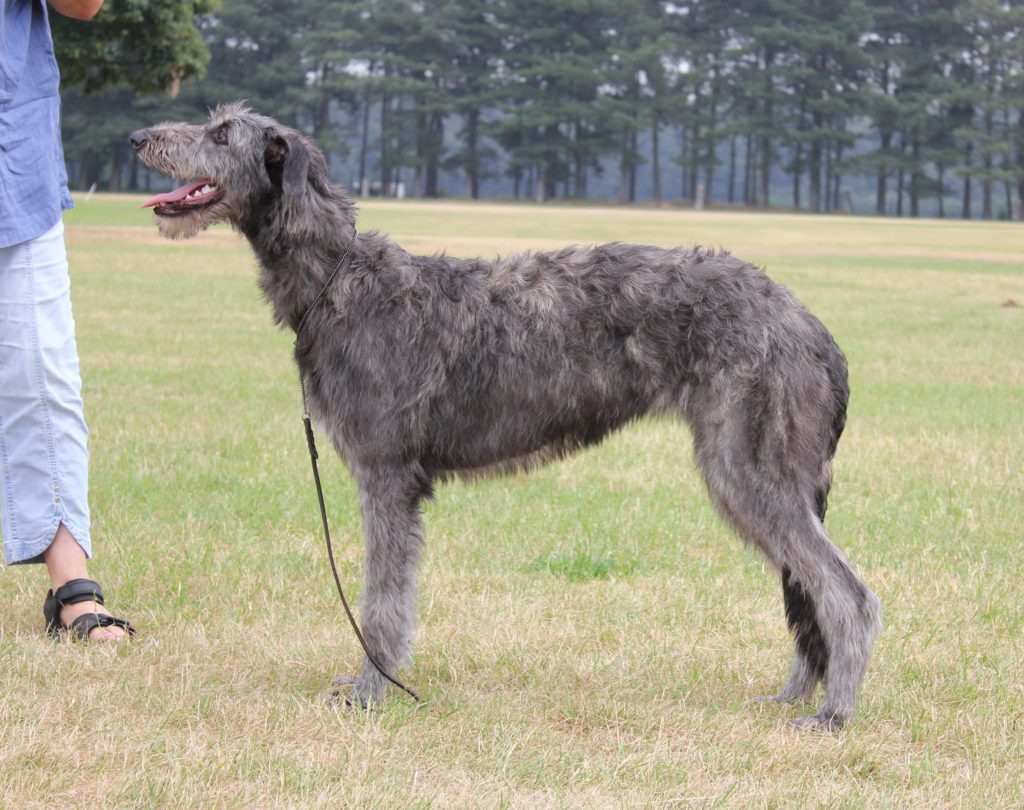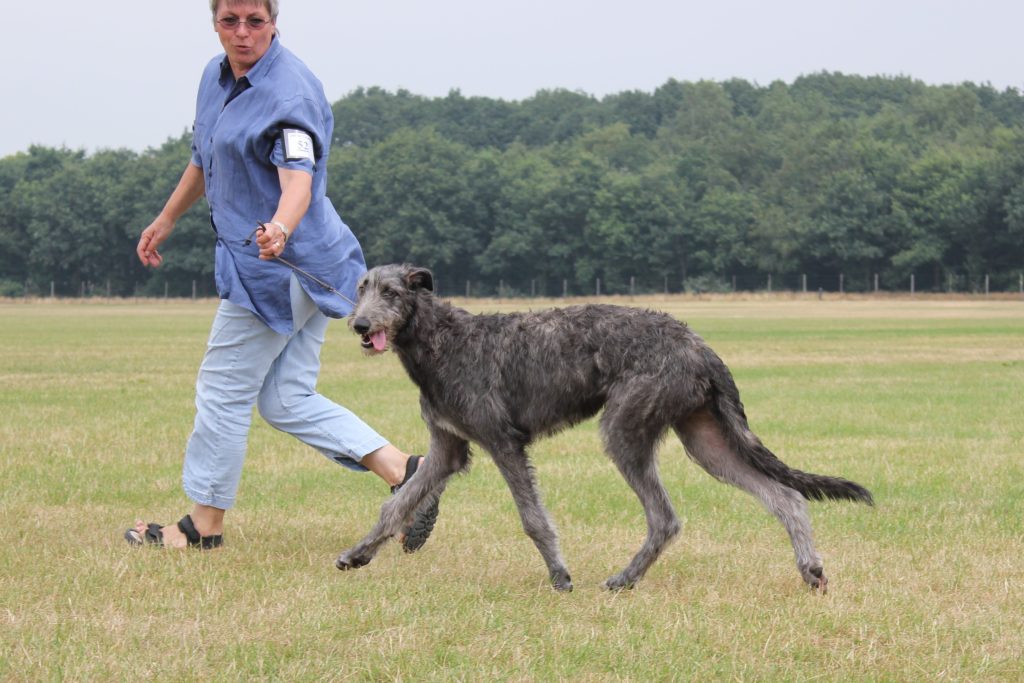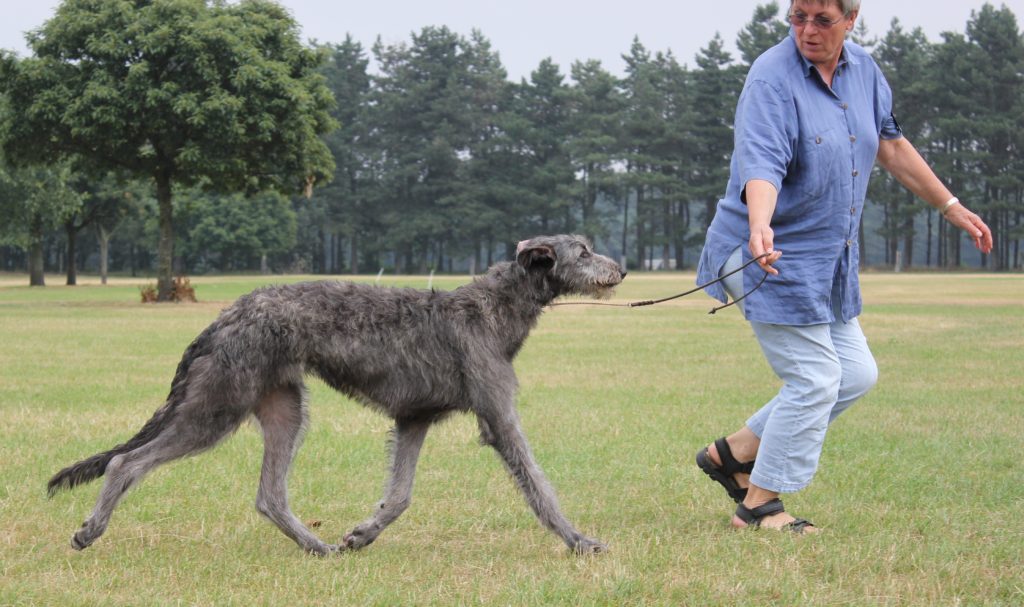 Cytaugh and Chidish have walked together for their ' haasvast ' in the afternoon. This went fine! The next day, Cytaugh walked with Bernice in the morning and Chidish with Bernice in the afternoon. And both times, Bernice happily joined so now the two ' puppies ' have their ' haasvast ' and they can officially join in from 22 September.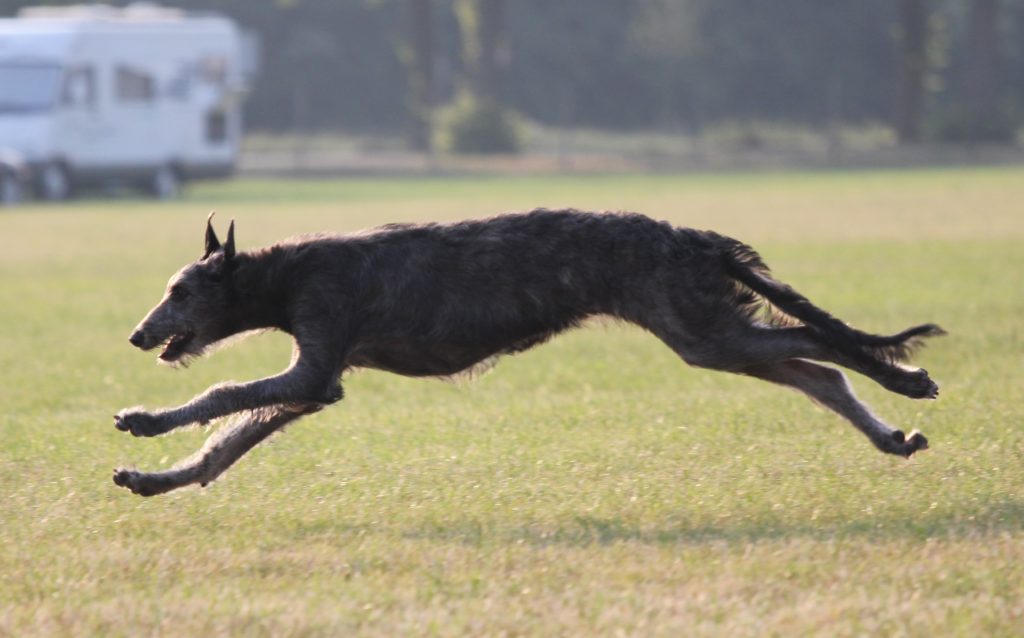 And of course Vision could also walk a bit on Saturdays! Again she did it full of surrender. And after hard work it's good to make junk!