On Friday 5 August I left with Brandir, Chidish and Cytaugh towards Gelsenkirchen where on Saturday the Deerhound Jahresausstellung took place. Sonja came from the other side and we would make it a weekend of fun. Our judge was Mrs Ingela Kyrklund from Sweden. A total of 84 Deerhounds were reported including 29 males and 55 bitches. 1 male and 5 bitches were absent. The veterans and the babies started, then the Jüngstenklasse in which Vision had to take on 4 other young girls. She did it exemplary and showed her super-gang work optimally. The judge couldn't get around her and placed her first. After that she had to compete against the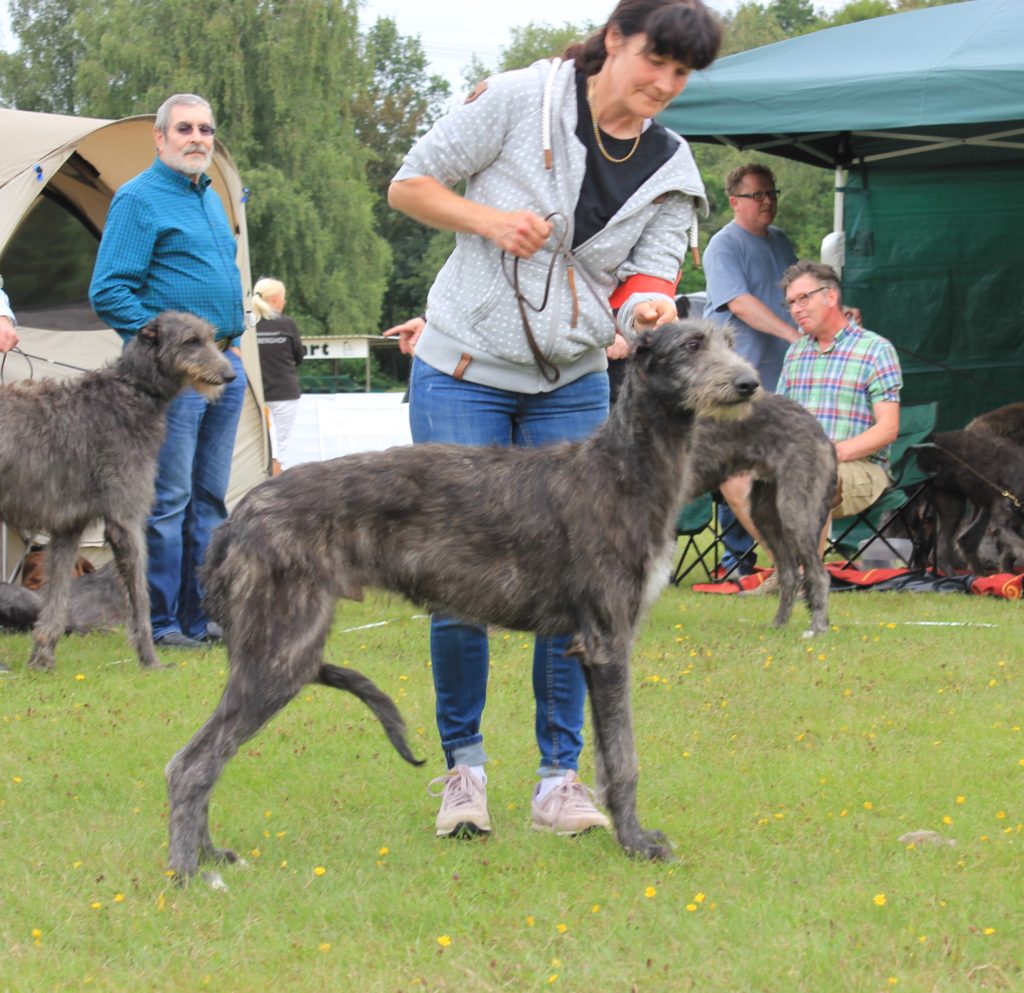 best puppy male, Fortheringhay's Gwrtheryrn or Cuna by Cristina Wüger, a beautiful male with very dark eyes and a very nice expression. But Vision stole the show with her gait work and became best Jüngsten!
Next, the inspection continued with the Jugendklasse in which Chidish had to take it against 1 other male. This won Chidish and he became with it Jahres Jugendsieger ' 16.
Brandir had I reported in the champion class. Since he hasn't made much sense in the last few days, Sonja would bring him, maybe he would do better. And sure enough, it worked. He walked enthusiastically and showed himself well. He was above expectations in third of the 7 champions!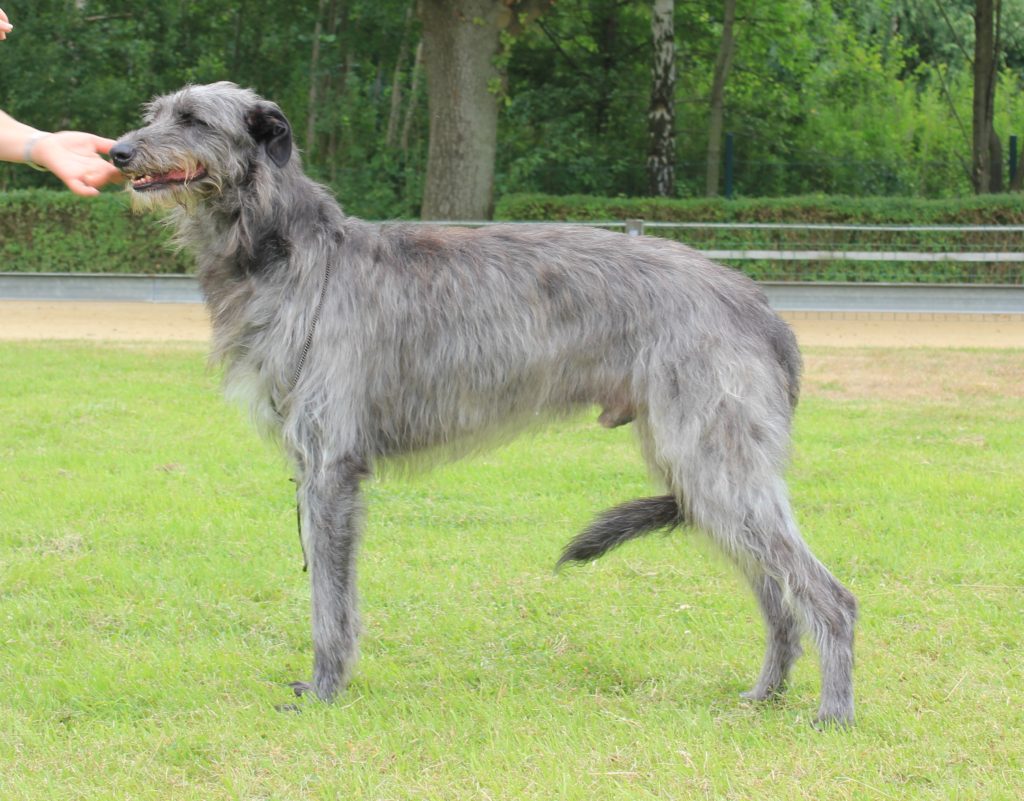 Best male was finally once again land Lord von der Oelmühle of Florent Friedrich.
Then it was Cytaugh's turn. And of course, the moment I had to present Cytaugh had to be a big temper. Cytaugh did not want to show himself any more, but because it was such a large class (12-1 absent), we could just dry up before being placed and fortunately it was dry before the final decision. The judge made it very exciting by walking several times along the 11 drawn, which were still very neat.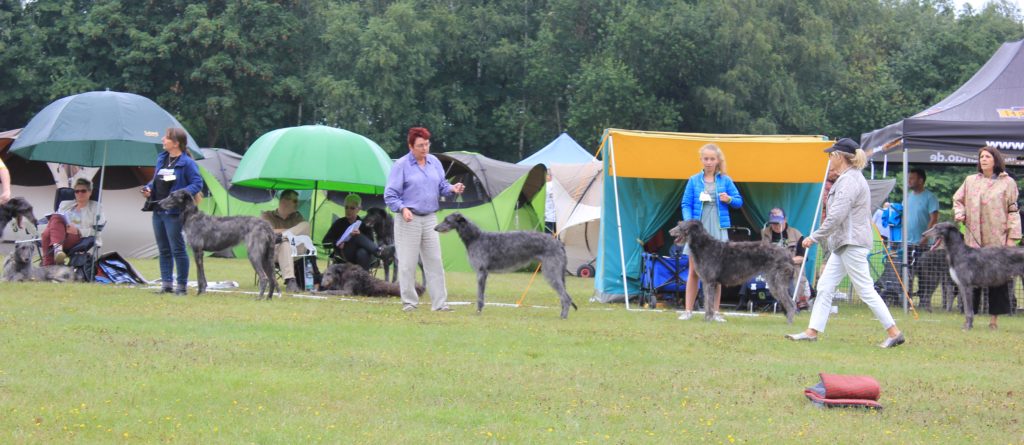 Once again, I was very surprised when she finally Cytaugh first place. It was a very important course of work. Fortunately, finally a judge who watches there!!!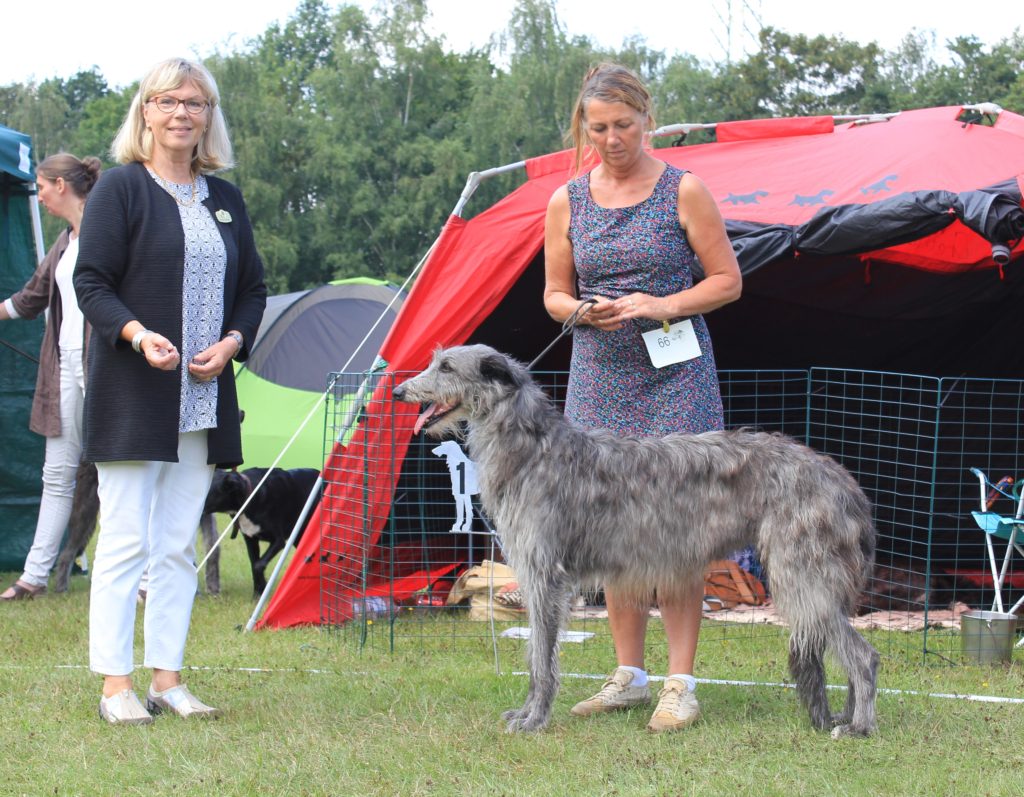 For best bitch, Cytaugh had to record against the beautiful Fritzs Celeste. This girl also has such a cool gait. I had the honour of being allowed to approve her in Denmark (2014) and then made her 2nd BIS.  Of course, Celeste won and she was also very rightly BOB.
I was very sorry that Mrs Kyrklund was not stricter, of the 63 hounds who were able to get a qualification, only 8 got a good one and the rest an excellent one, while in my opinion there were several at most a good deserved. By giving so many hounds a U, the value of this is enormous. And partly because of the always high qualifying of the Deerhounds you will see the average quality go back hard. With breeding there is no more on the Rasspecifieke properties because most of the Keur Masters find this no longer so important and no longer punish a hound on missing these properties. This will result in more ' dogs ' instead of Deerhounds. Sin.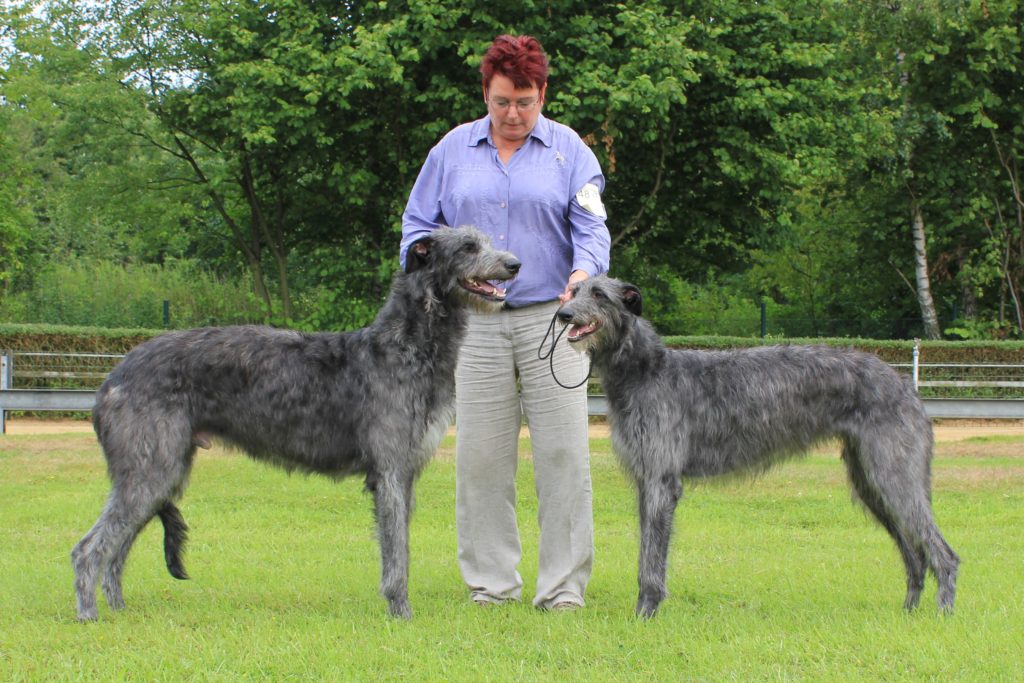 ************
The week we were at the show in Mechelen. By circumstances Hennie and Clement Bosman Chidish and Cytaugh showed. This went perfectly and both are now called Belgian Junior champion. Chidish became BOB and third in the Youth BIS inspection and Cytaugh BOS. Hennie and Clement Thank you again!
************
On August 21, the Young Dog Veterans Day took place. Sonja arrived from Germany the day before and I also was there Saturday afternoon. There were 10 Deerhounds reported but unfortunately 2 absent. Judge was Gerda half-from above.  Vision showed himself again fantastic and frankly she had the best work of all Deerhounds, Chidish was best male and Cytaugh second in her class behind Uliana vom Blausteinsee, a beautiful and correct female of a completely different type. Best bitch was Pitlochry's Octavia but by her sloppy gait Chidish won her and became BOB. Despite the bad weather, which kept it inside, it was a pleasant day. After having made the motorhome back in order and having cleared all the stuff and fences, we headed towards Rijsbergen.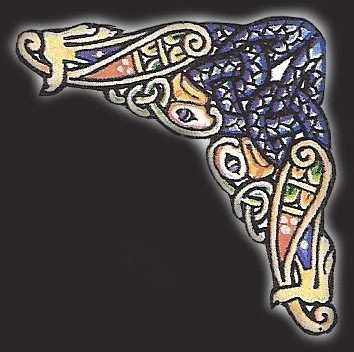 Sonja would stay with us for the rest of the week to show on the 26th of August Vision at the Euro Sighthound show in Brussels. Simon was invited to judging a coursing in Poland on 27 and 28 August and could not fit on Brandir, Bernice and Silva. That's why we had to take all the hounds and since No 6 Deerhounds can sleep in the camper I went with my car so that Brandir, Chidish and Cytaugh could stay in it. Thursday 25 August we travelled to Brussels in the afternoon. It was bloody hot and at the big parking place there was no shadow spot on hand. I had already asked if there was power but unfortunately this was not the case, so we could not use the fans we had with it. The man who shared this thought it was also more than scandalous that there was no electricity for that money which we had to pay per night. Luckily we had enough sheets and other things taken to create a shadow spot. It soon became clear that no water caste and toilets were present! This is very annoying if you only stay in your van and you have assumed that there are at least water and toilets. This gave for different people so real problems. Friday was the Euro Sighthound Show. We had Chidish, Cytaugh and Vision reported for Judge Jean Jacques Dupas from France. There were 5 males and 6 bitches reported. Chidish became best male and best youth dog,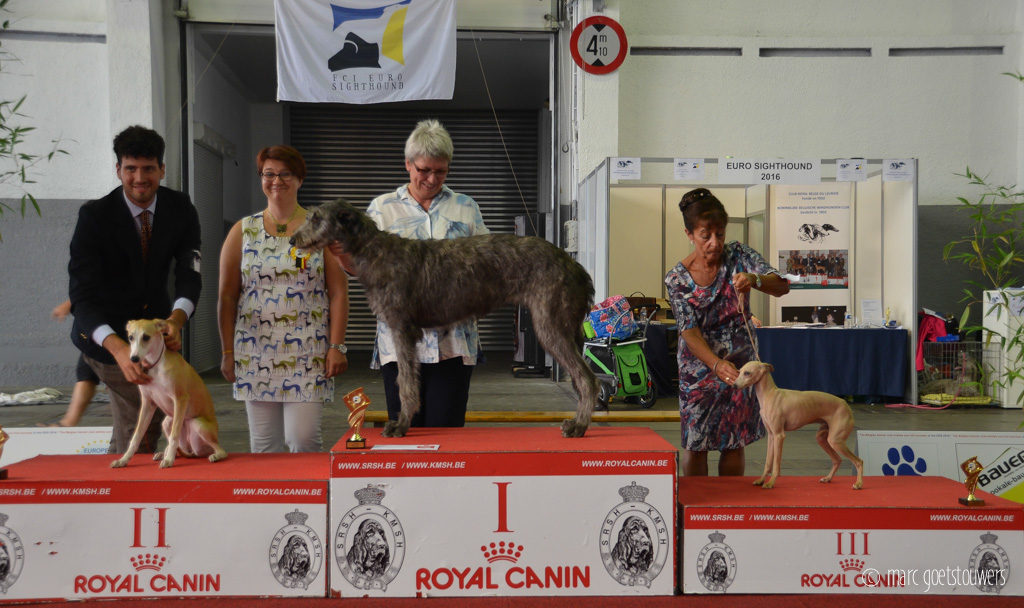 Cytaugh Forest youth Dog and both so Euro Sighthound Junior Winner. Vision was the only puppy and thus became automatically best puppy. In the afternoon Vision was the first to appear in the honour ring with about 5 other puppies. She showed herself great! What a cool gait has that thing. The judge Mrs. Andreja Novak was also clearly impressed and made her puppy BIS! Next, Chidish was allowed to compete for BIS Jeugdhound against about 15 jeugdhounds and was placed third by Mr. Rafael de Santiago! Also not wrong.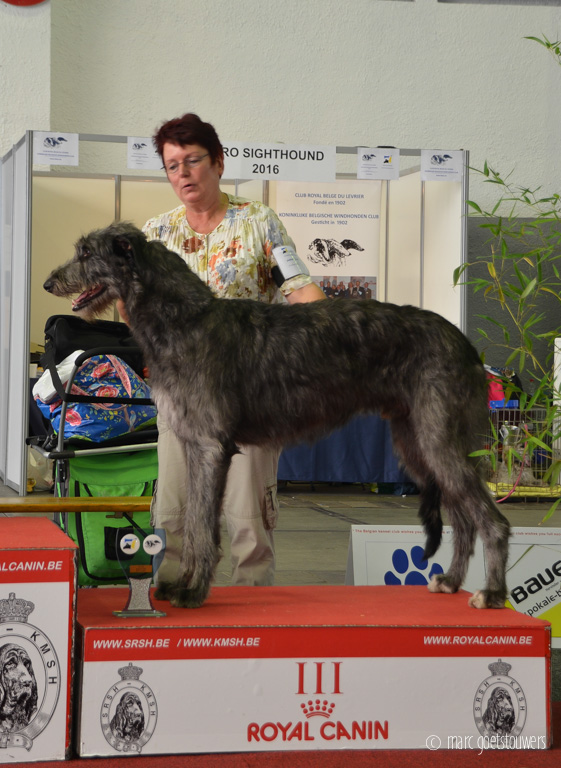 The next day was the European and for this I had only Chidish and Cytaugh reported. They were after the Irish Wolfhounds's turn. During the inspection of the Irish I already got one to feel, the judge did very strange things and the worst Irish were brought forward. When I was with Chidish, it was really obvious that he should win. The other male in his class had a very bad front and could not get out of the feet. Ludicova Salamon, our judge, let us walk again and then be the other male as the winner. My pants dropped off and I didn't go into the ring with Cytaugh. I did not want to let my Cytaugh with her beautiful gait be made by a judge who obviously has no sense of things and/or very politically approved. We have also gone right away, I did not even wait for the final inspection of the Deerhounds, the best would not win, and so it was. What a horrible disappointing inspection! The only advantage was that we could go home early and we did so too!