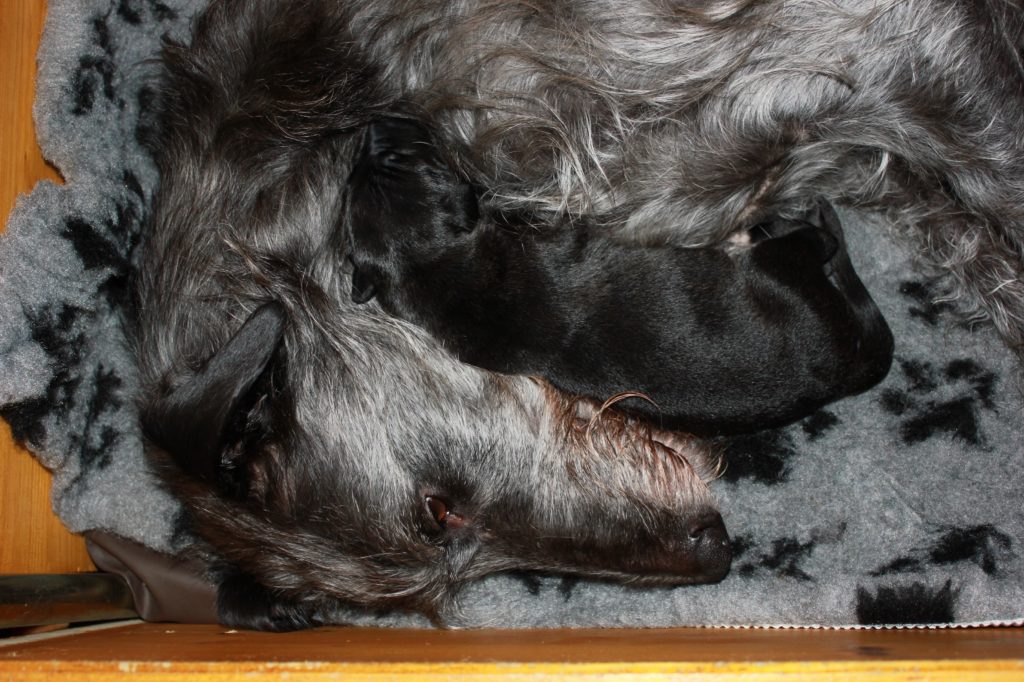 Cearrean Argyll is doing well! After the difficult start he gains every day very much; the first three days it was only 91 grams, on Sunday he gained 166 grams and yesterday 139 grams. He now weighs 1250 grams with 6 days! It is no longer a puppy but a pup. I can not hold him with one hand anymore!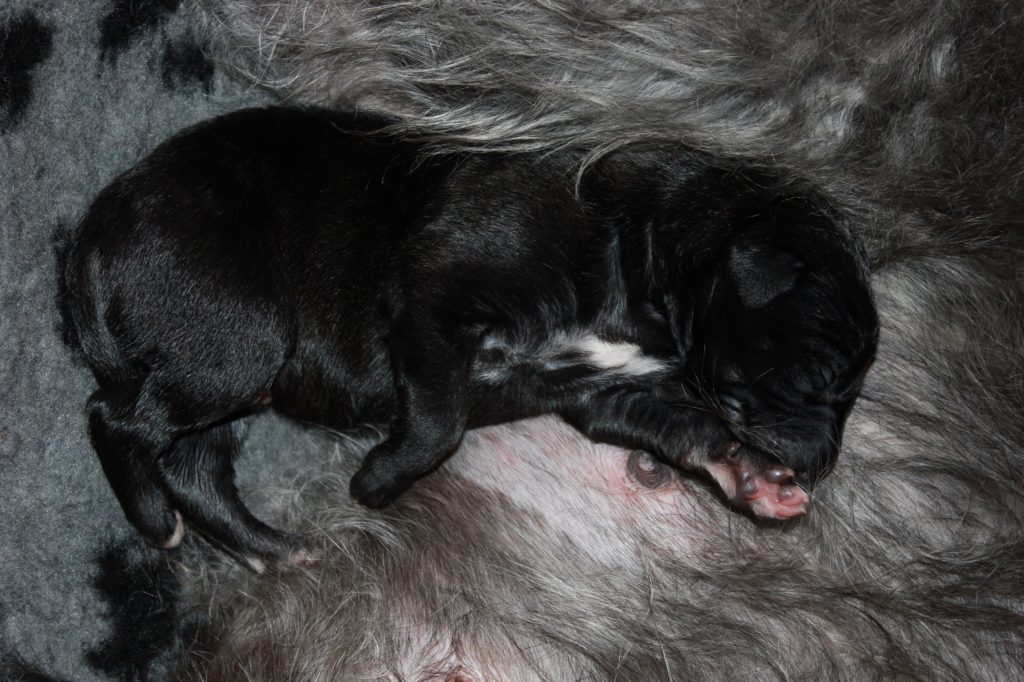 Fortunately, Cytaugh is getting better, but I have to admit that I have her on the Strezz drops from Phytonics. In the beginning a high dose and several times a day, now only 10 drops 3 times a day. It clearly has a very positive effect on her. The last few days she stays happily longer in the whelping box, with the puppy on, over or against her. Very sporadically, she still growls against him, usually as he climbs up her stomach over her belly. Apparently that is still a bit sensitive. It aren't his nails because they already have been clipped twice.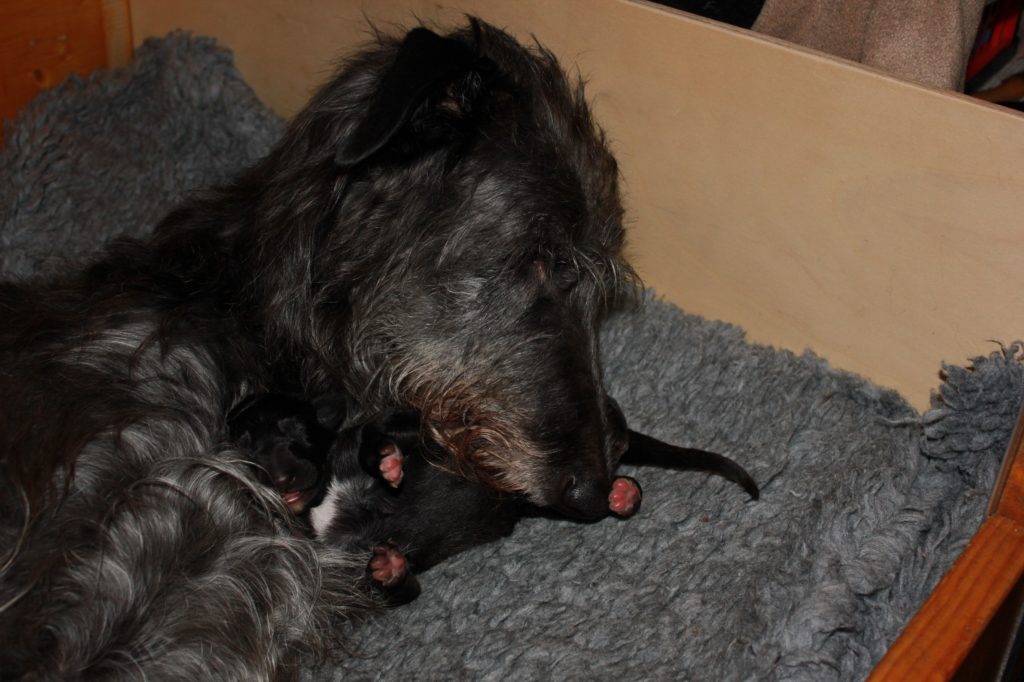 She cleans him much better now, especially his belly, but she don't clean his bottom, I can still do that. I do have to turn on the milk factory every time, that means massaging at least 5 minutes per nipple before milk comes out. During the day when Cearrean regularly takes a sip in between, it is not too bad, but at night it is really necessary. And then a drink session will take a long time and the hours you sleep will be very short!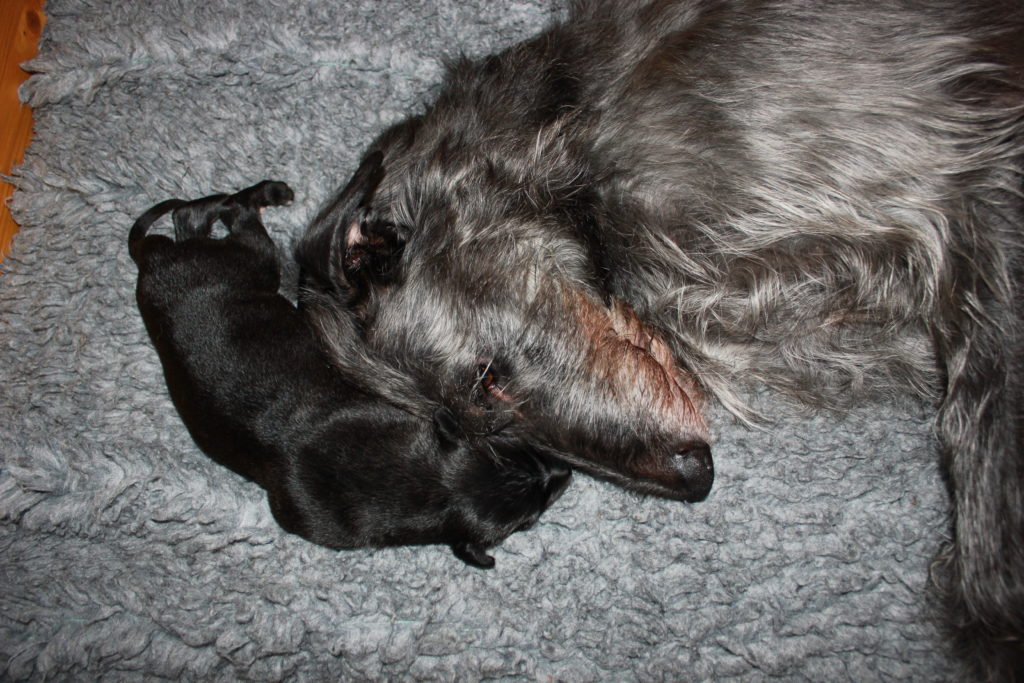 It is striking that Cearrean does not have much need for heat. Not even the first days. Over 27°C  he really felt too much, he always crawled to the farthest, least warm corner. After having been with his mother for a while, he usually looks for the edge of the whelping box so that he does not have the radiant heat of Cytaugh. Also in his box, he is often not under the lamp that keeps a part at 25°C but is stretched out in the cooler part. Now we keep the temperature in the house constantly around 20°C and that is fine for him. So I'm glad he was not born during those hot summer days, but it will be difficult for him if the weather gets hot again in the coming summer! Fortunately he has the chance to 'grow' with the temperature.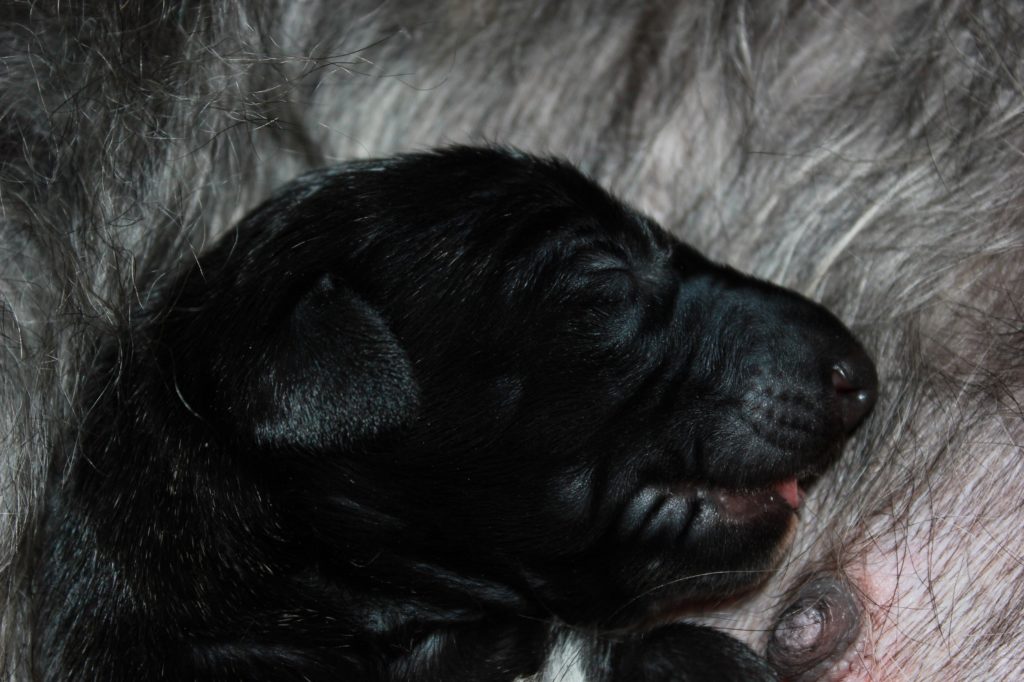 Today, the first day of Christmas, Cearrean already shows clear playful behavior. He snaps into your finger (no, not to suck on it), into Cytaugh's beard and his own paws. If you tickle him it is as if he laughs and grabs with his paws in the air, he is already starting to react! And it looks like his eyes are opening up in the very near future, I am curious if he is also ahead of this.